USA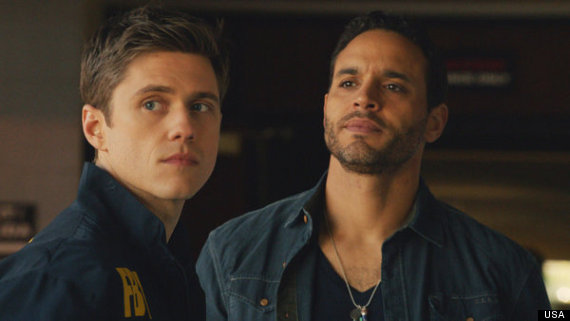 Jeff Eastin has done it again. The creator of White Collar has come up with another fantastic new show. While the subject matter is a little darker (a mix of undercover agents from different government agencies bunk together), it still boasts USA's signature style (a nice combination of network lightness and cable grit).
Graceland might not be the greatest name for the new series (in fact, its vagueness almost makes it easy to overlook) but hopefully all the promos for the show will make up for it. Graceland is the unofficial name of the fabulous, Architectural Digest-ready beachfront mansion which houses undercover FBI, DEA and U.S. Customs agents. It sounds like something that's been created strictly for television (Rookie Blue meets Safe House meets Point Break) but the drama for these houseguests is outside the pretty walls.
The series begins with FBI newbie Mike Warren (Aaron Tveit) being assigned to the house. No sooner does he move in does he find himself on his first case. The other FBI agent in the house, Johnny Tuturro (Manny Montana, The Chicago Code) has the role of house clown, while their superior, Paul Briggs (Daniel Sunjata, Rescue Me) proves to be a decent mentor, has their back, but still has a mysterious air about him.
They're joined by DEA agents Charlie Lopez (Vanessa Ferlito, CSI: NY) and Paige Arkin (Serinda Swan, Breakout Kings) and U.S. Customs agent Dale Jakes (Brandon Jay McLaren, The Killing) but it's Tveit who stands out here. The actor may bear an uncanny resemblance to Warren Kole (who portrayed Roderick, one of The Following's many irksome characters) but Tveit is probably best known for his role in Les Misérables (as Enjolras, though he really should've played the part of Marius, no offence to Hollywood's best dressed dude, Eddie Redmayne). While the Oscar-winning film exposed him to the world, Graceland might make Tveit a household name.
In the series premiere, Mike is assigned to Graceland and along the way, he bonds with Briggs. It's totally believable because while Sunjata's character is badass, the actor typically plays good guys. Briggs is squarely in the middle -- nice, but not too nice. But after watching it once, I decided to check it out a second time, just so I could pay closer attention to Sunjata's performance. And those watchful eyes I dismissed the first time around were a little different upon replay.
The 11-episode series not only has a unique hook but it's also based on true events. Funnily enough, the agents all seem to get along, which is so up my alley, because while I understand conflict adds to plot points, I don't always love the drama that adds. Considering they already have enough to deal with outside the beachfront property's walls, why bother with senseless feuds? Take Golden Boy, for example. While the animosity between Clark and Arroyo made sense, it got old real fast. Here's hoping nothing like that happens on Graceland. Yet. If it makes sense, sure, but for now, it's just not needed.
But eventually, for story's sake, things will change. What will happen when the trust between the agents is questioned? Because it will be questioned. While a bunch of agents shacking up together is a unique hook, and seeing them catch the bad guys will keep us interested, it's the other stuff, the more personal stuff that will reel viewers in. That's what I'm most interested in, what these characters are all about -- and slowly learning what secrets they're hiding from each other. That's what I want more of, and based on the premiere, we're going to get it.
Graceland premieres Thursday, June 6 at 10 p.m. ET on Bravo in Canada and on USA in the U.S.
ABC's New Shows 2013-2014