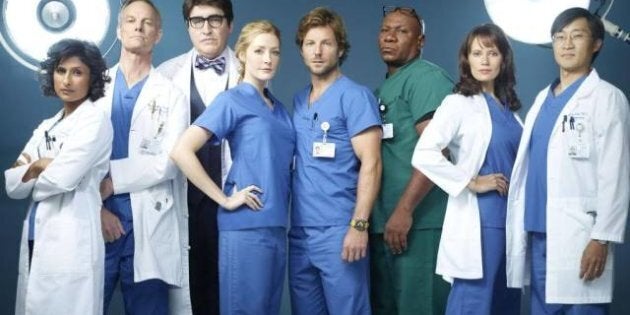 Do we really need another medical drama? Actually, since House and Private Practice are no more, in addition to the cancellations of The Mob Doctor and Emily Owens, M.D., maybe.
I'm one of 14 people who still watch Grey's Anatomy, so when I popped in the first episode of Monday Mornings, the new series from David E. Kelley (Boston Legal, Ally McBeal), I was half-expecting the drama and romance that too often come along with shows like that these days. Instead, I was surprised to see that this was all medical. Grey's and all the on-call room shenanigans that go on in Seattle Grace Mercy West, this is not.
Monday Mornings is based on the novel by CNN's Dr. Sanjay Gupta and follows the doctors at a fictional Portland, Ore., hospital. The title is taken from the weekly staff meetings overseen by Dr. Harding Hooten (Alfred Molina), Chelsea General's Chief of Staff, where one surgeon is put under the spotlight as they are grilled over what they did or didn't do in the operating room (it usually has to do with someone dying because of incompetence/arrogance/etc.).
The reviews are awkward and uncomfortable, just a cringe-worthy, heavy-handed thing to sit through -- and watch. It's like being called on in class when you have absolutely no clue what the answer is -- times 1000. It starts off with Hooten calling out whomever's about to be raked over the coals, and they are proceeded to be ... well, raked over the coals. Some stand there guiltily, some staunchly defend themselves -- either way, of the three episodes I've seen, I couldn't wait for every meeting to come to an end. Which probably isn't great since that's the show's main focus. It does make it different than others before it, but aside from following the antics of a cafeteria or custodial staff, there's really not much left to explore within hospital walls.
Funnily enough, though, it's the stuff we've seen time and time again that keeps me tuning into the genre, and Monday Mornings is no different. A lot can be said for most casts of medical dramas but I've always been most fascinated by those visiting. Like the patients who make doctors stand out, it's the guest stars who make the stars shine -- and Monday Mornings does indeed boast a wonderfully diverse, believable cast.
The show centres on trauma chief Dr. Jorge Villanueva (Ving Rhames, Pulp Fiction), neurosurgeons Dr. Tyler Wilson (Jamie Bamber, Battlestar Galactica), Dr. Tina Ridgeway (Jennifer Finnigan, Better With You), and Dr. Sung Park (Keong Sim, Glee); transplant chief Dr. Buck Tierney (Bill Irwin, CSI), cardiothoracic surgeon Dr. Sydney Napur (Sarayu Rao, Sons of Tucson) and resident Dr. Michelle Robidaux (Emily Swallow, Ringer). They are all skilled physicians, but they're also human so mistakes are made, hence the evil Monday meetings.
The show could use some lightening up, but it's still establishing itself, I suppose. By the third episode, however, there isn't too much I hate about it -- but I don't quite love it yet, either. Thankfully, we see just the right amount of the docs' personal lives, so here's hoping the on-call room antics don't begin anytime soon. Because that would be a mistake, one worthy of a severe dressing-down by Hooten.
Monday Mornings premieres Monday, Feb. 4 at 10 p.m. EST on Bravo in Canada, and on TNT in the U.S.