ABC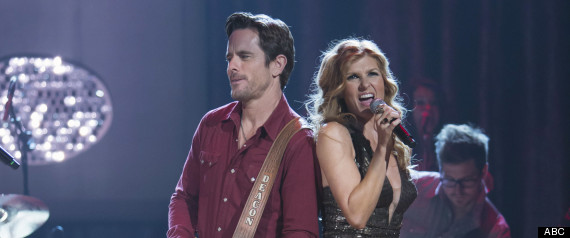 Beware: Some Spoilers Ahead!
A couple weeks ago, I wrote about Glee and Smash and the death of the TV musical. Soon after it was published, I realized I hadn't mentioned Nashville. Then it dawned of me that that's because I don't consider it a musical; it's a drama, in the most dramatic way possible, with some music -- albeit, fantastic -- thrown in.
While it's (obviously) centred on the music business, it's about so much more. In fact, I find the music as more of a backdrop. The show's great heart lies in its characters, flaws and all, and their stories. Whether I'm rooting for Rayna (Connie Britton) and Deacon (Charles Esten) to just be together already (because I don't know anyone who wants her with Eric Close's Teddy), whether or not I hate Juliette (because that's how fabulous Hayden Panettiere is; you want to scratch out her eyes one minute, then give her a big old hug the next), or trying to decide if I want Scarlett (Clare Bowen) with Gunnar (Sam Palladio) together -- personally and professionally -- or, as last week's show hinted at, reuniting with Avery (Jonathan Jackson), there's a lot happening with a lot of different people. But it's one of the few shows where that's OK.
Despite all that goes on, Nashville never gets muddled. It doesn't become too much and it all just melds together perfectly. The show has evolved from its simple-yet-flashy beginnings -- a country music queen feels like she's being replaced by a hot young thang -- to a fully fleshed-out drama. Don't get me wrong, I don't care too much about the mayoral stuff but that might have something to do with bland, tiresome Teddy (which I hate because I loved Close on Now And Again and Without A Trace, but here he's as vanilla as Once Upon a Time's Charming). Same goes for Rayna's sister, Tandy (Judith Hoag), whose attempts at taking over the family business were thwarted when Lamar (Powers Boothe) recovered quicker than she had hoped. Wyatt no longer being the evil moustache-twirling villain and his growing closeness with Rayna have been nice to see.
Surprisingly, as someone who doesn't like change, I can't help but be charmed by third wheel Will (Chris Carmack), but I'm still trying to figure out if he truly is as nice as he seems and just lucked out by moving in near Scarlett and Gunnar, or if his ambition is going to bring out his bigger, badder, "Welcome to Nashville, bitch!" side.
I also kind of loved Deacon with Stacy the vet (Susan Misner) but he and Rayna are clearly the end game. And hopefully, there'll be some sort of truce later down the road between Rayna and Juliette. Their tour was a perfect way of bringing both their worlds together, and while I appreciate the bitter, teeth-gritting rivalry, I hope that one day soon, the two will eventually find a begrudging respect for one another. But not yet.
Brad Paisley guest-stars in this week's finale, "I'll Never Get Out of This World Alive," but, to be honest, who cares? It's his wife, Kimberly Williams-Paisley, who returns as that harlot Peggy with a secret (ugh, baby?) that will undoubtedly turn the James-Conrad house upside-down. Speaking of upside-down, it's also the night of the Country Music Awards, and it's not going to be as wonderful as Rayna hopes since her eldest daughter Maddie (Lennon Stella) confronts Deacon about the series' worst-kept secret -- that he, not Teddy, is her dad. And Juliette has to deal with the aftermath of Jolene's (Sylvia Jefferies) death, her mom's final way of trying to make up for her crappy childhood. It's going to be one messy, tear-filled hour. I can't wait.
Nashville's Season 1 finale airs Wednesday at 10 p.m. ET on CTV and ABC.
ABC's New Shows 2013-2014