Kids or not, you don't need them to watch -- and love -- Phineas and Ferb. The enterprising stepbrothers may be too young (yes, yes they are) to find ways to fill the days of a neverending summer, but that doesn't mean their fans are. And Phineas and Ferb's seemingly impossible inventions seem like child's play, but the much-anticipated special one-hour episode, "Mission Marvel," is anything but.
Like every other episode of the series, the pair, along with pals Isabella, Baljeet and Buford, embark on sophisticated shenanigans, but unlike most other episodes, instead of looking for something to do, in "Mission Marvel," they're already in the midst of their adventure -- or so they thought. Without giving too much away, let's just say there's an unfortunate accident involving Dr. Doofenshmirtz's "inators" and a satellite shaped like Phineas' head, which results in their world intersecting with that of Marvel superheroes.
In the first-ever Disney/Marvel animated crossover television special, Spider-Man, Iron Man, Hulk and Thor head to Danville after they lose their powers. But while the good guys seek out the youngsters, their nemeses Red Skull, Venom, Whiplash and M.O.D.O.K. discover that evil Dr. Doofenshmirtz is really responsible, and they team up with him to achieve world domination.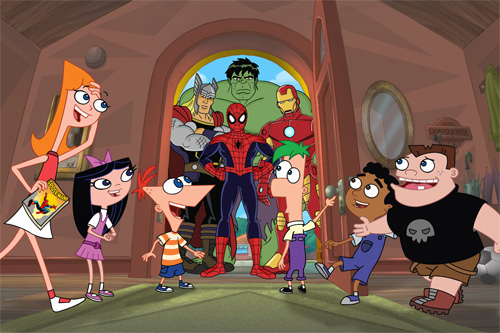 So it's good versus evil (albeit Doofenshmirtz's actions make the supervillains scratch their heads at the not-so-mad scientist's ineptitude) as Phineas, Ferb and the gang try to figure out a way to restore the superheroes' powers and fend off the bad guys, who are ready to begin their attempts to take over the world by wreaking havoc on the Tri-State area. Phineas and Ferb get no help from older sister Candace, who for the first time isn't trying to bust her brothers. But her attempts to help them only set them further back and it takes some girl power from Candace and Isabella, who is a little ticked that Black Widow or Jean Grey didn't show up (though maybe Invisible Woman was there, you never know), to get things back on track.
Creators and executive producers Dan Povenmire (who happens to voice Doofenshmirtz) and Jeff "Swampy" Marsh (who voices Major Monogram) worked closely with Marvel's creative team to ensure the comic book characters fit seamlessly into the world of Danville (and the Tri-State area), and funnily enough, they do.
"Mission Marvel" may not be as good as Across the 2nd Dimension -- but little is. It is, however, on par with another favourite, "Summer Belongs to You!". But while music typically plays an integral part of any Phineas and Ferb episode, surprisingly nothing stood out too much here (at least, nothing as catchy as "Gitchee-Gitchee Goo" and "Summer Belongs to You"). Despite the lack of downloadable ditties, though, "Mission Marvel" still manages to be as light-hearted and clever as ever.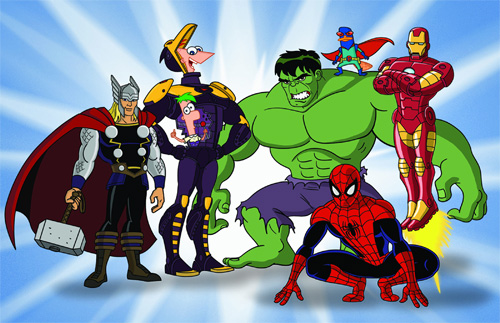 Look out for Stan Lee, the creator of those Marvel characters who land in Danville, to make a cameo appearance, reprising his role from 2000′s X-Men, in which he played a hot dog vendor. And keep your ears open as Adrian Pasdar, Chi McBride, Danny Trejo, Peter Stormare and Drake Bell, among many, many others, guest-voice. My only complaint about "Mission Marvel?" Not enough Perry or Agent P, though the latter gets recruited as only a crime-fighting secret agent platypus can. Perhaps that's why I didn't love it like 2nd Dimension, because there wasn't as much emotion and heart as the movie. But there was a ton of humour and lots of action so, really, what more can us (big) kids ask for?
Phineas and Ferb: Mission Marvel premieres on Friday, August 16 at 8 p.m. ET/PT on Family, and airs on Sunday, August 18 at 7:30 p.m. ET on Disney XD.