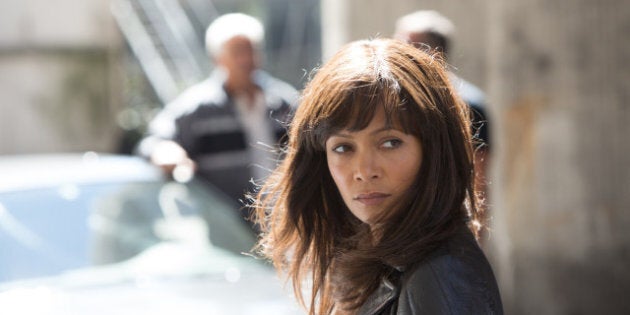 Rogue is the perfect name for a spy thriller -- just not this one. Well, unless the word is used in the cheating, defrauding sense, then, yeah, maybe. Because that's exactly what the show did: it made me believe it could be good, but after two episodes, not so much.
Thandie Newton (Mission: Impossible II) plays Grace Travis, an undercover detective working for ruthless mob boss Jimmy Laszlo (Marton Csokas, Alice in Wonderland). But Grace's personal and professional lives become intertwined when her son is mysteriously gunned down, leaving her temporarily out of the mob game and her relationships with her husband (Kavan Smith) and daughter (Sarah Jeffery) in turmoil.
Naturally, Grace is out for revenge and must get back into the mob life to find her son's killer. Rogue is meant to be supenseful and hard-hitting, but, really, it was far from entertaining. In all honesty, there wasn't a time during the first two episodes where I wasn't holding my phone, clicking through emails, lazily perusing Pinterest or playing 4 Pics 1 Word.
Newton is a decent lead but even as she mourns her dead son, I still don't care much about Grace -- never a good sign. The actress' looks can't be played down, so rather than try, the writers just worked her hotness into the script and whenever Grace walks by a couple of dudes, there's a lot of jaw-dropping and "humina-humina-huminas." It would be kind of funny if they worked some humour into those scenes, but that's just not how this show rolls. Ian Hart (Luck), Claudia Ferri (The Killing), Ian Tracey (Intelligence), Joshua Sasse, Matthew Beard (An Education), and Martin Donovan (Boss) round out the cast, while most of Lazlo's men look like they were either pulled straight from the Bourne movies, or appeared on various CBC series.
I'd like to say Rogue is unique and different from what's out there, but it's not. Grace walks a fine line (should she kill a guy for her boss, or do a line of coke with the boss' son?), but considering she's hell-bent on finding the people who killed her son, it seems like a small price to pay for her to get answers. Think Ashley Judd on Missing or Radha Mitchell on Red Widow; Newton is merely the latest in a line of TV moms doing what they have to do for their children (except in Rogue's case, Grace's maternal instincts aren't so great with her daughter, so she's not exactly first in line for Mom of the Year).
For some, the only thing it's got going for it is its penchant for sex and nudity but watching Hart's Wilson going at it with his exotic informant may be more than enough for viewers. Maybe that's just my alter-ego, Prudence McPrude, mayoress of Prudytown, resurfacing, but it all just seems so unnecessary. Or perhaps it's just me hating on mob shows yet again (sorry, I'm just not a fan).
I do like Grace's relationship with Mitch (Tracey) and I will admit, Rogue does improve in the second episode, where -- spoiler alert! -- Grace and Jimmy team up. It adds an interesting take, but after 120 minutes, I realized I no longer cared. A show, or components of one, should grab immediately, and this simply misses the mark. It's a shame since Newton on the small screen on a regular basis could've been great. Instead, it's just a waste.
Rogue premieres Wednesday, April 3 at 9 p.m. ET on The Movie Network and 8 p.m. PT on Movie Central in Canada, and on DirecTV's The Audience Network in the U.S.