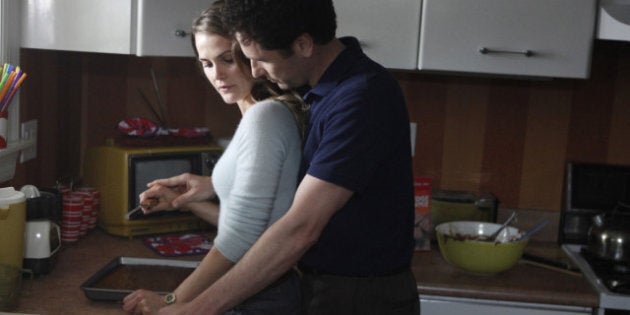 It's almost a given that The Americans would be compared to Homeland, but for me, FX's new series is reminiscent of another spy show I couldn't get enough of: Alias (albeit way, way darker). There's something similar and oddly comforting about Jennifer Garner and Keri Russell; they both made their marks on J.J. Abrams shows and, from afar, seem like the last two actresses who should be cast as spies -- but when you see them in action, their portrayals are overwhelmingly convincing.
If you saw Mission: Impossible 3 (another Abrams project), then you know in her precious few minutes on-screen, Russell's got some fight in her. And she proves it once again in The Americans. It's been a while since Felicity left the airwaves but she's back and more intense than ever. Russell and Matthew Rhys (Brothers and Sisters) play Elizabeth and Phillip Jennings, a seemingly golden, all-American couple with two children, living the dream in a beautiful home in the Washington D.C. suburbs. In actuality, Liz and Phil are Russian agents posing as American citizens during the Cold War-era '80s. So, needless to say, this is not a grown-up version of The Carrie Diaries.
We see through flashbacks just how Elizabeth and Phillip have come to be, having trained for their mission for years before moving to the U.S. in 1965. As far as everyone is concerned, they work as travel agents and their son and daughter have no idea their parents are Russian, much less undercover KGB agents. We also learn that Phillip has become accustomed to his American lifestyle and would be more than happy to betray his country for money and to maintain the family he has grown to love -- but Elizabeth, not so much. Her devotion to the motherland is hard-core and says as much to her husband, but she also hints at it when discussing her son's homework.
"The moon isn't everything," she tells 10-year-old Henry (Keidrich Sellati). "Just getting into space is a remarkable accomplishment." Heh.
So The Americans isn't just a spy drama; it's also a bit of a love story. Sure, it seems like a coupling of convenience, but who knows what the future holds for Phillip and Elizabeth. By the end of the premiere, they no longer seem like two people in an all-business arranged marriage and we see they have genuine feelings for each other.
But where's the fun in that -- two sleeper agents secretly living their life with no one the wiser? That's where Noah Emmerich (White Collar) comes in. The Jennings' new neighbour just happens to work for the FBI in the counterintelligence department, because, of course. It might be odd rooting for the enemy, but Russell and Rhys share amazing chemistry -- which makes their on-screen relationship that much more fascinating. Oh, and it doesn't hurt that the "good guy" is played by Emmerich, who is a master at the sleazy, "that guy" role.
Creator/executive producer/writer Joe Weisberg worked for the CIA before turning to writing, and gets help from exec producer Graham Yost (Justified) and writer/exec producer Joel Fields (Ugly Betty). While comparisons to Homeland and Alias are inevitable, The Americans manages to perfectly balance the slick espionage with the normal and ordinary, but makes it anything but.
The Americans premieres Wednesday, Jan. 30 at 10 p.m. ET on FX Canada.