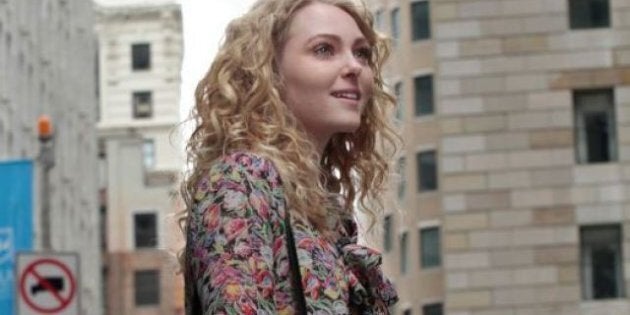 I popped in the screener of "The Carrie Diaries" with the lowest of low expectations. As a moderate "Sex And The City" fan (not hard-core, "this is my life" devotion, but I've seen nearly every episode), the whole prequel thing sounded like something that made a "Gossip Girl" spinoff seem like a clever idea. So I was shocked when the 42-ish minutes were up, and I realized I liked it. More than, even. I actually enjoyed it and was left feeling thoroughly entertained.
Sure, that doesn't sound like a rave review, so I watched it again, just to make sure it wasn't because I had anticipated very little. And I can assure you that, yes, it was just as good.
Based on what I knew of AnnaSophia Robb ("Soul Surfer"), I thought she was woefully miscast but once the hour was up, I can't imagine anyone else who could have done justice to a younger Carrie Bradshaw. Robb is spot-on in the teen version of Sarah Jessica Parker's iconic character. The actress reminds me of Lindsay Lohan. I swear that's not at all a slam against Robb; she resembles a pre-shoplifting/pre-car crashes/pre-arrests/pre-annoying, "Mean Girls"-era Lohan. And unlike "SATC," the teenage Carrie isn't at all annoying. On the contrary, she's completely relatable and likable, which wasn't always the case with who she grew up to be.
I don't recall too much about SJP's Carrie referring to her teenage years, so it was refreshing to see her close relationship with her father (Matt Letscher, "The New Adventures of Old Christine") and sisterly rivalry and devotion to young, troubled Dorrit (Stefania Owen, "Running Wilde").
I get that we're supposed to care about Larissa (Freema Agyeman, "Doctor Who"), her first official city gal pal, but surprisingly, it's her high school friendships that I'm most curious about. Adorable Mouse (Ellen Wong, "Combat Hospital") is sweet and cute and seems like the one Carrie can count on; beautiful Maggie (Katie Findlay, "The Killing") is nice enough but clearly has a secret side to her; and dependable Walt (newcomer Brendan Dooling) who, aside from Carrie herself, will probably be the most fascinating character to watch.
The one and only cheesy point of the show comes after Carrie's first night in the bright lights of the big city, where the character's voiceover states that she may have just lost her innocence, her virginity, but not to the guy she had hoped but rather, Manhattan. Gag me a with a spoon, right? But she also voices that's she'll "never be the same," which is most definitely the biggest constant between "Diaries" and "SATC." For me, the biggest question is, how do her teen pals disappear from Carrie's later life?
But perhaps the best part of "The Carrie Diaries" is its soundtrack. Classics like "Bette Davis Eyes" and "Footloose," or a modern remake of "Girls Just Want to Have Fun," all intertwined with engaging storyines for anyone of any age. The tales of friendship, family, sex and sexuality, and most of all self-discovery, "The Carrie Diaries" is so bang-on, it almost made me forget how "SATC" left us - good, but unmistakably tainted by its big-screen sequels. Almost.
"The Carrie Diaries" premieres on January 14 at 8 p.m. EST on Citytv in Canada and The CW in the US.