Fox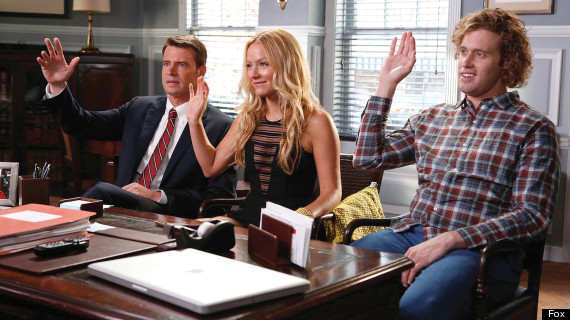 It was a year ago that I first saw a preview for The Goodwin Games. As I watched, all I could think was: "Yay, Scott Foley and Becki Newton are returning to TV!" Then -- nothing.
The Goodwin Games was meant to be added to Fox's Tuesday-night rotation at the midseason mark -- and would have fit in perfectly had it not all went to hell when the network cancelled the sweet and funny Ben And Kate, messing up the lineup entirely. So that left seven episodes in the can, which were subsequently shelved. While Newton waited (im)patiently for the show to get some life, Foley went on to film a memorable run on Scandal (The box!!! Tear), Beau Bridges' pilot, The Millers, was picked up, as was T.J. Miller's show, Silicon Valley. Hence Fox burning off the episodes in crappy fashion.
The show is from How I Met Your Mother creators Carter Bays and Craig Thomas, which, for me, doesn't say much. I gave up on HIMYM several seasons ago (though people tell me it's gotten better, whatever) so I won't hold it against the Goodwins. Henry (Foley), Chloe (Newton) and Jimmy (Miller), the three siblings who have to compete with one another for their late father Benjamin's (Bridges) fortune, have enough on their plate.
I dig the premise, particularly the scenes where Henry, Chloe and Jimmy are watching Ben's videotaped messages. Despite the three's supposed estrangement from their dad, Ben still seems to know them awfully well, so well he has an answer for every one of their reactions. The only thing I'm not sure about is whether The Goodwin Games fancies itself a comedy (something it has in common with HIMYM, ba-dum-bum) because while it had some funny moments, it was more dramedy than sitcom. Actually, Goodwin's premise would probably make a better movie than a weekly series, but I digress.
Foley is proving his range once again, this time as a stiff, spazzy maybe-alcoholic doctor who has a fiancée at home. Now that he's back in his hometown, he has to deal with his ex-girlfriend (a storyline I don't care too much about, though I'll give it time since it will hopefully show Henry's more emotional, less robotic side). Newton is delightful in anything she's in (yes, even Love Bites) and Bridges is the perfect actor to play their dad, who clearly relishes torturing his children (through his recordings and in the flashbacks). But my favourite Goodwin is Miller (though his voice is quite distracting -- if you have kids, you'll recognize him as douchey Robbie on Gravity Falls and pain in the ass Tuffnut from How to Train Your Dragon/Dragon: Riders of Berk). I love the glimpses of jail-prone Jimmy we've seen with his daughter, Piper, played by America's Got Talent's Kaitlyn Maher, though I hope that in the seven (and likely, only) episodes we get to see, we meet the woman who actually married and had a baby with him.
The Goodwin Games isn't knee-slapping hilarity, which may be why I find it so endearing. I just hope enough people have the same sentiment and tune in, even if it's just for the seven episodes. It's interesting, different, wonderfully written and well-acted. Hey, at least we're prepared and know we've got six more weeks of good programming ahead of us. Since I'm a realist, I know there's pretty much no way Fox will consider keeping the series, but don't let its short run stop you from enjoying a refreshing new comedy/dramedy. Just because it's summer doesn't mean we still can't appreciate good TV.
The Goodwin Games airs Mondays at 8:30 p.m. ET on Citytv and Fox.
The Ultimate Summer TV Guide