I hate kids. Too far? OK, maybe that's a tad harsh but hear me out.
First, let me say I'm a mother (go ahead, pick up your jaw). She's eight and she's a good kid. Her friends are all right. Same goes for my nieces and, for the most part, my friends' kids. At the very least, I can put up with them. Stranger kids? Not a fan.
But I know that's all going to change once they hit their teens. My eldest niece, a tenth-grader, is actually not annoying at all. In fact, I hate to throw compliments around willy-nilly, but I think she's a cool kid, despite having my brother as her father. (I kid.)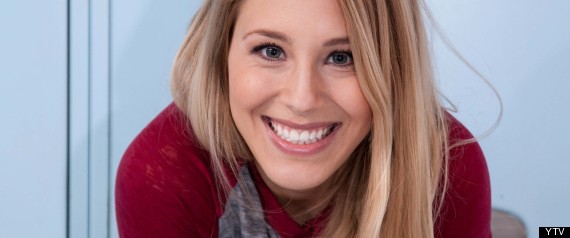 Teenagers. When I pass a group of them, I am instantly annoyed. I don't know why. It's a generalization, I admit, but the punks and princesses seem to far outweigh the nice, normal kids (the kind of teen I used to be, naturally) so I can't help the irritating feelings that emerge. Which is why "Undercover High" is kind of amazing.
YTV's new series may sound like a cross between "21 Jump Street" and that Redman and Method Man movie, but it's really about high school principals and teachers turning the tables on their unsuspecting students and pranking them with elaborate practical jokes.
The hidden-camera series comes from the producers of "Extreme Babysitting," so it's the same idea with more outrageous results. It's fun to watch school staffers not only stage the pranks on their students but actually pull it off. Host Lisa Gilroy, a self-professed class clown, uses her flair for hijinks to help set up the kids, and takes us on each hilarious adventure from the early planning stages to the laugh-out-loud reveals.
The premise is fairly simple: Lisa works with teachers and principals to come up with the perfect plan to prank the students -- and it's no joke. Whether it's an awkward marriage proposal gone horribly wrong to a wrestling team getting in touch with their sensitive side, it's both uncomfortable (for the kids) and fantastic (for everyone else). So, perfect, am I right?
Are there challenges? Of course. Because teenagers think they know everything and are too cool for school. Silly wabbits. But "Undercover High" does show that these kids aren't quite as jaded as I make them out to be, and they still have a little trust in their teachers, which makes the outcome that much more delightful.
"Undercover High" might prove that teachers can't be trusted, but that's not the point. It's all about watching students get some much-deserved payback -- who doesn't want to see that?
"Undercover High" premieres Tuesday, June 17 at 7:30 p.m. ET/PT on YTV.
2014 Summer TV: Top 10 Shows To Watch