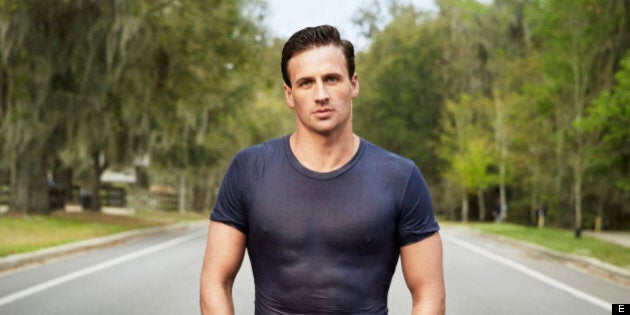 Does anyone care what Ryan Lochte would do? Apparently E! thinks so, hence its newest reality show. I guess we should just be thankful it's not another series centring on a Kardashian.
"What Would Ryan Lochte Do?" follows the swimming phenom on his quest for love as he parties all night long and flirts like the player he may or may not be. We already know he's a spoon in a drawer full of knives, but his philosophizing and babbling only proves that just because he's a powerhouse in the pool doesn't mean his brain works in that same capacity. In fact, if The Situation and Kim Kardashian had a baby that was dropped a handful of times, it could easily be Lochte. Jeah!
The swimmer has put his name on everything, from this small-screen endeavour, to running shoes, to the word "entourage." That's right, people, he has what he calls his "Lochterage," his "inner circle dedicated to 'turning it up' at all times," all of whom are devoted to Lochtenation. And as far as Ryan's concerned, everyone should have the Lochte edge, even though he has no idea what that "edge" is. Honestly, you can't make this stuff up.
Ryan believes that if you do anything, you have to "go big or go home," whether it's a game of flag football, partying hard or laying it on thick with the ladies, and I'm assuming the same goes for his swim career. But I wish we could see more of that. The skirt-chasing, the wild parties, that should just be filler, the kind of stuff that fills an hour-long results show. I'd rather see more of his rigorous training sessions for the next Summer Games, or even some of his dud dates as he searches for The One, but E! is obviously more interested in the Jersey Shore-ish (well, Jersey Shore lite; this is E!, not MTV) aspect of Lochte's life.
If frat guy good looks, a hot swimmer's bod, and a dopey personality is your thing, then you might find Lochte's antics entertaining. The premiere episode highlighted Lochte Flag Football (a weekly occurance, we're made to believe), a Lochte House Party, the Lochte family out for a night of bowling, and a night in with Ryan's older sisters (maybe the most entertaining part of the show) as they geared up to watch his favourite movie, What Women Want ("If I could read women's minds, I'd be the king of the world," Ryan dreams aloud). But how there will be enough material to fill the remaining seven episodes is beyond me.
Half the time, I can't tell if he's acting stupid -- or if he's really that stupid. When asked about his reputation of douchebaggery, Lochte tries to be all philosophical. "What does douchebag even mean?" he asks. Insert long pause and that glazed over look he has perfected before he adds, "No, really, I don't know what it actually is." Aw. Combine that with his 11 Olympic medals, the fact that he looks fantastic in a pair of Speedos, is an aspiring fashion designer and has a lot of money to play with, naturally, he's the perfect star for his own reality show.
But is it just me or can we all agree that rather than WWRLD, Lochte would've fared better as the next Bachelor since it seems the main focus of this show is his quest for love (who is this Jamie and will we see more of the London lass?). Sean Lowe may have been the last dude to dole out roses, but Lochte would be ideal for the next instalment. Lochte also spoke about how important dancing is to him and the future Mrs. Lochte. Could "Dancing With the Stars" also be in Ryan's future? I hope so. Because that would be entertaining.
"What Would Ryan Lochte Do?" airs Sundays at 10 p.m. ET on E!