TVO's first commissioned drama series, Hard Rock Medical, provides a fresh and entertaining look at the unique challenges of delivering healthcare in Northern Ontario. Hard Rock Medical follows the lives of eight medical students, their struggles to succeed, and the obstacles they face in adapting to practising rural medicine and living in the North. Patrick McKenna heads a Canadian ensemble cast in this series airing Sundays at 8 p.m., from June 9 to August 25 and at hardrockmedical.com.
The views expressed in TVO's Hard Rock Medical blog series are solely the opinion of the cast and filmmakers.
Not another medical drama!
Getting a television show made is hard. Getting a television show made in Canada is even harder. Getting it made in Sudbury, Ontario is Hard Rock Medical. As an independent filmmaker, television writer and director working outside of the mainstream of Canadian television, finding accessible subject matter for a series and a broadcaster to air that series, isn't the easiest thing in the world.
In 2010, I was shooting a TV series in Northern Ontario, a Franco-Ontarian hockey drama no less, and came up with the inspiration for Hard Rock Medical after hearing a radio interview on CBC's Sudbury affiliate's Morning North program. The item was about a new medical school with campuses in Sudbury and Thunder Bay that was turning the teaching of medicine on its ear. The notion intrigued me and I did a little research and found out that NOSM (the Northern Ontario School of Medicine) was in fact the real deal.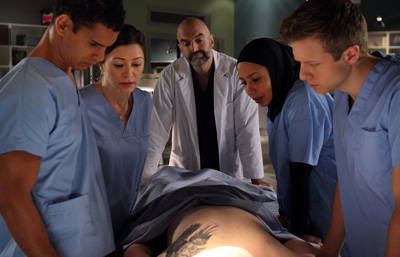 What made them interesting from a television drama point of view was that the focus wasn't just on recruiting the A-type nerd with the highest grade point average fresh out of university and turning them into the world's leading neurosurgeon. NOSM's mission was to train doctors to stay in the North and practise there. How do you do that? Well, you start by finding candidates who are established in the North and who aren't showing signs of leaving. What this means is a different kind of person -- usually someone older, perhaps with a family and kids, but most importantly, who is rooted in the North and is going to stay after getting their medical degree.
From a writing perspective, this gave my co-creator, Smith Corindia and I a rich array of characters to choose from -- characters that were more diverse and had life experience that we could build on. The characters in Hard Rock Medical are based on the kind of students you find at NOSM -- former teachers, lawyers, musicians, nurses, First Nations' people and Franco-Ontarians -- interesting people with life experience who want to become doctors and help the people in their backyard. Further, the backdrop isn't a cozy, ivy covered downtown university campus -- it's the whole of the North.
Hard Rock Medical is indeed another medical show, but I think we've found a nice little wrinkle inside a well-travelled genre and people who are tuning in are finding a humorous and entertaining take on medicine.