The archetypal struggle of great stories in Western culture often involves two protagonists uniting to take on a formidable opponent: Luke Skywalker and Han Solo, Frodo Baggins and Samwise Gamgee, Batman and Robin; you get the point.
Much rarer though are stories involving former enemies uniting to take on a common foe.
But in Alberta, the prospect of a second NDP government has forced Wildrosers and Progressive Conservatives to reconsider their past feuds.
Wildrose leader Brian Jean and Progressive Conservative leader Jason Kenney have launched discussions to unite the two parties in time to take on the NDP as a single force in the next provincial election.
Both parties have nominated five representatives each to come to an agreement on a framework for unity, hopefully to be concluded by the end of April. While both Wildrosers and PCs have some concerns for what this new unity party would look like, goodwill, friendship and transparency should allow both sides to come to mutually agreeable terms.
As those talks continue, I'm pleased to share survey results and feedback I've received over the past several months from grassroots Albertans on the matter.
Unity should not be an invitation for the "old boys" to get back into power, but a way to build something new and fresh to take Alberta forward.
In February, my Wildrose team and I hosted two public town hall meetings in Strathmore and Brooks to discuss the idea of uniting the two parties. Hundreds of people came out on short notice, of which 60 per cent were Wildrose Party members, but a sizable 40 per cent were not.
We asked those in attendance to complete anonymous surveys about their preferences on the topic of unification.
As an early supporter of unity discussions, I was pleased to see 90 per cent of those who completed the survey supported uniting the Wildrose and PC parties into a single, principled grassroots party. Anecdotally, many attendees told me that they shared my opinion on the matter; it simply doesn't make sense for people -- who agree on 90 per cent -- to risk the future of Alberta over the other 10 per cent.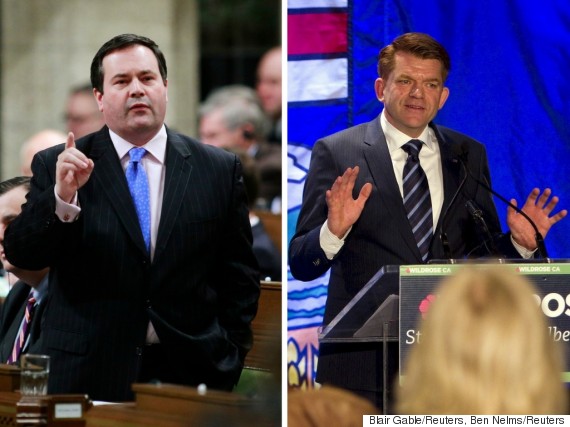 Jason Kenney of the Progressive Conservative party, left, and Brian Jean of the Wildrose party, right. (Photos: Blair Gable/Reuters, Ben Nelms/Reuters)
We also surveyed attendees on what a potential new party should be called. The clear preference was "Wildrose Conservative Party," followed by "United Conservative Party" and "Conservative Party."
I was encouraged to hear that this process shouldn't be about simply winning the next election and removing Rachel Notley from power. Everyone seems to agree that uniting the two parties needs to be about building a new party that is principled, accountable to grassroots members and the people of Alberta, and focused on improving the lives of everyday Albertans.
Importantly though, people were clear with me that unification should be forward-looking, to the future, and not the past. Unity should not be an invitation for the "old boys" to get back into power, but a way to build something new and fresh to take Alberta forward.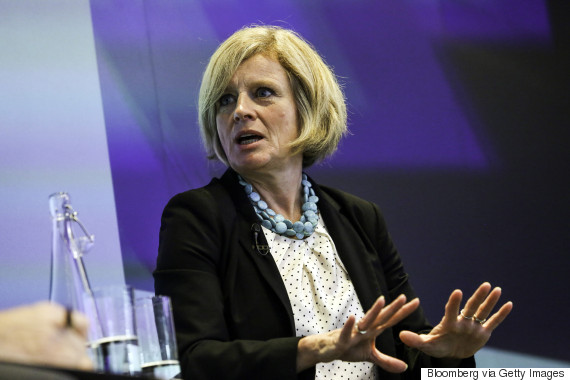 Alberta premier Rachel Notley. (Photo: Bloomberg via Getty Images)
We have two years to go before the next scheduled provincial election, but we shouldn't waste a minute. The NDP are busy appointing their friends to positions of power, stacking election rules in their favour and funding their allies with taxpayers dollars, who will in turn use that money to support the NDP.
We should be under no illusions about the lengths to which they will go to cling to power; but united together, I am confident that we will be able to overcome whatever obstacles they put in our way as we work to give this province back to its people.
Follow HuffPost Canada Blogs on Facebook