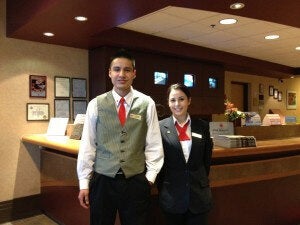 So, take some time this month and look around your workplace. Ask yourself how you are doing. Ask your staff, co-workers, leaders, clients and suppliers how you are doing? Then, decide which of these 10 tips you might be able to begin implementing right away:
1. Look Inside: Who are you? What is important to you? What do you care about? Your organization's culture is manifested in the behaviours of its members -- and those behaviours derive from your values, beliefs and attitudes about what really matters (from who you are).
2. Listen: I know, pretty basic, right? It's remarkable how much of the standard relates to having excellent listening practices. Do staff in your organization feel safe enough to talk to you -- about how they are feeling, about an idea they have for a new product or process, about work in general? If you are a senior leader, are you 'in the room' inviting staff members to honestly share with you about how they are doing? If you are not a senior leader (and if you are), are you sharing?
3. Model: A psychologically healthy workplace is one that has reasonable workload demands. How are you measuring up? Are you permanently attached to your mobile device? Are you sending emails at 11 p.m.? Do you take your breaks? If leaders are not modelling 'reasonableness' when it comes to workload, chances are pretty good that staff members aren't either.
4. Grow: A Well Workplace honours personal and professional growth and development. That includes all levels within the organization (see above). Are senior leaders educated about mental health and psychological safety? Are staff members provided adequate education about psychological well-being, and the importance of looking after their mental health?
You could even include simple Lunch n' Learn events, and share the tips from articles like the one from the Globe and Mail's Kat Tancock, titled 7 Ways to Boost Your Mental Health (and Get Better Sleep). They include simple strategies like breathing deeply and joining a book club, in addition to tips on how you can practice mindfulness more often. Or, you could circulate articles like the one by Dr. Marla Gottschalk, titled 6 Ways to Build a Positive Workplace to discuss at team meetings and get creative about how to integrate these ideas into your workplace. Also, be sure to check out Be Well Winnipeg, an initiative from the Canadian Mental Health Association, or other similar initiatives in your community -- and get in on a program that is already set up and ready to engage your organization in practising positive mental health.
5. Recognize: Do you notice people? I mean really 'notice' them? Do you recognize when things are going well for someone, and when they might be in distress? What do you do in either case? When the person has achieved some success, do you recognize that? When the person appears to be less well than normal, what do you do then? A Well Workplace is one in which recognition is -- in and of itself -- a value (and a set of behaviours).
The standard is voluntary right now. However, it just makes good business sense, doesn't it? Especially since there is a formula for you to follow to ensure your organization is psychologically well, 'all done' in the Action Guide for Employers. If you are still not entirely convinced, here are a few numbers that might pique your interest (there are many more, by the way).
A Watson Wyatt Worldwide Survey* reports that in Canada, mental health is the leading cause of both Short Term Disability and Long Term Disability, in the U.S. it is the fourth greatest cause for Short Term Disability and the third for Long Term Disability.
Companies with the most effective health and productivity programs experience:
11 per cent increase in revenue per employee
lower medical trends by 1.2 per cent
1.8 fewer days absent per employee
28 per cent increase in shareholder returns
IN ADDITION TO lower health care costs, lower levels of presenteeism, fewer days lost to disability and lower levels of absenteeism relative to their industry peers
* The study involved 282 U.S. and 70 Canadian organizations representing more than 11 million employees in all major industry sectors.
It seems pretty straight-forward to me. How about you?