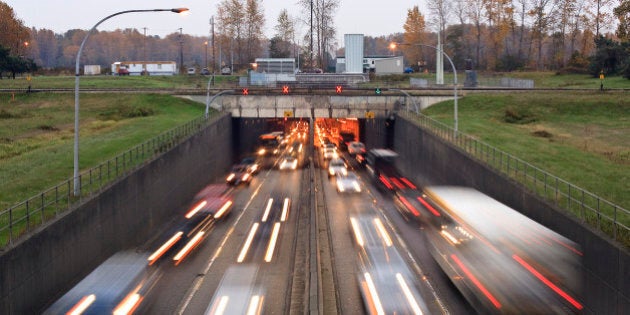 With news last week that all but one of Metro Vancouver's mayors have given a firm thumbs down to the B.C. government's proposal for a 10-lane, three-kilometre bridge to replace the George Massey Tunnel, it's a good opportunity to take a step back and give this idea more than a quick once-over.
There are seven compelling reasons to hit pause.
1. Performance audit first, tenders second
As part of its Performance Audit Coverage Plan 2015/16 - 2017/18, B.C.'s auditor general -- Carol Bellringer -- announced last July that her office would conduct an audit "to evaluate the quality of evidence to support the decision to replace the George Massey Tunnel."
So why not wait a few months? Let Bellringer's team evaluate the evidence and report back on whether it justifies spending $3.5 billion.
It's a rare opportunity to do the audit before, not after hundreds of millions of dollars in potential cost overruns for a bridge that might be used less than what it replaced, like the new Port Mann bridge does now.
2. At $3.4997 billion, it's a steal. Order yours today and we'll throw in an underpass at no extra charge.
In 2012, Public Safety Canada released a report on the construction industry, titled: "Economic Sectors Vulnerable to Organized Crime: Commercial Construction." The report notes that "cost underestimation cannot be explained by error and seems to be best explained by strategic misrepresentation, i.e. lying."
It's a view shared by others. In "Cost Underestimation in Public Works Projects: Error or Lie?", the authors write: "We conclude that the cost estimates used in public debates, media coverage and decision making for transportation infrastructure development are highly, systematically and significantly deceptive."
Speaking of which, B.C.'s transportation ministry estimates that the proposed Massey Bridge will cost $3.4997 billion (yes, you read that correctly).
Here's a mystery: if the proposed three-kilometre, 10-lane Massey Bridge will cost $3.5 billion and won't be finished before 2022, how is it that Montreal's 3.4-kilometre, six-lane Champlain Bridge -- now under construction and to be completed by 2018 -- will cost $4.2 billion?
3. The B.C. government's track record at infrastructure procurement isn't so hot
Last November, Deputy Health Minister Stephen Brown dropped this bomb on the public accounts committee of the B.C. legislature, when it was reviewing the health ministry's Panorama computer system debacle:
"I think a fundamental issue that the auditor general is raising is not just about contract management in the sense of procurement and general contract management but, in fact, the capacity of the ministry to manage very complex contracts and interface effectively with the vendors."
Brown's not alone in that view.
From Public Safety Canada's 2012 report: "Our sources in B.C. also indicate that government officials responsible for procurement lack the requisite expertise in relation to commercial construction projects. Many of those who formerly had the expertise have retired or moved on to the private sector."
4. Working both sides of the street
Following Premier Christy Clark's 2012 announcement that the Massey Tunnel would be replaced, Jeff Scott -- president and CEO of Fraser Surrey Docks -- had this to say:
"This announcement displays the government's ongoing commitment to creating a strong environment for economic growth."
Fraser Surrey Docks is part of the Australian-based Macquarie Group.
Funnily enough another part of the group -- Macquarie Capital Infrastructure -- was looking for a vice president last July. The posting included this line: "Participating in a team as developer and financial adviser for the $2.5-billion Massey Tunnel Replacement Project in Vancouver."
5. If it ain't sourced, it don't count
It may have escaped the government's notice, but the public doesn't really trust much of what the government says.
Earlier this year, the transportation ministry released a two-page fact sheet -- Debunking Massey replacement myths -- but not one source was cited.
Peter Fassbender, minister responsible for TransLink, tweeted the fact sheet. He was inundated with tweets asking for the source material. Dead tweet silence from him.
6. Grand opening specials
The government isn't so hot at estimating when infrastructure projects will be finished by, either.
The Evergreen line -- which had been "on time and on budget" until it was no longer "on time and on budget" -- was to have opened in 2014. It won't open until 2017.
Victoria's new Johnson Street Bridge started at $63 million. It's now $105.6 million and climbing, an increase of 67.6 per cent. It had been scheduled to open in 2015 and is now projected to be open by 2017.
The engineering firm working on the Massey project is MMM Group. It's also the prime consultant behind the Johnson Street Bridge. They designed the four-lane, two-span Nipigon River bridge in Ontario as well, the one that broke in February.
There's not much public buy-in for the bridge, except for those who already have a piece of the action or hope to.
It's why Bellringer's performance audit could prove invaluable. If the government's numbers are all on the up and up, what could it possibly fear from taking a few months to let the auditor general do her thing and report back?
Now that would debunk myths, if they're indeed myths.
Follow HuffPost Canada Blogs on Facebook