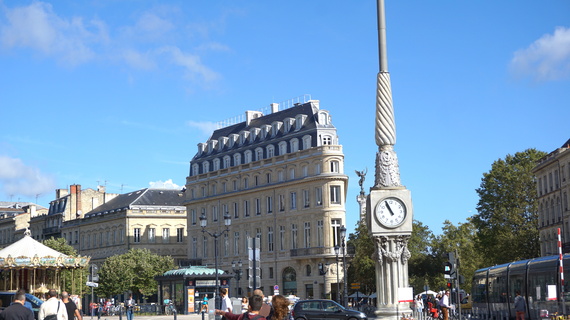 (Photos: Desi Globetrotter)
Note: Airfare provided by Air France. Accommodations and activities arranged courtesy of Atout France, Aquitaine and Bordeaux Tourism.
Like preserved fine wine, Bordeaux is becoming better with age. Famous for its surrounding vineyards and chateaux, this port city in France's southwestern Aquitane region is no longer a gateway or a quick stopover on the road to the world's best vinos; it's also a highlight. To fully understand the Bordelais art de vivre, or art of living, visitors are encouraged to indulge in its art, architecture, wine and gastronomic culture; a city in wine country is not meant to be consumed in a hurry -- swirl, sip, savour and stay awhile.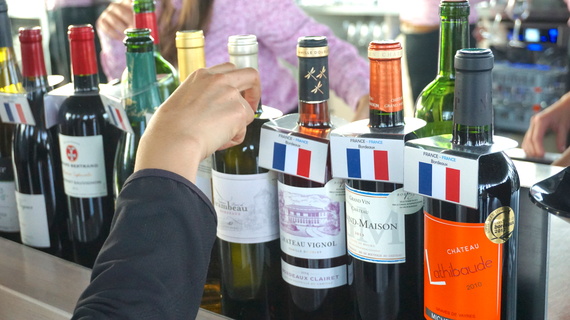 Why Go Now
Dubbed in the 80s as "Sleeping Beauty," Bordeaux has awoken refreshed and energized after a 15-year makeover. Once engulfed in black soot due to heavy pollution, the city's limestone façade has been polished clean, unveiling the grandeur of the city's historic 18th century architecture, helping the city garner recognition as a UNESCO World Heritage Site.
With Bordeaux's commitment to urban renewal and city beautification, the once neglected waterfront has been revitalized with new pedestrian areas, cycling paths, interactive public spaces such as the Miroir d'eau, a reflective sheet of water in front of the Place de Bourse. The city has an easy tramway system for connecting its various quarters and upcoming in 2017 is the launch of the LGV Sud-Ouest train, a high-speed rail linking central Paris to Bordeaux in two hours.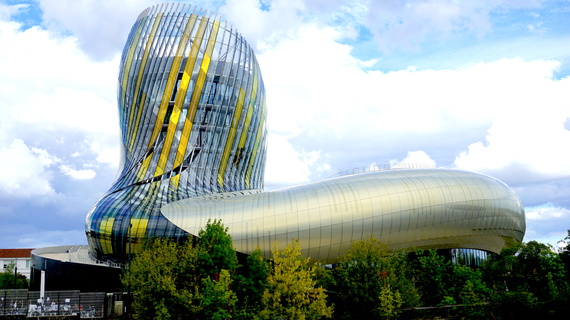 New Wine Museum
Bordeaux's revival has shown no signs of stopping. Bold and powerful, curvy and sensual, Bordeaux's waterfront is now home to La Cité du Vin, a massive contemporary architectural landmark museum dedicated to discovering the diversity of world wines. This impressive and unique example of contemporary architecture opened its doors June 2016 and has cemented Bordeaux's role as the wine capital of the world, giving the city its very own "Bilbao effect."
Built by Parisian agency XTU Architects, the museum's fluid design is emblematic of wine swirling in a glass. Inside, visitors can expect an interactive, multi-sensory and digital experience through permanent and temporary exhibitions taking you through the history of wine regions around the world.
Engage your senses by smelling various aromas and elements of wine, swirl and swipe your hands across digital screens built into taller-than-human wine bottle constructions, and take with you the "travel companion," a guide available in eight languages as you make your way through the museum.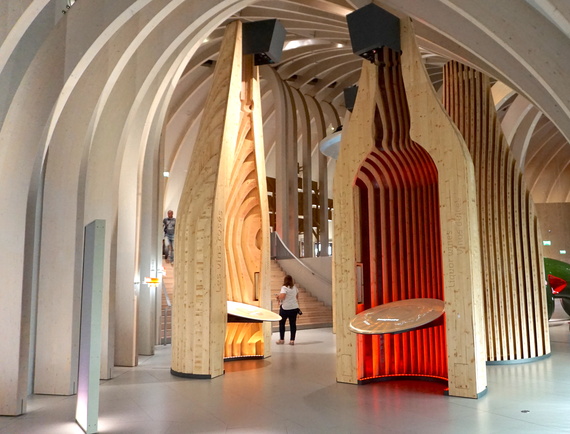 General admission is inexpensive and includes a drink at The Belvedere, a top-floor wine bar with a city view and a cool ceiling thematically decorated in hundreds of wine bottles. To add to your experience, you can book various multi-sensory workshops for adults, families and children at reasonable prices and if you lose track of time, cap the night with dinner at the panoramic Restaurant Le 7 -- as predicted, the sommeliers there have deep knowledge of food and wine pairings and can give you spot-on recommendations.
La Cité du Vin has become a highlight for visitors and in the short time it's been open, it has welcomed its 130,000 visitor (as of September 2016). And if that's not enough to have you pack your bags and fly to wine city, Bordeaux has also recently been named the number one city to visit in 2017 by Lonely Planet.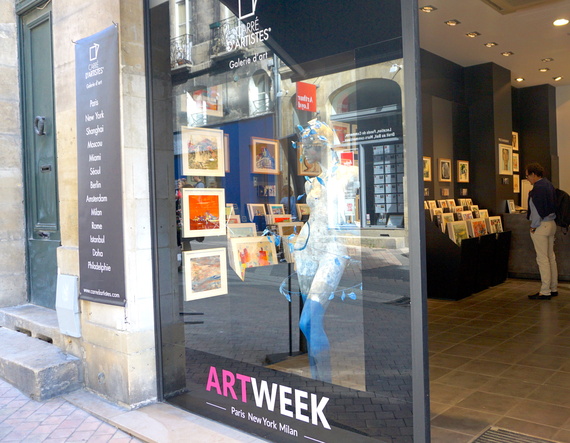 Lively and Young City
Along with its physical transformation, Bordeaux is also welcoming a natural cultural shift with new trends and a liveliness felt throughout the city -- a boon for tourism. Bordeaux is a young city with one-third of the city's population under 25 years old and with many student facilities (two universities, 10 business schools, eight engineering schools and one political studies institute), it's been an attractive choice for students.
Bordeaux welcomes young people every year because of its strong cultural scene, its "art de vivre" and gastronomy, its outdoor cafes on every street (Bordeaux has the highest number of cafes and restaurants per capita in France), trendy bars, galleries, designer shopping (Rue Sainte-Catherine is one of the longest pedestrian shopping streets in Europe) and its nightlife. Locals see it as a dynamic city with all the positive aspects of a capital like Paris, but less expensive -- and warmer, with 350 more hours of sunshine a year.
What's On Trend
With the young come new ideas. If you're looking for trendy things to see and do on your visit to Bordeaux, start with the city's gastronomical revolution. Three Michelin-starred chefs -- Gordan Ramsay, Joël Rabuchon and Pierre Gagnaire -- have opened up restaurants in under a year. Surprisingly, the concept of wine bars in wine-centric Bordeaux was obsolete 10 years ago (the outlier chateaux is where you went) -- now modern wine bars such as La Ligne Rouge and Garopapilles are spotted all over the city and are the places to sip.
For art aficionados, head to the CAPC - Musée d'art Contemporain, for intriguing contemporary art exhibitions located inside a historical warehouse, then walk over to Rue Notre Dame to shop at independent artisan boutiques with a vintage touch.
With Bordeaux attracting more young people, it's also embracing the sharing economy, stimulating and encouraging the creation of alternative spaces such as the Darwin eco-quarter which features an urban farm, a skate park, spaces for graffiti artists, co-working spaces, a wellness centre and more.
How to Get There
Bordeaux is only a one hour, 10 minute flight from Paris with Air France. A bonus? Air France fares allow for free stopovers, either on the inbound or outbound flight, allowing you to visit two destinations on the same journey.
Tourist Information
For trip planning help, visit: Atout France - ca.france.fr; Aquitane Tourism - tourisme-aquitane.fr; Bordeaux Tourism - bordeaux-tourism.co.uk.
City on the Move
It's an exciting time to visit Bordeaux -- with revitalization boosting its tourism, a new architectural wonder spotlighting world wines and a young demographic bringing in a trendy vibe, Bordeaux seems to be a city on the rise.
Follow HuffPost Canada Blogs on Facebook
Also on HuffPost: