Note: Airfare provided by Air France. Accommodation and activities arranged courtesy of Atout France, Aquitaine and Saint-Emilion Tourism. Tours of the art galleries were not arranged - I explored them solo.
With its old-world architecture, Romanesque churches, limestone ruins, underground caves, steep and narrow cobbled streets, Saint-Émilion is a picturesque medieval French village surrounded by vineyard landscapes and world-renowned châteaux. It's a surprising treat and an ideal starting point for travellers looking for a cultural escape in the heart of Bordeaux wine country.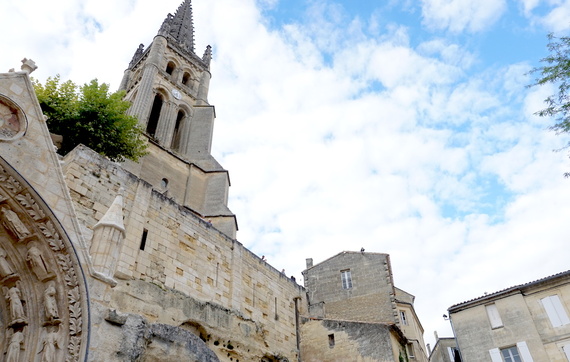 Saint-Émilion's famous Monolithic Church was built between the 12th and 15th centuries.
Steeped in history and protected by UNESCO as a "cultural landscape," visiting Saint-Émilion is like stepping back in time. The vineyards were first planted by the Romans in 2nd century AD; its founder was an 8th century monk named Émilion; and since the middle ages, Saint-Émilion has been a pilgrimage site.
My recent visit to this cultural gem built on a hill had me meandering down its pretty lanes and up its cobbled inclines discovering art, culture and history at every turn.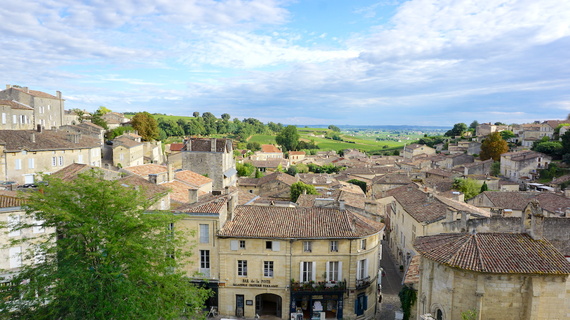 View of the village and vineyards from the Monolithic Church.
Where Contemporary Art & Wine Blend Together
Paris may be home to the Louvre, but small villages like Saint-Émilion is where under-the-radar artists, artisans and galleries are unveiled. Due to its location and its environment, Saint-Émilion has always been an attractive place for artists, but it's only been a couple of years where many new galleries have opened in the village.
Exploring up and down the narrow, cobbled lanes in Saint-Émilion, I stumble upon artisans in La Cours des Arts on Rue de la Grande Fontaine. With its open space and vibrant, bold paintings, the studio of artist Emmanuel Macouin catches my eye. Sitting at a table surrounded by acrylic paints, Emmanuel works diligently on his paintings as visitors pop in and out of his studio.
"I consider myself a colourist who loves roundness; I like the perfection of a circle," he says, describing his work. "I also try to put life, cheerfulness and a little humour [in my paintings]." For Emmanuel, making his art accessible is important. With visitors coming from around the world, Emmanuel's paintings range in price from budget-friendly €50 all the way to €2500; he can also ship his paintings worldwide.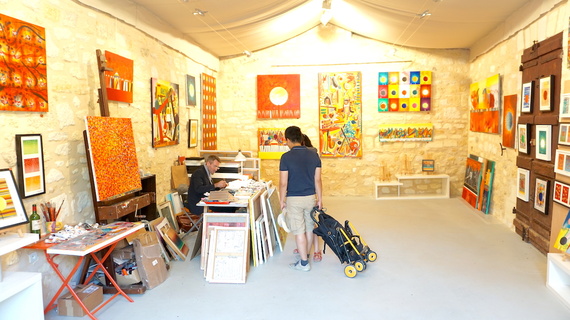 Visitors can drop in to see Emmanuel Macouin working in his studio.
Close to Emmanuel's studio, I discover the gallery of Maurice Barbette, a contemporary sculptor who transforms steel and wood materials into creative, fun characters. Many of his works are inspired by Saint-Émilion's wine-making region. His collections Douelle'men and Hangover are unique examples of how to use staves of wine barrels to make contemporary art.
"My Douelle'men represent the hidden side of the barrels. When you open a bottle of wine, you can't imagine the number of people involved in delighting your palate. I pay homage through my Douelle'men to these men and women who work hard on a daily basis in the vineyards," he says.
"On the other hand, for those who exploit the know-how of the winemakers, I pay tribute to them with my new collection called Hangover - always made from wine barrel staves, but without stainless steel this time," he adds. Maurice's Hangover series are €90 and his Douelle'men are €450. He creates all sorts of artworks and also ships worldwide.
For Maurice, choosing to settle in Saint-Émilion was a natural fit. "My artwork made from casks of barrels fit perfectly with the terroir and its wine culture."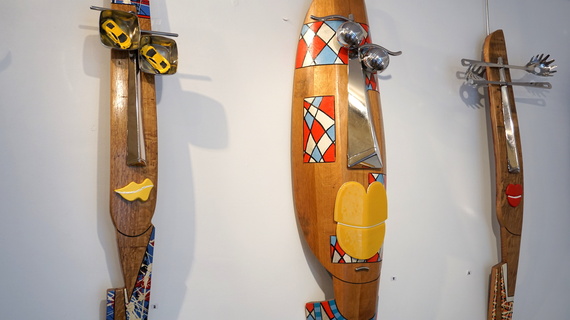 Douelle'men by artist Maurice Barbette.
To discover artists and artisans at your own pace, the Saint-Émilion tourism office also offers a map for a self-guided art tour.
A Bed & Breakfast with 16th Century Roots
Owned by friendly Dutch expats Arnoud Rietman and his wife Mariese de Monchy, Logis des Jurats is the bed and breakfast where I stayed for a night. Arnoud and Mariese also own a wine travel agency and it was a natural fit for them to purchase their own B&B.
Logis des Jurats contains three apartments in three houses all next to each other on a cute, quiet cobbled street very close to the main square. Not only does the village itself have history, but so do many of the lodgings. The large house is from the 16th century and the smaller house next door is from the 19th century.
"In the house, you see many traces of its history like former passages and openings that have been refilled again," says Arnoud. "When we bought the houses there were still wine-making facilities in the back, like big vats and other small tools for harvesting and winemaking."
For Arnoud, settling in Saint-Émilion was the right choice. "It's by far the most interesting and charming due to its combination of architecture and history, together with the most famous and prestigious châteaus of the world. The good thing is, except maybe for July and August, you can still walk around and enjoy it without the mass tourism that often spoils the experience."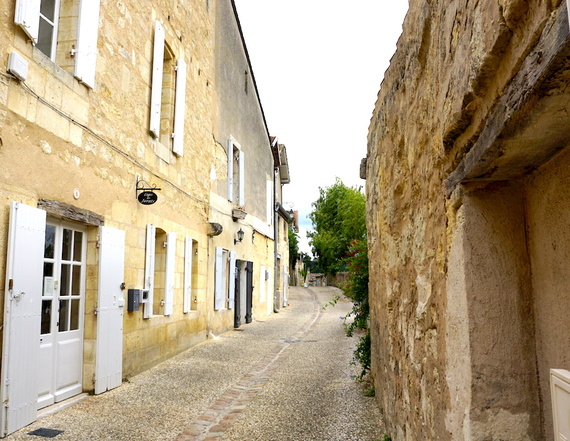 Logis des Jurats located on a quiet, cobbled street.
Wine Estates Passed Down from Family to Family
A visit to Saint-Émilion is incomplete without a wine tour. Pair your visit to the village with a trip to Château Troplong Mondot, a winery with history dating back to the 18th century. It's perched on a hill overlooking the village and with its 33 hectares is one of the biggest estates in the appellation of Saint-Émilion. If budget allows, stay for lunch at the estate's restaurant, Les Belles Perdrix de Troplong Mondot, a top-notch one Michelin star restaurant with a flawlessly executed menu that honours the vineyard.
Saint Émilion is where you come for the wine - and stay for the culture.
Chateau Troplong Mondot vineyards.
How to Get There
Fly to Bordeaux via Paris with Air France and take advantage of a free stopover either on the inbound or outbound flight. From Bordeaux, Saint-Émilion is less than an hour drive away.
Tourist Information
For trip planning help, visit: Atout France - ca.france.fr; Aquitane Tourism - tourisme-aquitane.fr; Saint-Emilion Tourism - saint-emilion-tourisme.com.
Photos: Desi Globetrotter