By Kate Grantham
At the start of every new term, I like to show my first-year international development studies (IDS) students a TED Talk by Nigerian author Chimamanda Ngozi Adichie called The Danger of a Single Story. In it, Adichie discusses the power of storytelling to reduce complex human beings and situations to a single narrative, and warns about the danger for stereotypes to create misunderstanding. This lesson is particularly important for IDS students, who will spend the next four years being inundated with images and information about poor individuals in developing countries, and who must learn to guard against essentialist ideologies in order to do good work.
Students are not the only individuals prone to engage in development stereotyping. In truth, too much of contemporary development work relies on stereotypes. And while overly simplistic and ingrained ideas about men, women and the poor may be useful for fundraising purposes, when put into practice by organizations they contribute to ineffective development planning.
My research explores next generation models for microfinance in sub-Saharan Africa as a tool to promote women's empowerment. In my experience, microfinance is an area of global development that is particularly ripe with stereotypes, and has been for decades.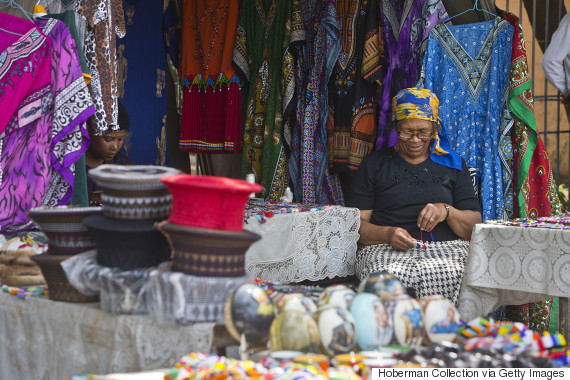 Elderly woman at informal Soweto flea market on Vilakazi Street, Orlando West. Soweto, Johannesburg. (Photo: Hoberman Collection/UIG via Getty Images)
Beginning in the 1970s and 1980s, and building on the work of the Self Employed Women's Association in India, organizations like Opportunity International and the Grameen Bank began offering collateral-free loans to poor individuals without access to financial services. These individuals were required to meet regularly, make weekly deposits into a group account and be jointly liable for each other's loans, thereby creating an alternative to conventional loan collateral requirements that poor people can rarely fulfill. The perceived success of this credit-focused, group liability model generated considerable international attention and brought women into the center of development planning.
Gendered stereotypes regarding male and female behaviour encouraged microfinance organizations to target women as participants. When compared to their male counterparts, women were seen as more "creditworthy" -- i.e. more reliable to follow through with programming commitments, to invest new resources in family members' health and education, and to pay the benefits of economic development forward to their community.
Early assessments of microfinance likewise proclaimed its myriad benefits for women. It was argued that microfinance could reduce poverty and poverty-related health conditions by increasing income and consumption among women and their families. Beyond its immediate economic impacts, access to credit was further argued to reduce gender inequality in households by fostering women's enhanced self-esteem and bargaining power. The group liability model, sometimes termed "solidarity groups," was also believed to promote women's empowerment by creating broader social networks for women and increasing their standing in the community.
By 1985, women comprised more than 80 per cent of microfinance clientele worldwide, which amounted to nearly 70 million women. Microfinance's widespread success was largely attributed to women's uniquely compassionate, amicable and self-sacrificing nature, and to the power of solidarity groups to leverage these female attributes for productive use. Such stereotypes about women were highly influential in the mushrooming of microfinance development projects around the world during the 1980s and 1990s.
But the problem with stereotypes -- to paraphrase Adichie -- is not that they are untrue, rather that they are incomplete. Neither "women" nor "the poor" are homogenous groups, and should not be treated as such within development planning. The failure of early assessments to consider women's heterogeneity and the complexity of gender relations inevitably led to overly positive portrayals of microfinance.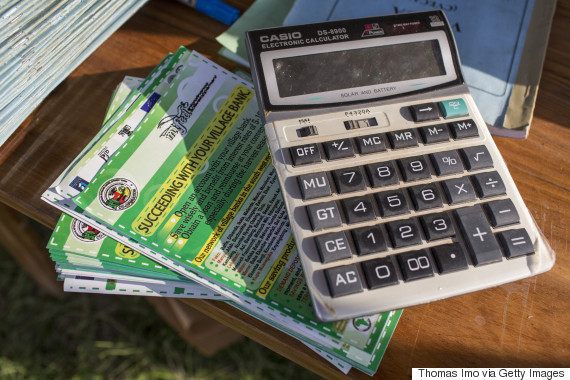 Calculator and Microfinance bank application forms on October 30, 2012 in Mondoni, Cameroon. (Photo: Thomas Imo/Photothek via Getty Images)
Beginning in the mid-1990s, a surge of critical scholarship emerged. Studies began to identify problems related to the appropriation of women's loans by their husbands, and claimed that the challenge to male authority generated by women's increased income contributed towards household tension and even violence against women. The group liability model, once praised for its ability to channel women's solidarity, was revealed as being highly romanticized and exclusionary of extremely poor individuals. Perhaps most damaging were studies highlighting microfinance's failure to address the structural causes of poverty or to provide women with decent and secure employment.
In other words, we now know that no automatic correlation exists between microfinance, poverty reduction and women's empowerment. And yet, microfinance programs are still routinely developed and promoted on the basis of an implicit causal relationship between economic growth and gender equality; as are many other types of economic development initiatives. The resiliency of gender stereotypes suggesting women's predisposition toward solidarity, amity and self-sacrifice are more than just offensive, they have prevented many microfinance organizations from designing effective programs. This is especially problematic considering that microfinance has undoubtedly drawn resources from other, possibly better, development programs.
This is not to say that microfinance has nothing to offer women or development. Indeed, innovative models of microfinance have been shown to modestly reduce poverty and gender inequality in specific contexts. My point is that instead of relying on essentialist and outdated development stereotypes, we need evidence-based approaches to promote women's empowerment.
The Growth and Economic Opportunities for Women (GrOW) program is a multi-funder partnership between the UK Government's Department for International Development, The William and Flora Hewlett Foundation, and Canada's International Development Research Centre. GrOW aims to strengthen the evidence base on women's economic empowerment with a view to supporting informed policy-making. With 14 projects taking place in 50 countries, the program works with researchers to improve economic outcomes and opportunities for women on the themes of employment, the care economy and economic agency. Project results and policy lessons are then disseminated online as working papers and policy briefs through the GrOW Research Series.
Initiatives like the GrOW program and GrOW Research Series provide a valuable alternative to the false wisdom of development stereotypes. They remind us that there is no substitute for evidence-based approaches to empower women.
Kate Grantham is a Research Associate at the Institute for the Study of International Development at McGill University, and Managing Editor of the GrOW Research Series.
The views expressed are those of the authors and do not necessarily reflect the views of CCIC or its members.
Follow HuffPost Canada Blogs on Facebook