It is the final evening of the Observation Mission of Human Rights and Migration (OMODH). As a group of 24 international human rights organizations, we have travelled from Guatemala to Mexico, visiting with migrants and communities to better understand and advocate around migration. We are sitting in the central plaza of San Cristobal de las Casa, in Chiapas, Mexico, when a rumor starts spreading through the crowd. "The mothers are coming, the mothers are coming!" As a group, we rushed to the street entering the plaza, clasping hands to form a human chain of welcome and honour.
"Vivos los llevaran y vivos los queremos!" echos off the church and fills the plaza. This cry, "alive they were taken, and alive we want them!" has been taken up by the Caravan of Central American Mothers Searching for their Sons and Daughters. The Caravan is made up of women of all ages, wearing photos of their missing children around their necks and carrying the flags of their countries: Honduras, Guatemala, El Salvador. We applaud their courage, as the long line of women passes between us to take place of honour on the plaza stage.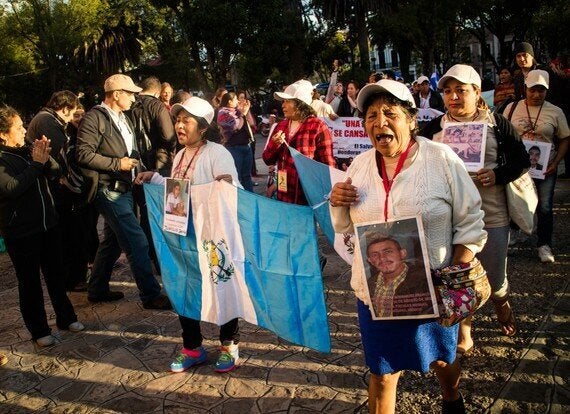 Their children disappeared somewhere along the different migrant routes from Central America, through Mexico, into the United States. The children decided to migrate north for various reasons: looking for employment opportunities, family reunification, fleeing violence, or a combination. Now the mothers of these migrants also travel, following their children's footsteps through Mexico in their pilgrimage of remembrance and advocacy. They are searching for their disappeared and vow not to rest until they find them.
Mothers searching for their disappeared has a long history throughout the Americas, spilling over from the disappearances during the dictatorships and civil wars of the 20th century into the present. In Argentina, the Mothers and Grandmothers of the Plaza de Mayo courageously marched every Thursday during the Dirty War to demand the return of the over 6,000 disappeared. The Mothers of Soacha also search for their children, among the 60,630 forcibly disappeared in Colombia. In Canada, Indigenous women also demand answers for the over 1,200 missing and murdered Indigenous women.
Now, the caravan of Central American Mothers joins in this tradition. While official statistics represent only the bare minimum number of missing migrants, Missing Migrant Project records 668 migrant deaths from Latin America in 2016. According to the Colibri Centre in Tucson, since 1998, more than 6,951 migrants have lost their lives while crossing the U.S.-Mexico border. In a community we visited in Alta Verapaz, Guatemala, an Indigenous woman shared about the ongoing search for her missing uncle, disappeared during the Guatemalan civil war in the 1990s. Now her brother is also missing, gone somewhere along the migrant route in Mexico. The circumstances have shifted, but the strategy of disappearing people remains the same.
In the communities and shelters we visited, migrants shared some of their stories with us. They face kidnapping, extortion, rape, human trafficking and robbery by armed groups, along with threats, bribes and corruption by migration authorities. We heard that cartels located on the southern Mexican border now earn more money through trafficking and extorting migrants than through the drug trade. Border militarization through Plan Frontera Sur has pushed migrants to seek increasingly dangerous routes to avoid detention and deportation by authorities. Migrant lives appear to be of little value to those in power in all the countries they travel through.
To take the mothers' quest seriously would mean admitting and dealing with the human rights crisis taking place all along migrant routes.
Yet to their families, these migrants are much more than objects of exploitation. Rather, they are seen as brave to undertake such a journey, often for the benefit of their families. The absence of these loved ones has left a gnawing hole of uncertainty and grief.
The mothers demand answers. Doña Maria´s son has been missing since 2003. She participated in the Caravan of Mothers and shares what she has learned during her search in a report from Junax ko'tantik: United Families of Chiapas Searching for our Migrants, "We have learned that we have rights and that we can demand that the government help us in our search. We can demand, even when the government does not respect us and considers us to be ignorant...We want the authorities of our states to comply with their responsibilities."
In most instances, however, there are few answers from Central American or Mexican authorities. To take the mothers' quest seriously would mean admitting and dealing with the human rights crisis taking place all along migrant routes. NGOs are active in their support, using a DNA database and forensic science to try to connect families with bodies, but without a concentrated state response to deal with human rights violations and roots causes of migration, the mothers of Latin America will be forced to continue to search for even more missing children.
We recently marked International Women's Day and I wonder, how do we honour these women and their tireless search? We can begin by recognizing rights of migrants, to be free from discrimination and danger during their journey. The Canadian government must advocate with their counterparts in Mexico, Central America and the United States for less militarization and an increased humanitarian response to migrants, with human rights protections at the top of the agenda. Foreign aid to the region must focus on root causes, such as unemployment and corruption, and support civil society efforts to create government accountability. No woman, no matter how courageous, should have to search for her missing child.
Anna Vogt is the Latin America and Caribbean Regional Advocacy and Context Analyst for Mennonite Central Committee, based in Bogota, Colombia.
The views expressed are those of the authors and do not necessarily reflect the views of CCIC or its members.
Follow HuffPost Canada Blogs on Facebook