By Carolina Prado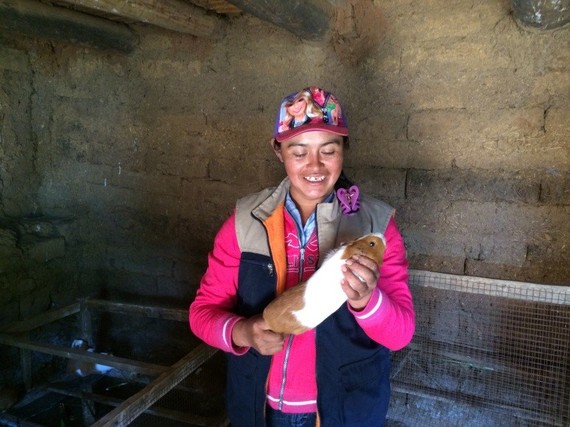 World Vision (WV) has been contributing to the improvement of children's well-being in different parts of the developing world for a very long time. We do this mainly through the "development program approach," which has been rooted in decades of field experience.
This approach intends to equip field level staff to work effectively with a whole variety of local partners towards the sustained well-being of children, within their families and communities. All the partners, families and children will participate in the process of planning and implementing the program. In this article I would like to share what the results of this approach look like in reality.
It is the rainy period in the Peruvian Andes and maybe landslides will block the road. Jeronimo, Catalina and their two daughters, Karol, eight, and Karla, 12, are part of the program WV implements in this area. They live in Ramon Castillo, a small rural community. To get there, it is necessary to take a long journey in the tortuous Andean highlands, about ix hours by car from Trujillo, capital of La Libertad.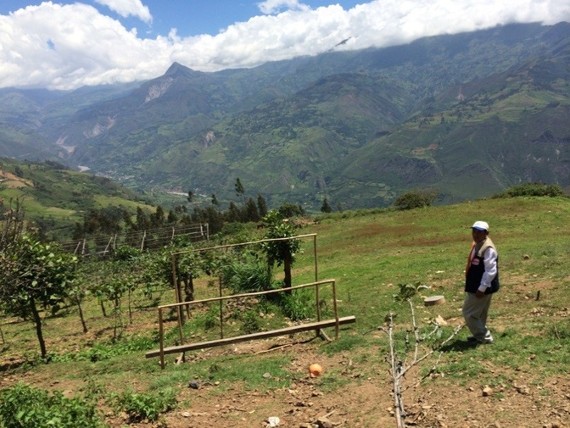 The communities in Ramon Castillo, located about 2,500 metres above sea level, lack access to basic health and to quality education services and children may suffer from respiratory diseases, high incidence of diarrhea, as well as malnutrition, due to inappropriate feeding and hygiene habits and to poor sanitary infrastructure. Challenging access to the nearest city market makes it complicated for small farmers to sell their products (1) and they end up selling at very low prices to middlemen, who will resell the products at a much higher price.
Andean traditional culture usually puts women in an inferior place -- as they are not granted the social space to share their views publicly, if men are present. Gender-based violence is a serious issue, as is domestic violence. It is common for children to be disciplined through physical punishment and they are usually very shy and do not express themselves freely in public. These are sensitive issues to approach in a cultural respectful way; however child protection and gender equality are necessary components of the development approach in the Peruvian highlands.
Nonetheless, it is possible to observe a different reality in the program that has been implemented by WV together with local partners since 2007, and the impact of this approach is sound and clear. The positive changes are the result of a long-term community partnering approach to poverty reduction. At community meetings, volunteer women and children were happy to talk about their community life and the impact the program has had in their lives.
Karol and Karla have been sponsored by WV and are participating in activities for the last seven years. Both of their parents are volunteers and also have been benefitted from the economic development and leadership strengthening actions. Their mother, Catalina, says that the early childhood development activities have supported her daughters to socialize, not to be shy and have prepared them to enter primary school ready to learn. Health activities have supported them to decrease the level of malnutrition in the community:
"There were many changes in the way we raise our children, there is no child abuse in this community. There are good changes in health, learning, and hygiene habits. We have learned to always wash our hands; children who go to early childhood development activities are ready to enter school, and learn to love to read, through the Ludoteca and Reading Backpack activities (2)."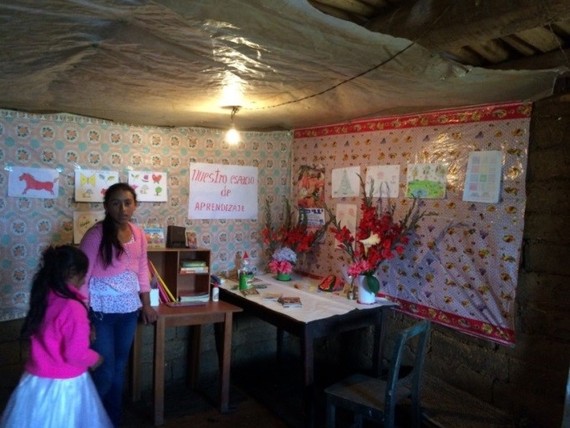 Jeronimo and Catalina share they have participated in the planning of the program, which has supported small farmers with guinea pigs' breeding, for their own consumption and for commercialization. Today this is a source of income for families. He mentions WV has partnered with them to improve their agriculture production, providing seeds and supporting to set up the irrigation system, so their crops can be well irrigated throughout the year. More profitable commercialization channels are still challenges, though.
The family has been benefitted with the "Enhanced Kitchen" activity, which educates families to build their kitchens outside their adobe houses, directly decreasing the rate of respiratory diseases in children.
Karla, the oldest daughter, shared a bit of her routine: she wakes up early, and after breakfast she takes a 40 minutes' walk to school. She loves studying, and after getting home, she has lunch and helps their parents with the farm. Later, she will have a time to study, read, or draw at the Learning Place (3), together with her sister Karol and to play afterwards.
When I asked Karla about what she wants to do when she grows up, her answer was:
"I want to go to the university and study to be an Agricultural Engineer. And then I want to come back to my house and work here, with my parents. I love to live here and I love this farm!"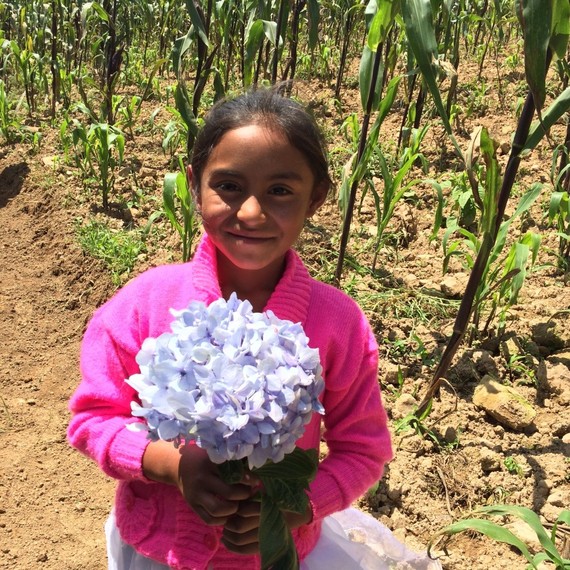 This is the best indicator of the program's impact: children are healthy, happy, studying and hold a life project that includes staying in the rural area, working with their families to continue improving their quality of life.
(1) potatoes, avocado, passion fruit, tree tomato, quinoa, wheat
(2) Ludoteca is a literacy stimulation strategy that the ADP implements in partnership with the local primary school and through the Reading BackPack children and their families can bring books to their homes and have a reading time with their family. Families are also encouraged to have "Learning Place" for their children at home
(3) A WV education tool - of supporting families to secure an appropriate place in their houses for children to study
Carolina Prado is Program Manager at World Vision Canada
The views expressed in this blog are those of the authors, and do not necessarily reflect the positions of CCIC or its members.
Follow HuffPost Canada Blogs on Facebook
ALSO ON HUFFPOST:
Best To Worst Poverty Rates In Canada