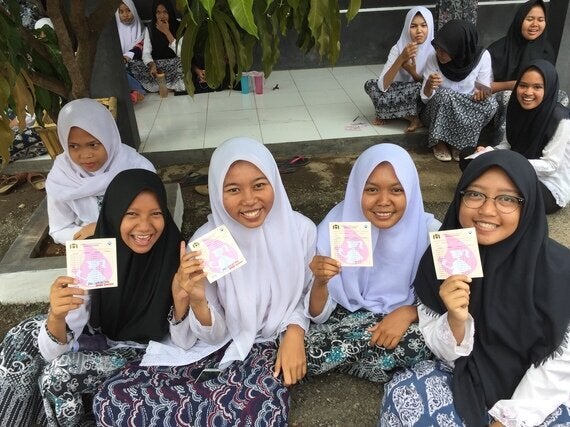 March 8th marked International Women's Day, a time when we take a moment to celebrate women of all ages and assess our status within this world. On this day, we are reminded about how far we have come: more women than ever are taking leadership roles in companies and governments, women are leading the world in areas of social justice and human rights, young girls are enrolling in elementary school at a higher rate than any time in history, and more women are joining the tech and innovation sectors and industries.
If we want to reach the targets of the Sustainable Development Goals (SDGs) by 2030, we must prioritize SDG 5 that specifically focuses on the achievement of gender equality and empowerment of all women and girls. To tackle this goal head on, governments are making concerted efforts to break down the barriers that women and girls face. These initiatives are creating spaces and opportunities where women can have a voice and take a seat at the table.
Yet, despite these great achievements, women and their children still face inequitable access to the most basic human necessities like proper nutrition.
Approximately one billion women globally are malnourished. This means that just over one in three women globally are not getting the proper nutrients they need nor are they able to provide adequate nutrition to their children. Most people know that nutrition is directly linked to growth, health, and cognitive and social development. However, many people are not aware that malnutrition and chronic malnutrition impacts an individual's entire life trajectory, including long term health and economic outcomes.
Malnutrition can hinder an individual's ability to perform well in school and even complete schooling. For children who are chronically malnourished, they will be unable to gain the education and skills needed to participate in an increasingly evolving job market. In which, economists can now estimate can reduce an individual's potential earnings into adulthood and "reduce a country's GDP by as much as 12%." This represents a huge loss for a nation's economic growth and competitiveness.
Women have the highest rate of anaemia globally
Globally, just over half a billion women of reproductive age, and just over a third of the entire female population, are anaemic. The disorder, which is predominantly caused by a deficiency in iron, causes fatigue and impacts an individual's physical productivity and work performance. In many countries around the world, feeling continually tired and unable to perform well academically is one of the reasons why adolescent females drop out of school or delay finishing their education.
Exclusive breastfeeding is one of best ways to reduce child mortality yet it is estimated that only 38% of infants in the first six months of life receive it. Breastfeeding provides a child's first immunization against illness including pneumonia (respiratory infections), diarrhea, and other life threatening illnesses. It is also integrally tied to rates of stunting (chronic malnutrition that causing stunting in growth and individuals are too short for their age). As well, provides essential micronutrients that contribute to brain and physical growth and brain development, impacting their entire life span.
Always Last to the Dinner Table
The causes, effects and impacts of malnutrition are complicated and intertwined. They illustrate however, the cycles of poor nutrition, ill health, and poverty that disproportionately affect women and their children. These cycles must be addressed in order to achieve the SDG targets on gender: women and girls need to have the same access to education to realize their potential; the same opportunity to access and participate in the job market as a valued and equal contributor, and the same access to good health and wellbeing as her male counterparts.
At the centre of these cycles are barriers that are socially, culturally and politically determined. These include norms around gender in which girls and women tend to be fed less and last, while boys are viewed as more valuable with better prospects. This also includes attitudes towards maternity and motherhood that hinder job participation and competitiveness, or render breastfeeding difficult; compounded by limits in labour laws or the presence of social rules, that don't protect a woman's place in the job market as a mother, and/or shame her for indecency.
As these are social and political constructs, they can be changed with appropriate policies.
- Governments can make parental leave a standard within their labour laws.
- Policies can be written to prioritize adolescent anaemia as a part of reproductive and maternal health services.
- Communication campaigns can address misinformation around breastfeeding as well as address popular attitudes around breastfeeding as indecent.
- Access to education for young women can be improved and the barriers to education eased.
- Poor nutrition can be addressed with programs that provide micronutrients and school meals.
If women are the drivers of development, it isn't enough that they are given more space to be leaders and tech innovators. In order to achieve the SDG targets and women's equality, women and their children must be given proper nutrition and a seat at the (dinner) table, first.
Kristiana Bruneau is Child Health Officer at RESULTS Canada.
The views expressed are those of the authors and do not necessarily reflect the views of CCIC or its members.
Follow HuffPost Canada Blogs on Facebook