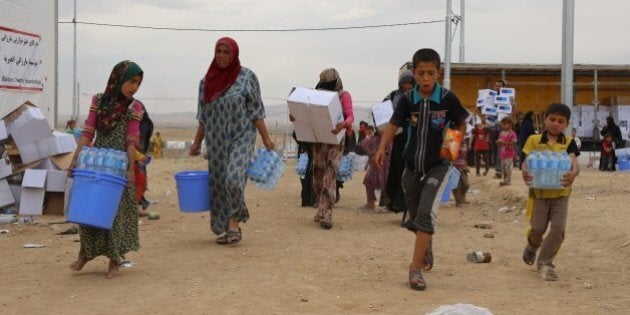 This post is the seventh of a seven-part series on the themes of the High-Level Leaders' Roundtables at the first-ever World Humanitarian Summit, to be held May 23-24 in Istanbul, Turkey.
The global humanitarian system is failing at the same time as it has also never been better equipped to respond to emergencies and crises. There are countless aid organizations and hundreds of thousands of experienced and dedicated humanitarian aid workers helping the most vulnerable around the globe.
The UN Secretary General, in a recent report for the World Humanitarian Summit (WHS) titled "One Humanity, Shared Responsibility," acknowledges that "the international aid system has not kept pace" with the changing landscape.
Protracted conflict, climate change, urbanization and inequality are increasingly interconnected. Disasters are more frequent, less predictable and affect larger populations. The world hasn't seen this level of population displacement and suffering since the Second World War, and the international community appears powerless to prevent this. While global humanitarian responses work relatively well for natural catastrophes, these consistently fail to meet the needs of civilians in complex emergencies and conflicts or to react to early warnings of pending droughts.
Even in Canada, the system remains tied to outdated processes, in terms of cooperation, fundraising and aid delivery.
Perhaps the most difficult issue to resolve is the chronic financing needs of a resource-starved humanitarian system dependent on a series of never-ending emergency appeal -- appeals that are systematically underfunded by bilateral donors who cannot meet the high demands on their coffers.
In advance of the WHS, a High Level Panel on Humanitarian Financing was formed. In January this panel, which included Walt MacNee, a Canadian and Queen's university alumni, released the report "Too important to fail -- addressing the humanitarian financing gap," which lays out three big areas for necessary improvements. To paraphrase:
1) Shrinking the needs - through early response, political solutions to conflicts, disaster risk reduction and blending of development and humanitarian funding for protracted crises.
2) Deepening and broadening the resource base - through new forms of financing (ex. a "solidarity levy"), better recognition of new donors, harnessing the engagement of the business community (in financial services, insurance, networks), Islamic finance, media and NGO partnerships to raise private donations and new crowdsourcing technologies.
3) A Grand Bargain on efficiency - through improving synergies, reducing red tape, reducing duplications of administrative and management costs (among UN agencies and NGOs), transparency, reduced administrative/reporting burdens, more direct assistance to local NGOs and more use of cash programming.
While straightforward and feasible, each proposal requires a break with the status quo -- a status quo that includes profoundly perverse contradictions; as outlined in ODI's report entitled "Time to Let Go."
Not least among these contradictions are leadership incentives that prioritize revenue growth over program impact and pit NGOs and UN agencies in competition with each other for resources. Too much investment by our sector goes into wasteful duplication like this.
Unprecedented solutions must be conceived and piloted if we are to have greater impact as we confront growing needs with stagnating revenues. For as one Canadian expat recently pointed out to senior Canadian humanitarian leaders, "globally, humanity spends more on bubble gum than on humanitarian assistance." Unfortunately that doesn't seem likely to change anytime soon, so it is incumbent on us to do more with what resources we do have and work together to access more resources.
The WHS, and the openness proffered by the new Liberal government, provides an opportunity for the Canadian humanitarian sector to trial new ways of doing business. We should wake up to the potential of joint action to mobilize the resources of the private sector, greater support of media corporations for public engagement and, perhaps more importantly, to propose new humanitarian funding infrastructure for NGOs.
The Humanitarian Coalition is the biggest Canadian humanitarian funding evolution in the last decade, leading to joint appeals, partnerships with broadcasters and an NGO-led Global Affairs Canada-funded humanitarian funding mechanism: the Canadian Humanitarian Assistance Fund (CHAF). However, even this progress is tiny in contrast with the challenges that remain. This is why in 2016, we are trying something entirely new: a multi-agency open-participation campaign for World Refugee Day. Through this we seek new benefits of collaboration to mobilize Canadians and build tools to help us fundraise for complex and protracted crises. We will learn much with this, but it also not enough.
It is time and the conditions are right for a "New Deal on Canadian humanitarian financing." We can build the humanitarian infrastructure of the future. The drive for that must come from the NGO community, which to be successful must put on-the-ground-impact ahead of agency-specific revenue targets.
Nicolas Moyer is Executive Director of the Humanitarian Coalition.
This blog series on the World Humanitarian Summit was convened by the Canadian Council for International Co-operation. The views expressed in each blog are those of the authors, and do not necessarily reflect the positions of CCIC, its members, or other participating organizations.
Follow HuffPost Canada Blogs on Facebook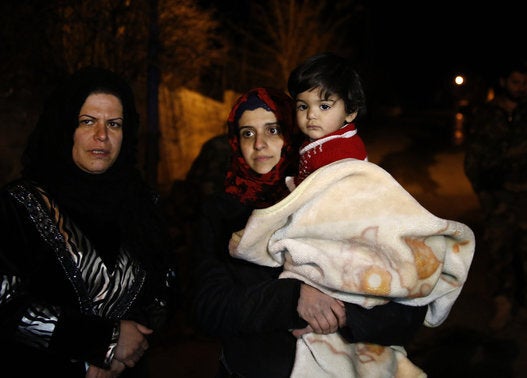 7 Deadly Threats Facing Innocent Syrian Civilians