Do you stand in grocery store aisles poring over nutrition labels? Me too! Making sense of the information can be tricky business, even for me, and I'm a dietitian! For starters, serving sizes for similar products are not always the same, making it difficult to compare one product to another. Fortunately, Health Canada is planning to update the Nutrition Facts Table (NFT) that you see on all packaged foods. On July 14, Health Minister Rona Ambrose released details of proposed changes. These changes will better reflect the latest scientific evidence, and make the NFT easier to read and understand. Below is a snapshot of what to expect.
Stylistic changes to the NFT will make it easier to read. For example calories, of interest to many of us, will appear at the top of the table in larger font, and in bold, so you can read it without a magnifying glass (or maybe that's just me!).
Nutrients that many of us want to limit such as sodium, fat and sugar, will be grouped together and listed in the upper portion of the label. Nutrients we want to get more of such as fibre, vitamins and minerals, will appear together in the lower portion of the label.
New guidelines would make 'serving sizes' more consistent across similar products. That way you can compare nutrients in one product to nutrients in the same amount of a similar product. Serving sizes would also be more realistic in terms of the amount a person would actually eat, at one sitting.
Focus on nutrients Canadians want/need to know about: sugar
Canadians are becoming more concerned about the amount of sugar in the products they consume. To address that concern, the NFT will separate out 'added sugars' from total sugars, and group sugar ingredients together, so you get a clearer picture of the amount of sugar in a given product. Also under consideration is adding a "% DV" for sugar. "% DV", or percent Daily Value, tells you how much of a given nutrient you are getting in a product, compared to a reasonable amount for the whole day.
Potassium and vitamin D are two nutrients that many Canadians are not getting enough of. Potassium is beneficial for lowering blood pressure and vitamin D helps in the maintenance of strong bones. The new guidelines would require the amount of vitamin D and potassium to be stated on the NFT.
Declaration of vitamins A and C would no longer be required, however, because most Canadians are not deficient in either of these vitamins.
An optional information box would highlight the amount of certain components of interest to Canadians, such as caffeine.
Ultimately, the goal of the proposed changes is to make it easier for Canadians to make healthy choices, and that is welcome change for all of us!
A series of online, public consultations is ongoing to September 11. Go to the Health Canada web page to have your say!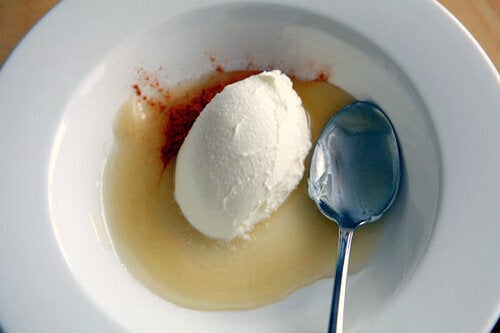 What Nutritionists Snack On