FotografiaBasica via Getty Images
I landed at Heathrow on a bright September morning, my shoulders rubbed raw from the gargantuan weight of my backpack. I had one thing on my mind before I settled into my new British life: Coffee.
Coming to terms with the fact that I wouldn't be sinking my teeth into a Tim's Maple Dip doughnut anytime soon, I settled on getting my java fix at the Costa Coffee in Terminal 5. Coffee is coffee, right? Or so I thought...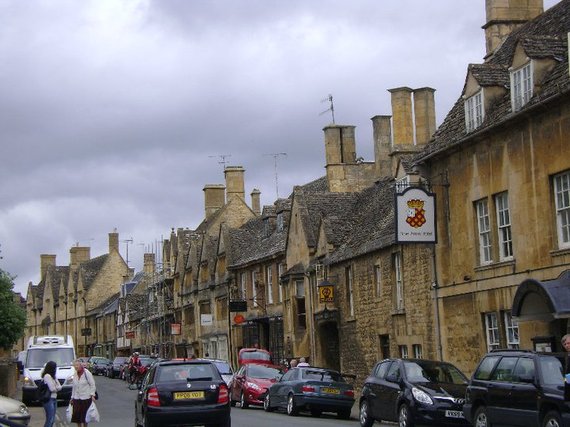 I walked as briskly as my wearied legs would carry me, suitcase trundling behind me up to the counter. A girl wearing a khaki shirt smiled and said: "What'll it be, love?" Without scanning the menu I casually replied, "I'll have a large coffee, two milk, please." She looked at me strangely, "like a flat white?" Too tired to ask questions, I nodded.
As I dug in my change purse for some chubby £1 coins mixed in with shiny toonies, I heard the whir of a milk frother and noticed she was artfully preparing my coffee, frothing and tapping away. She brings me a cappuccino-looking thing with elegant swirls of frothed milk and says, "That'll be £2.40 love."
Clearly, my days of what some may call bad coffee, were over.
I suddenly felt very unsophisticated and yearned for the familiar reddish-brown Timmies cup. I handed her the change and took the fancy cup o' joe to a table near a window where I watched jets land on the tarmac. I pulled my Roots hoodie around me tighter and sunk into a cozy Canuck bubble of comfort. I had a lot to learn in the next 365 days...
For North Americans, particularly Canadians planning to live or stay a substantial amount of time in Britain, there are a few things you'll need to accept as part of daily life. Aside from the obvious ones like driving on the opposite side of the road and always carrying an umbrella, I have compiled what I believe to be a helpful list of some simpler things that may aid you in your new life abroad.
1. The coffee situation.
If you like a fast, quick, no-fuss coffee akin to Timmies, your best bet is McDonalds. But listen up, because this is important: a white coffee is a regular coffee with milk, and a black coffee (gasp!) is just that. Riddle solved. It's important to note that these are rarely drip coffees (unless you go to Starbucks) they are actually more of an Americano or watered down espresso. The overall coffee quality is far better here, but you're not going to find drive-thrus doling out double-doubles.
2. The Dampness.
We Canadians are tough when it comes to climate, from braving icy-cold wind gusts at the corner of Portage and Main, to chipping a thick crust of ice off our cars, we're pretty resilient. We can handle cold. We can't, however, handle damp, at least not the English kind, which is an awful penetrating sogginess. Maybe Vancouverites would fare better in the U.K., but this Toronto girl was freezing. And it's constant. Because you see, in England, the heating and insulation systems aren't as efficient as Canadian ones; drafty windows and shop doors wide open in the dead of winter are commonplace. Maybe it's because the flat I lived in was slightly old and the windows were in need of a good retrofitting, but either way, you'll want to invest in a good pair of slippers, thick fuzzy socks, and a fluffy bathrobe. And those are for your home. When hitting the streets, dress in layers and make sure your boots are well-insulated and waterproof.
3. Two birds, one load.
You can do a load of laundry and roast a turkey in the same room. Most English flats have a washing machine in the kitchen. A bit odd, but I found this to be quite convenient. Just don't put your laundry detergent in the same cupboard as your cereal; I learned the hard way.
4. Get into tea.
There's something very soothing about settling down to a piping hot cup of Orange Pekoe mid-afternoon, and no one does tea quite like the British. Try Twinings or PG Tips brands which are both good quality choices and are widely available. I also liked to have my tea with a side of Hobnobs, a comforting oat cookie. And if you want to leave the comfort of your own home for a cuppa, there are a slew of tea rooms that serve up delicious traditional afternoon tea, complete with crustless finger sandwiches and buttery scones with a dollop of clotted cream. My favourite tea rooms were The Orangery at Kensington Palace if you're in London, and if you're an English Lit buff like myself, the Jane Austen Centre Regency Tea Room in Bath ( you can almost feel Mr. Darcy's gaze upon you as you sip your tea). As a side note, many Brits refer to their dinner as tea. I literally spent two months thinking that at 6 p.m., everyone was heading home to put the kettle on.
5. Get an English Heritage membership card.
Castles are to England as hockey arenas are to Canada. For £49.00 annually (adults), this card gives you unlimited entry to castles, gardens, historic houses and abbeys for a year.
6. Attend Sunday roasts.
On Sundays, pubs turn into a sanctuary of savoury roasted goodness. Usually, most will serve some sort of meat, be it poultry or game, roasted with an array of seasonal vegetables drenched in rich brown gravy. Yorkshire Pudding also accompanies the meal, and if it's a good pub, it will be light and puffy, perfect for sopping up all that gravy. After your main, the other pudding menu comes, a.k.a. dessert. Choose something traditionally British such as a sticky-toffee pudding, treacle tart, or my favourite, banoffee pie.
7. Take walks.
If you're a broke expat like I was, it's advantageous to find fun in frugality. The English countryside is beautiful and if you have the luxury of living in a town outside of a busy city centre, you have more options to go off the beaten path and wander down quaint country lanes. I can't tell you how many times I set out for a quick walk and found myself stumbling across pathways chock-full of roses. Many of them even lead into sprawling pastures of rolling hills dotted with sheep. Splendid.
ALSO ON HUFFPOST: