Adoption of Equity Crowdfunding for ordinary investors may come sooner than we think; first in the U.S. and not far behind, Quebec and Ontario. (Note: Saskatchewan has gone forward with a smaller-scale model as allowed by law -- $150,000 raises and under -- but for the purpose of this post and considering investment statistics, we assume that companies will aim higher, much higher, and this has yet to be legalized.) We thought the time was well-chosen to outline the costs a Canadian company may incur given the possible regulatory framework that will come into force.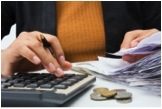 I sat down with Paul Niederer, CEO of ASSOB, the largest and oldest equity crowdfunding platform and we did some number crunching. For a minimum investment of $500,000 (USD), here's what a company may be expected to pay upfront to launch an equity crowdfunding campaign:
COMPLIANCE FEES
1. Legal writing of offering document compliant with legislation: $3,000-8,000
2. Marketing collateral (value proposal, video, etc..), investment summary, and submission to Securities commission: $2,000-3,000
PORTAL FEES
3. Due diligence on company and executive team $1,000
4. Offer document review: $3,000$-4,000 (Note: Crowdcube in the UK charges $3,000 or 1,800 pounds that are subsequently deducted from capital raise),
5. Success fee for platforms: 2-3% of min. proceeds
6. Success fee for broker: 5-6% of min. proceeds (a broker is necessary for larger amounts)
Note: Australia's ASSOB charges 8% of which 2.5% goes to portal and 5.5% to broker.
7. Certified Public Accountant costs: $3,000$-5,000 (higher for raises above $500,000)
All in all, companies may be required to put in somewhere between 10 and 13% of the money raised. That's 52,000$ to 65,000$ cash down to raise $500,000. The SEC estimates are even more onerous, as indicated below. Add to that, Marketing/PR/Advertising Costs which represent roughly 5-10% of the minimum proceeds, ongoing reporting costs and legal defense costs.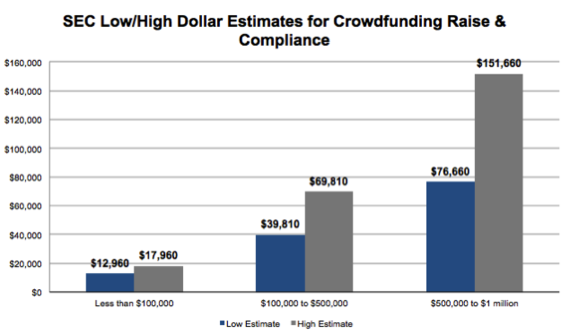 Source: VentureBeat
Suffice it to say, under the proposed framework, this model is not a solution to all ills. Upfront costs are and will be a barrier to entry for early-stage start-ups.