Not too long ago, the CBC started its countdown to Sochi -- 100 days. Yawn. I don't know when I lost interest in the Olympics. But that all changed the other day when I found myself at the gym standing beside this tall, handsome, athletic young man, who it turns out, is on the short list for Canada's Olympic snowboarding cross team. As a city girl, now living happily in the country, I hadn't expected to see a potential Olympian at my gym.
When I heard 26-year-old Jake Holden's story I felt the love of and for his sport in his words and his face. His eyes sparkle when he talks about snowboarding.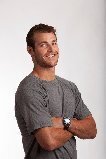 He's been around the world. Winters spent in Alberta training, summers in Argentina, Chile, New Zealand, training, and then competitions in South Korea and Japan, Italy and Austria.
He talked calmly about his three concussions, his torn shoulder that put him on the sidelines for a year. They take a toll. He's twisting and turning in his seat to loosen his muscles.
We talked a lot about his love of sport; his love of Judo that started at six and how his Judo teacher became like a second father (because Jake spent so much time there), who trained him in the art of falling which obviously came in handy in snowboard cross. Push yourself out of a gate, go downhill, up and over features like rollers, berms and different size jumps, and stay standing amongst the five others racing downhill at crazy speeds up to 80 kilometres per hour. His years at the Caledon Ski Club, where his parents first met and then brought each child into the fold, were well spent.
2011 Snowboard Cross games. Jake is wearing a blue jacket and beige pants. The day after this video was taken Jake fell hard dislocating his shoulder.
But I really wanted to hear about his family.
Jake has a younger brother Zack who likes to ski and an older brother, Dillon, who enjoys sky-diving and base-jumping. His dad, Waldo, runs the family business, Densen Landscaping. When Jake isn't training he's at work at Stoney Links, his own business, creating extraordinary field stone walls, works of art, that have become landmarks in the area. His mother, Renee is a personal trainer and has been taking the kids to activities since they were very young.
When raising my family, I remember praying that none of my children would excel at sports. We signed up for all kinds of activities and I remember a sigh of relief as each of them moved on. My son played tennis for a while and did well. But sports was a phase for them, not a vocation or avocation. It was selfish of me, I know. I couldn't bear the thought of running the family around a sport.
I know families who spent their lives in hockey arenas, sacrificing for their children. The time spent to help fulfill the dream of one child tends to take away from the others. I have nothing but great respect for the hard work of the kids, their dedication, but it's the devotion of the parents that calls to me.
This isn't so much a story about snowboard cross or the Olympics as it is a story about those behind the top-tier athlete. Success is rarely the result of the efforts of one individual. Olympic athletes, potential Olympic athletes, don't make it to the podium on sheer talent, courage and fortitude or unlimited hours of practice. They make it because they are blessed with a wonderful, understanding family which includes siblings as well as parents and grandparents.
So, Jake, how did you make it to Olympic levels? How do you get to be a top tier athlete? Without missing a beat he said it is his family and community that make it possible. Without their support, emotional and financial, he would not be in competition for a place on the team. He acknowledged the sacrifices everyone makes. Thankfully, his family loved the outdoors. Winter sports were for everyone. At 10, Jake developed a love for snowboarding from his older brother. At 13 he committed himself to real competition. He knew he wanted to be an Olympian.
When Jake graduated from high school he faced a major life changing decision like so many of our young athletes: higher education or pinning one's hopes on reaching the podium. He decided that post-secondary school would take a back seat to his love of sport. His training would take him away from home every summer to Alberta. Sport is a major financial commitment. I doubt that Jake had any idea of the costs while at home, but he told me when he heard how much it would be to continue, he told his parents, no. But his parents insisted that he follow his dream. Sacrifices would have to be made. Money remains the obstacle for many dreamers.
The family began fundraising, and the community stepped up. Jake lives in a small rural community. The "town," more of a hamlet, has a handful of stores, a community centre and a church. Over the next seven years more than 100 supporters including companies like Kinetico, helped Jake.
As he proved himself, he became a carded athlete which helped with expenses. But it wasn't until a few days ago that Jake received funding from Canfund. That's big. They step in when they feel an athlete is on the way to the Olympics. Through it all the Canada Snowboard Federation has shepherded the athletes and the sport to Olympic status. As I write this, we don't know if Jake will be there in Sochi. But Jake is full of confidence. He has four more qualifying World Cup races left before the team is selected January 2014. He plans to be there and has his eye on 2018 and 2022.
Jake has been raised in a family that values hard work. If you fall down you get up again. I had asked Jake how he managed to pick himself up over the years through the training, the competitions, the traveling, the injuries and the concussions. He credits his parents teaching him and his brothers the importance of discipline and as Jake put it while laughing "character building." Old fashioned principles.
At home, with mom, dad, two siblings and a beautiful black lab. It keeps the costs down. I have concluded that his parents must be wonderful. First, because the boys still seem to like being there, and second, his parents haven't moved to a small one bedroom home with no forwarding address!
When we get caught up in Olympic fever, we focus on the athletes, their trials and tribulations. We cheer for them when they win and feel pride when the Canadian flag is hoisted and our athletes sing "O Canada." And we hurt for them when they lose. But we don't often get to cheer for the family, friends and community that made it possible for that athlete to be in that place at that time. In February, when our athletes reach the podium, let's remember and be grateful for parents like Renee and Waldo, families like the Holden's and great caring communities.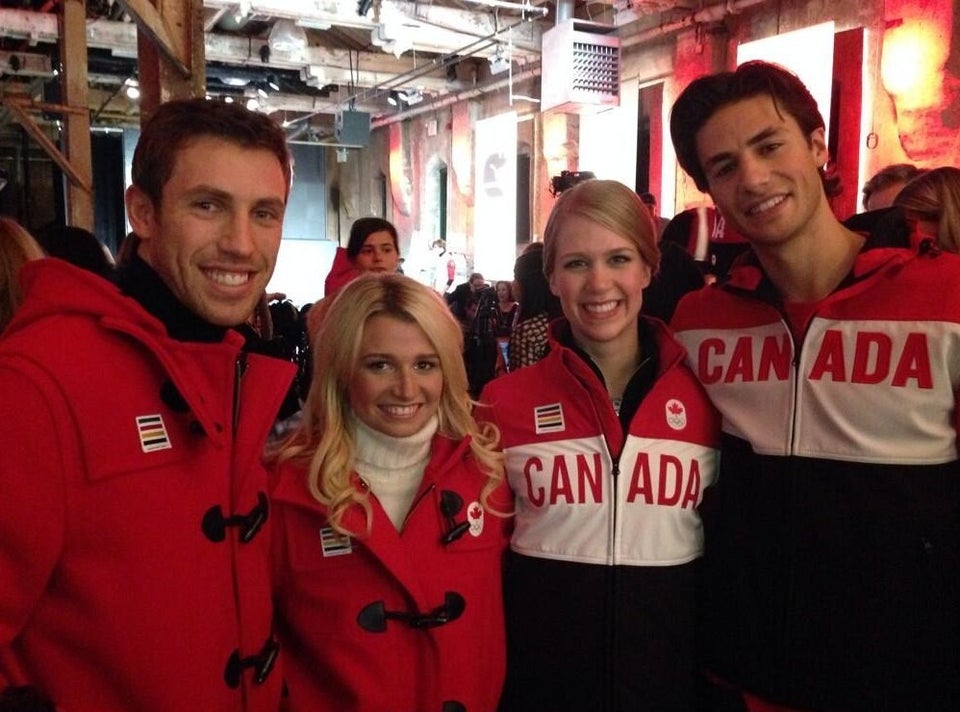 Team Canada Olympic Uniforms