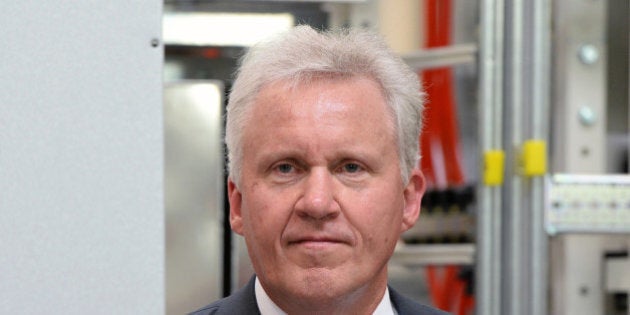 CALGARY -- General Electric Co. chairman and chief executive officer Jeff Immelt is just what Canada needs to develop its oil sands -- an American leader with stature in Washington, Wall Street, the oil patch and Silicon Valley.
This week during the Calgary Stampede he said that GE will help companies clean up the oil sands so that the deposits - the largest in the safest jurisdiction in the world - can continue to be tapped. His remarks are a welcome relief from Ottawa and Edmonton's our-oil-sands-are-not-dirty mantra that threatens to strand the deposits not just in Canada, but in Alberta.
The problem is not Keystone, pipelines, President Obama or Al Gore. It's oil sands emissions and other environmental challenges. Fix those, says Immelt, and more oil sands exports will get the green light. He's right and Immelt is proposing that industry collaborate and voluntarily establish lower emissions targets in order to remove the political opposition to Keystone XL as well as that faced by B.C. Premier Christy Clark.
"We, in terms of the oil sands, need to peg a greenhouse-gas target that would make us competitive with any other fuel source in the world. I think that more or less takes it off the table as an excuse," Immelt told The Globe and Mail this week.
By contrast, oil sands proponents and Ottawa have had a tin ear, defending the status quo for years, which is not an option.
Worse yet, Republicans have made Keystone XL an issue and published polls that allege that a majority of Americans favor Keystone. But polls are biased, most respondents don't know what Keystone is and public opinion among Democrats, Silicon Valley, Hollywood, the media and academia has turned against the oil sands in particular and Canada in general.
These influencers are not always right, but they are never wrong. They don't want our oil sands oil because of its emissions and by ignoring their message, Canada now wears a "baby seal hunt" image again. This is why Immelt must be heeded and supported.
Four years ago, and in my recent book, I argued that both countries and the industry need to undertake a massive "Manhattan Project" to reduce oil sands emissions, and to enable alternative energy technologies. Only by doing so, will the two realize their potential as the world's foremost energy superpower.
Immelt is proposing to do this with a Silicon Valley slant - he envisions an "open source" project with all companies sharing patents, intellectual property and best practices with one another. He also announced a competition, with a prize of $1 million, to find technologies that will dramatically lower emissions from non-traditional sources.
Interestingly, the oil sands industry itself was the brainchild of American engineer Joseph Pew who envisioned turning sands into bitumen in the 1960s. He came to Alberta, after Imperial Oil made a huge oil discovery at Leduc, to scout around and realized the potential of the gooey sands. His company, Sun Oil, bet heavily on them, then convinced the Alberta government to follow suit. In 1967, he built the world's first plant and called it the Great Canadian Oil Sands plant. Exxon followed by bankrolling Syncrude with government subsidies initially.
Pew, like Immelt, understood the resource's strategic value to the U.S. He said at his plant's 1967 opening: "It is the considered opinion of our group that if the North American continent is to produce the oil to meet its requirements in the years ahead, oil from the Athabasca [oil sands] area must of necessity play an important role."
It was true back then and remains true. Despite increases in cleaner shale oil production south of the border, oil sands production will still be needed for the U.S. to wean itself off Middle East or Venezuela oil in 2025 or so. And also like Pew,
Immelt's proposed mega-project will require tens of billions of dollars and the biggest players are there to step into this space.
For instance, ExxonMobil, mostly through subsidiary Imperial Oil, is the largest player in Canada's oil patch with global revenue in 2013 of US$420.8 billion, or twice the revenues of the Canadian federal government of C$256.6 billion (US$240.4 billion). Royal Dutch Shell has global revenues of US$451.2 billion and GE has revenues of US$146 billion.
So far, Canada's largest corporation, and biggest oil sands player, Suncor Energy Inc., with revenues of US$35.5 billion and a few other companies are supporting Immelt's strategy. But all the big boys must also join his initiative and governments should too.
Like it or not, the environmentalists have convinced the influencers and stopped the pipelines. They are vigorously attacking railway shipments, attacking oil sands customers and suing those who refuse to ban the stuff. Some U.S. states have joined with bans.
Blaming Obama is off topic. Blaming the greens is too. Immelt is correct: without a promise to provide cleaner energy, all bets are off.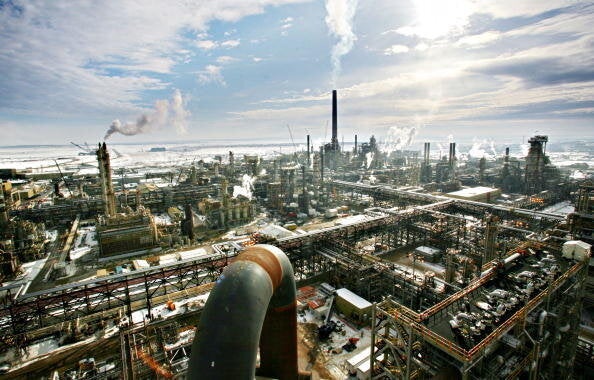 Wildest Pictures Of The Oil Sands