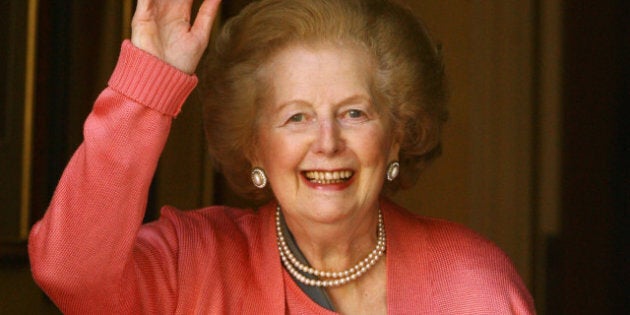 Bombings, poisonings and stock drops dominated headlines this week, but two other significant events occurred. The first was the funeral of the great Margaret Thatcher, the first female in history elected to lead a major nation. And the second event was the rejection by the German Parliament of gender quotas on boards of directors, orchestrated by a coalition led by German Chancellor Angela Merkel, the world's most powerful woman.
The Iron Lady certainly would have applauded Merkel's stance. She once famously told NPR in an interview: "I would hate a person to ask me a question, are you a quota woman or are you a merit woman? I would like (the assessment of) whatever I did to be that I got there because I was the right person for the job. It didn't matter as a man or a woman. I had the right qualities for the job, the right beliefs, the right principles. I wasn't a quota."
The fact that two of the most successful women in history oppose quotas should be reason enough to reconsider such policies. Norway requires that 40% of directors are female, Spain, 30% and the EU has proposed a 40% quota in all countries. Britain, Germany and others blocked that initiative this week.
Nations must encourage women to work and get ahead. But quotas miss the mark. It's true that females lag their male counterparts in terms of reaching the top but there are other ways to change this. By 2012, nine of the world's 190 heads of state were women; only 13 per cent of parliamentarians; only 15 per cent of top executive or board positions and only 20% of non-profits. These figures have not improved since 2002 and in some sectors and regions they are slipping.
Feminism is about equality and choices. And the unfortunate facts are that women who want to be successful must decide whether to have a family if they are ambitious and, if they do, how to juggle both. Both Thatcher and Merkel had husbands who encouraged and supported them.
And they, like other women in Canada and other enlightened countries, are lucky because workplaces have become gender-blind. Laws protect females in the private sector, and promotions and pay are usually based on the ability to make money for their organizations. Occasionally, predators and political gender-players litter the workplace, but when women are victimized there are legal remedies.
The real impediments are attitudes by, and around. Women must overcome family, social, cultural and gender factors that impede or inordinately influence and hold them back such as husbands, parents or other role models who are unsupportive; cultural or social sexism; backward teachers or religious leaders and harmful media, music, fashion or movie industry practices aimed at sexualizing them.
Sheryl Sandberg, Facebook COO and Director, wrote a book called "Lean In" that has generated controversy on this topic. Her thesis is that ambitious women must deal with their own shortcomings and must realize that if they want to get ahead they must put their career first and have a collaborative partner if they want to have a family. Women with children do three times as much childrearing as their husbands and twice as much house work. This means women work harder if they are working outside the home.
"There is no such thing as work-life balance. We all make trade offs every single day," she said in an interview with Oprah. "It's different and companies expect workers to always be available. Parenting has changed: Our mothers didn't organize play dates, but we rode our bikes. She didn't help me with my homework. Parenting is now more intense, harder."
This means that quotas are not effective, only changes in attitude and behavior are. She cites studies that show women systematically underestimate their own capabilities and men overestimate theirs. She also says figures show that 57% of males negotiate the salary for their first job and only 7% of women do. Women must be more assertive and confident and demanding.
Another psychological or cultural gap is that men attribute their success to themselves and women attribute theirs to others, or to external factors. She said at a lecture she gave at the TED Conference: "No one gets to the corner office sitting on the side and they don't get promoted if they don't understand their success."
Most deleterious is the fact that there is a positive correlation between success and likeability for men and a negative correlation for successful women. A Harvard case study revealed this. The professor distributed to two sets of students the biography of a hugely successful female venture capitalist in 2002. One group of students was told the VC's name was "Heidi" and another was told that the entrepreneur's name was "Howard."
They were surveyed after they read the case study. All students agreed that the VC was competent and admirable, but those who were told her name was "Heidi" said they would not want to work for her and those told it was "Howard" said they would.
Sandberg postulates that these attitudes must change and that it may be too late for the current generation. So women at the top and parents must be sensitive to challenges and must mentor those who are ambitious. In a blunt way, Margaret Thatcher's advice, for women and men, laid out the path for ambitious women: "If you set out to be liked, you will accomplish nothing" and she added "I do not know anyone who has gotten to the top without hard work. That is the recipe. It will not always get you to the top, but it will get you pretty near."