When I became involved with the man I've called "Shane" in my book,This Is Not My Life: A Memoir of Love, Prison, and Other Complications, I quickly realized that I knew almost nothing about the Canadian prison system.
Shane was a federal inmate serving a life sentence for second-degree murder. When I met him he was at Frontenac Institution, a minimum-security prison, and he'd been doing federal time for thirty years.
I'd been living in Kingston, the prison capital of Canada, for twenty years but, like most people, what I thought I knew about prison was based largely on American movies and TV. Even when you've driven past these institutions thousands of times, what goes on inside is a kind of parallel universe to which those of us on the outside are forbidden access -- a secret part of our society which we are just as happy to think has nothing to do with us.
I met Shane when I was volunteering at a local free hot meal program where he was brought on a work release. Shortly after we met, the Harper government took power with their first minority. For the following six years of our relationship, we watched their "Tough on Crime" measures being put into place, measures that sometimes contravened the United Nations minimum standards for the humane treatment of prisoners.
Wanting to educate Canadians about our own prison system while also offering my
critical commentary on the damage done by the Harper government were the two main reasons why I chose to write this book as a memoir, rather than turning it into a novel. I did not want anyone to think I was making it up when I wrote about what was actually happening behind the razor wire and the stone walls.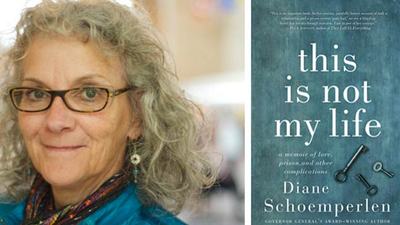 Why should we care? This question has been raised more than once since my book came out in the spring of 2016. There are multiple answers on moral and ethical, practical and personal levels. I believe it was Mahatma Gandhi who first said that the true measure of a society lies in how it treats its most vulnerable members and its furthest outcast. Morally and ethically speaking, those who are incarcerated must be held accountable for their crimes but, while they have lost their freedom, they are still people and they have not lost their basic human rights.
Canada was once known for its humane and ethical prison system, but with the Harper government's policy to make prison more punitive and less rehabilitative, conditions inside became more dangerous for both inmates and staff, and most of the programs that provided support and training for inmates were cut. This was done, they said, in the interest of public safety. None of the people making these decisions seemed to grasp the basic fact that 99% of the people in prison at this very minute are going to get out someday.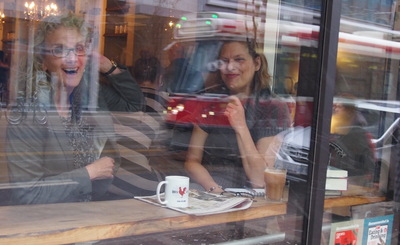 Dianne (left) talks to media about Her Book in Toronto
They are going to get out of their prisons and come straight into our communities without benefit of sufficient support or counseling either while inside or after release. This is not going to go well for any of them and it is not going to go well for any of us either. This is not in the interest of public safety. There will be more crimes. There will be more victims.
Those who would counter this by advocating that criminals be locked up forever should be reminded that, according to the Office of the Correctional Investigator, the average cost of keeping a male federal inmate incarcerated for one year is now more than $100,000, and nearly twice that for each female inmate.
There is a personal answer to the question too. What if someone you know and love made a terrible mistake and ended up in prison? Don't say it couldn't happen. It could and it does. It happens every day.
Diane Schoemperlen's This Is Not My Life: A Memoir of Love, Prison, and Other Complications, is nominated for the RBC Taylor Prize. She talked about the book and the prize for this blog at an interview held in Toronto in late January. Press here to view.
Follow HuffPost Canada Blogs on Facebook