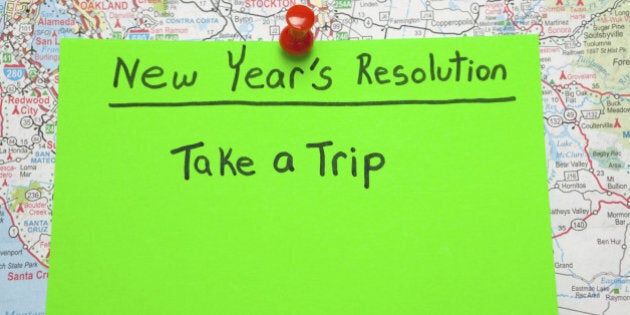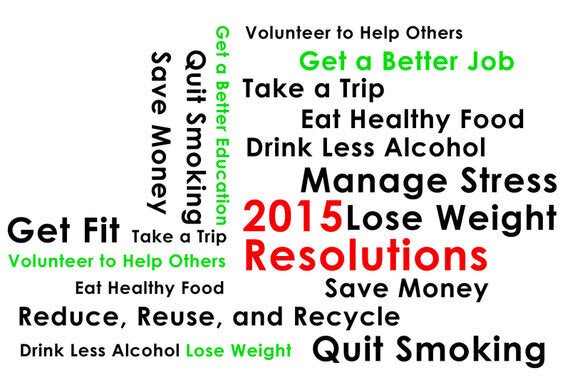 By this time, you will have seen the weight loss offers, gym membership flyers or quit smoking commercials on television, signalling that it's that time of year to make those lofty New Year's Resolutions that promise to change your life in 2015. So why do these resolutions fail every year? The reality is that an epic shift in life requires a bunch of changes in underlying behaviours. So instead of focusing on those small or incremental things, we attempt to undertake a big goal. Here are 3 ways to make sure you don't fail this year:
1. Awareness is key to success.
Become aware of the aspects of your life that contribute positively or impact negatively to enhancing your wellbeing and happiness. Journaling what you do from the time you wake up in the morning to the moment you go to bed can help you figure out the behaviors that you may need to focus on changing. Take an orange and green highlighter and mark up your journal. You may uncover behaviors that are linked. For example, is having a coffee always tied to smoking?
An addiction like smoking takes more than will to quit. There may be a lot of emotions and behaviours that are tied to making that addiction an integral part of your life. Breaking down those pieces is critical to making such an important life change. The payoff of an afternoon "smoke" is more than having a cigarette. It's likely a welcome break from sitting at your desk. It's also probably an opportunity to socialize with co-workers you like talking about your day with or updating each other on non-work related stuff. If you stop smoking, the question is how are you going to replace the enjoyment you get around it? If you show up at the office and declare that you aren't joining the regular group of smokers for that afternoon break, you will likely feel like you're missing out on more than a cigarette. You probably will need help. That's why becoming aware of these underlying behaviors and emotions is the first step to making a bigger life change.
2. Establish everyday intentions.
One of the most common New Year's Resolutions is getting fit. You may even have a gym membership that expired or a piece of exercise equipment that's collecting dust to prove that it's not easy to do. Why don't you just get on that treadmill? Why do not stop at the gym on the way home? The excuses are many but the truth may just be one --"I'm not worth it." Are you worth the time to trade off other things for work or your family to get healthy? Instead of rushing out to sign up to the gym that's conveniently located beside your office or around the corner from home, set an intention to start by stopping by and sitting in your car parked for a half an hour. Then set an intention to go inside and watch for an hour. Finally, set an intention to change into your gym clothes and sign up to that 30-day free trial membership. By this time, you have made the incremental changes in your daily routine to signal that you are worth giving yourself the time that necessary to get fit. These changes also mean that you've "trained" others around you. You are now leaving the office promptly at 5:00 p.m. a few days a week. You're family is expecting you late and as a result, will prepare and/or eat diner without you. Most importantly, you stop feeling guilty for giving yourself that time and start telling yourself, you're worth it.
3. Measure and recognize improvements.
You don't need to watch another Dr. Oz episode or read another nutritional book to know what you should and shouldn't eat. So why do we continue to buy chips at the grocery store, even if we buy kale? It's because we choose to. Choosing what we put in our mouths is more than feeding our bodies, it's about how the food makes us feel. Crunching those chips in front of your favourite reality TV show is an hour of heaven, right? So if you are not going to choose to do sit ups or lunges during commercial breaks (my strategy), choose something else that will satisfy that need to snack during that time. Let's be clear, maybe it won't be as yummy as those chips, it will be different and eventually it will be better. Eating is about thousands of bites each day. Measuring calories may be tedious, but we know if works. However, you can also measure good bites and recognize yourself for making the right choices. There may be five opportunities to choose what you eat every day. Choosing to drink a glass of water with lemon is a good choice when you wake up. Choosing a salad at the cafeteria and not Chinese noodles is a good choice. Choosing a cup of herbal tea and not coffee with sugar is a good choice. All of those are opportunities to eat better that will eventually lead to losing the weight you want.
January presents a natural opportunity to want to recast your life: Get healthy. Get your finances in order. Get back on the dating scene. Get your career on track. As a result, it may also cause you to be unrealistic about what life changes are possible. I'm not saying wholesale self reinvention can't be achieved. We all have been inspired of stories of individuals who have gone from being obese to completely changing their lifestyle. Others have quit their jobs to pursue their true passion in life. Yes, you can be one of those people in 2015 but you can also be a person who became aware of a few things in your life that you intend to improve on and will give yourself the recognition you need to motivate yourself to keep going. Share how you plan to be a better you in 2015!