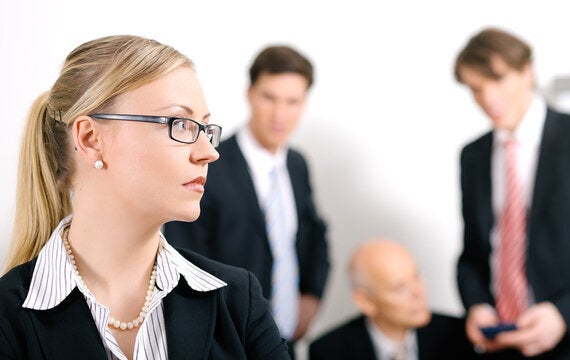 You may have observed the phenomenon of someone joining your organization and magically a number of his or her former employees follow. Being a good leader means you create a following so this shouldn't be a surprise. Relationships at senior levels are built on deep trust and having a history with someone absolutely helps. That's the truth. You've worked hard and feel that you've created equity with the person who was there before. Now what? If you have a new boss, he or she may create a smaller circle around them. Here are 10 questions to ask if you're feeling on the "out":
With today's access to information, there is no reason for you not to be able to know everyone publically available about your boss. Not in a creepy kind of way, but enough to get a sense of how they're background has shaped who they are and how they've arrived at this current role. Things to look for are the kinds of functional areas they've had experience in. Have they been in the same functional area throughout their career or moved around? Also, look at how they've positioned accomplishments. Do they talk about growing a business or fixing things? Finally, look at anything that they write to understand how those key messages apply to your organization or your areas mandate. Understanding your boss' point of references will help you develop a power filter for communication and approach going forward. #context
2. Do you understand their expectations?
It is critical that you spend the requisite amount of time discussing his or her expectations of you, your team and your area of accountability. This may be different than your current reality and it may take time for you to shift, but you must. The quicker you align to your boss' expectations, the better. More importantly, ensure that you confirm what you understand are the expectations and how you're leading accordingly. Come up with a list of his or her top three priorities and if there is more than three, ask your boss to weigh all of them. You will start building the trust necessary by showing your boss that you are working on what matters to them. #top3
3. How do they define success?
A previous boss once said to my team "your job is make Dina successful", and what naturally follows is that my job is to make him successful. Beyond the concrete business deliverables, it's important to figure out who else your boss defines success. Is she or he highly relationship-oriented and is looking to build a network within the organization? If so, find a way to help them understand who's who and how to navigate. You can serve as an asset by offering up your knowledge of your organization but beware of messaging like "this is how it's done" or "we tried that before" that can be perceived as being a negative or unsupportive. #what'simportant
4. What is their working or leadership style?
Flexing to others style is a compelling management skill often under-rated. If this isn't something that you are deliberately aware of, you may not be optimizing your interactions. When it comes to any new relationship, you should try to listen more than talk. Sometimes the tendency is say as much as you can in the interaction in order to impress, but this can be a mistake. Your boss will absolutely have a leadership style that may or may not be easy to assess. Observe how he or she interacts in meeting -- do they focus on the powerpoint deck or put it aside, in favour of asking more questions? Do they send more emails or call you when they have a question or concern? Do they make small talk? Tailor your style to your boss' wherever possible. #flexforsuccess
Many times but not always, a new leader will have a mandate that is different from their predecessor. Even without a change of mandate, you can expect a change of approach or strategy. In either case, organizational change can be a result which can trigger anxiety. Your boss will look around the table to establish who's onboard. These are the folks that your boss will rely on to help lead change. If you're onboard early, this can but at an advantage as the organizational change evolves. However, this truly requires you to synthesize where your organization is today and buy in to why and how it needs to change. Look to the horizon and get moving. #getonboard
6. Are you "in the know"?
What can be most frustrating is hearing news about the organization or your department from a colleague and not your boss. What makes it much worse is if they heard it from your boss. This is when you definitely know that you are not in the know. Being in the know means that you are tapped in to information about what's going on. How quickly you get or have access to information can be a good indication of how connected you are. If you find that you are getting the latest news through email announcements while sitting at your desk, you need to spend a little less time at your desk and more time talking to your colleagues and counterparts in other departments. #officeradar
7. How often do you talk?
The frequency by which you have both scheduled and impromptu updates set up with your boss may indicate their interest or engagement with you and/or your area of accountability. It may be that they are comfortable with what you're up to and your business is going really well or it can be a sign of concern if others are getting more attention. It may be prudent to advocate for more frequent shorter updates in order to ensure you're as connected as possible. Make sure that you ask what and how your boss wants to use the time. Also, don't forget to use the time to ask questions about the overall organization. This is the time that you can leverage to convey your interest in your business and hopefully, engage in a good exchange about what's going on (see #6) #gettime
8. Are you getting to know them personally?
This can be a tougher one but worth the effort. You can't force a personal connection with someone but you can give it a better chance by exploring opportunities that allow you to get to know your boss better and find things you might have in common Meetings in the office aren't always the ideal place to do this. Take advantage of company events or department socials. If your job requires client meetings, make sure you book some time for a pre-dinner or lunch to touch base. Finally, think about how open and easy to get to know you are. If you aren't comfortable talking about your family or what you did on the weekend, it'll be hard to really connect with your boss personally. #don'tfakeit
9. Are you delivering and do they know it?
Developing trust is all about being a person that your boss can count on, full stop. Nothing else really matters. Every manager wants to sleep easy at night knowing that you have your area of accountability covered. More importantly, they want to know if something goes side-ways, you'll engage them appropriately. No one wants to be caught off guard. Make sure you develop a track record of demonstrating that you and/or your team deliver what you say consistently. Also, don't forget to let them know (and often) what you and your team has delivered, an issue that has been address, or problem solved. #self-promote
10. Do they know that you have their back?
Navigating an organization and managing corporate politics is a lot of work. It's nice when someone has your back. What this means is being the eyes and ears for your boss. When you something is important for them to know about, tell them right away so they know that you are willing to share what you know, not hoard information. Conversely, take the position of supporting and advocating for the direction he or she has established (see #5). In cross-functional meetings or with outside organizations where you may be representing your area or the business, it's important that you convey a cohesive and united front. There is always the opportunity to evaluate and reconsider based on feedback, just don't do it before checking back in. #loyalty
Consistently, one of the top reasons that people leave their organizations is cited as their boss. Don't leave your relationship with your boss to chance. This is the most critical relationship you have in your workplace so spend time to think about the best strategies to build a productive working relationship that benefits you and most importantly your organization.