Photography by Harry Traeger via Getty Images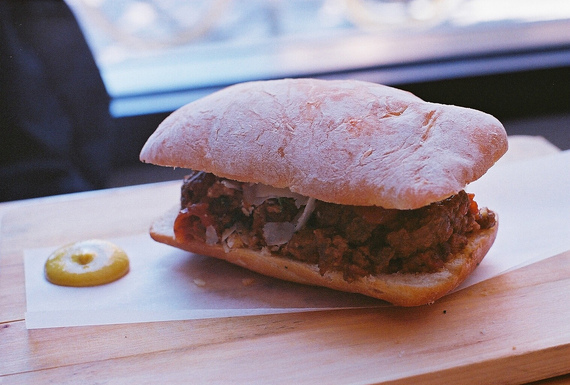 Photo credit: Fiona Kwan
Vancouver is known as one of the top cities in the world for foodies. The city is home to everything from Michelin-starred, farm-to-table eateries to food trucks that are never seen without a line. Whether you're into high-class eats or down-home cooking, the following are six places you simply have to eat in Vancouver.
Hawksworth Restaurant -- 801 West Georgia St.
Hawksworth Restaurant has reigned supreme as a five-time winner of the Best Upscale Restaurant title in Vancouver Magazine's Restaurant Awards. It's hard to explain just what type of cuisine Hawksworth serves, because each dish embodies the cultural diversity and unique natural beauty of the Vancouver area. The restaurant, named for its chef David Hawksworth, features a menu that is driven by the freshest local ingredients.
You can find Hawksworth Restaurant in the famous Rosewood Hotel Georgia on West Georgia Street, and it's not just open for dinner. Enjoy breakfast, brunch, lunch, dinner or a memorable bite to eat with your evening drink at the bar.
Blue Water Cafe -- 1095 Hamilton Street
If you ask a Vancouver local for the best seafood in town, they'll send you to the Blue Water Cafe. Named the "Best Seafood Restaurant" in Vancouver time and time again, this Yaletown favorite is known for more than its critically-acclaimed menu of fresh (and often rare) seafoods that are delivered to the restaurant daily. Visitors rave about the top-notch service, appealing raw bar and the restaurant's commitment to serving responsibly sourced food from the nearby ocean and beyond.
Roaming Dragon -- Mobile Food Truck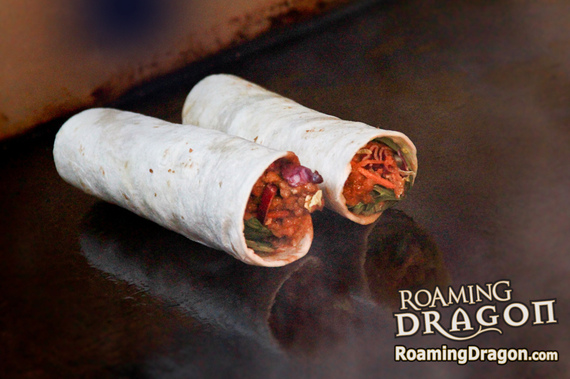 Photo credit: Sombilon Photography
Vancouver is known for the popularity of its growing food truck scene, but no mobile food source has created as many fans as Roaming Dragon. The Pan-Asian inspired truck took to the streets as one of the first food trucks in Vancouver in 2010, selling delicious, local and sustainable foods to neighborhoods across the city. Mouthwatering dishes like steamed pork buns and short ribs fly out of the window, but Roaming Dragon also consistently receives praise for its fun staff, music and atmosphere. Log onto RoamingDragon.com, to find out where the truck is parked right now.
Cafe Medina -- 780 Richards Street
You're repeatedly told that breakfast is the most important meal of day, so why not do it right for a change? Cafe Medina, in Vancouver's Library District, is often praised as the best breakfast in the city, and few will argue if you make the same claim. The restaurant made a name for itself as one of the few phenomenal breakfast, brunch and lunch places in the city.
You can't leave without trying the famous Belgian waffles. And you can't go wrong by starting your day with one of the many other locally-sourced dishes and drinks, like the Le Complet (flatiron steak, sunny eggs, caramelized onion, piquillo goat cheese crostini, romesco and seasonal greens) or the Moroccan Maria, an unprecedented, handcrafted take on the traditional bloody mary made with Reposado tequila.
Meat and Bread -- 370 Cambie Street
This Gastown favorite for out-of-this-world sandwiches has become so popular that it spread to West Pender Street, nearby Victoria and south of the border to Seattle. There's simply no better place for sandwiches in the city (the Porchetta is a common favorite), but the daily soups and salads nearly steal the show. You probably don't want to eat every meal at a fancy, sit-down restaurant while you're exploring Vancouver, so this trendy lunchtime eatery fills the gap with affordable, fast and unforgettable 'wiches.
Japadog -- 899 Burrard Street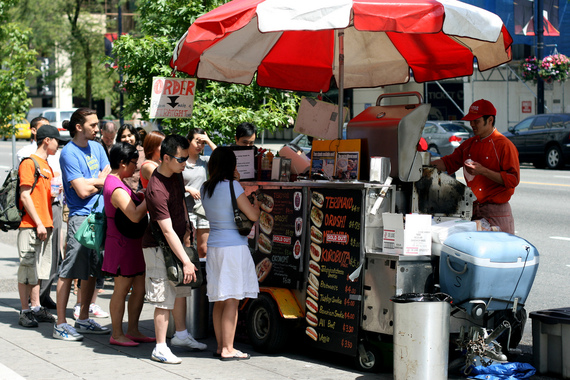 Photo credit: Craige Moore
Japadog has become such a popular Vancouver eatery that it has advanced from a simple food cart owned by an ambitious Japanese couple to multiple cart, trailer and food truck locations throughout Vancouver. Amazingly, Japadog carts can even be found on California's historic Santa Monica Pier and in the heart of Los Angeles.
The iconic hot dog stand serves a huge selection of sausages (and non-meat-based dogs) ranging from the Croquette, made with Japanese Arabiki sausage, to the Ebi Tempura dog, made with crunchy shrimp tempura. There's a dog for everyone, and there's no better way to find your favorite than to stop at every Japadog stand you see in the city.
Follow HuffPost Canada Blogs on Facebook