Canadians catch a hard time for their funny accents, overly-polite demeanors, and of course, Justin Bieber, but those who are in the know do not tease them about their food. Canadians enjoy an abundance of dishes that many of their neighbours south of the border never get to taste -- and they're missing out.
The following are 10 unmistakably Canadian dishes that must be tasted on any visit to the Great White North.
1. Peameal Bacon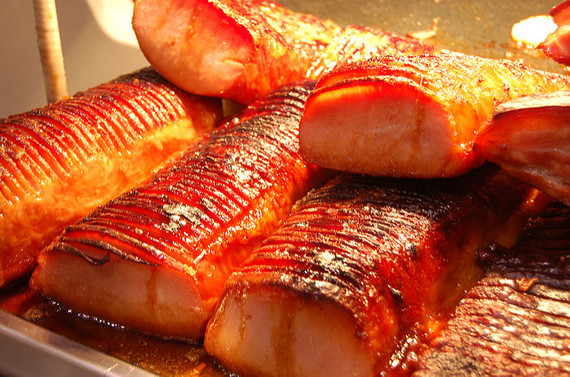 Photo credit: snowpea&bokchoi
Peameal bacon is one of the few traditional Canadian foods that others around the world have tasted; however, it's never prepared quite the same as it is in Canada. Peameal bacon, or Canadian bacon as it's known in the United States, is brined pork loin rolled in cornmeal. Once pan-fried or grilled, peameal bacon is crispy on the edges and twice as delicious as any "Canadian bacon" you'll find at the supermarket south of the border.
2. Poutine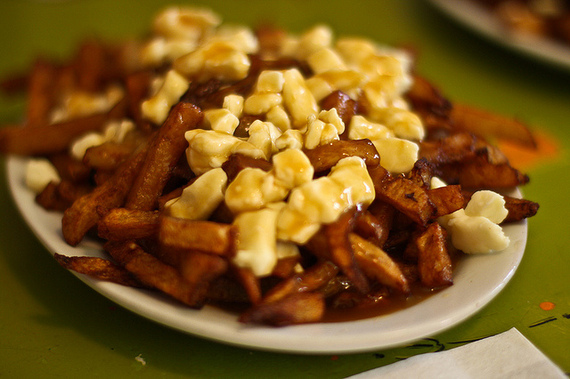 Photo credit: Yuri Long
Poutine is arguably Canada's most famous dish. You can even find it at Wendy's restaurants across the Great White North. However, it's suggested that you forego the Wendy's variety and taste poutine at a Canadian diner or one of many annual poutine festivals. The dish, composed of french fries topped with squeaky cheese curds and a savory meat-based gravy, is an easy-to-love twist on fries and ketchup.
3. BeaverTails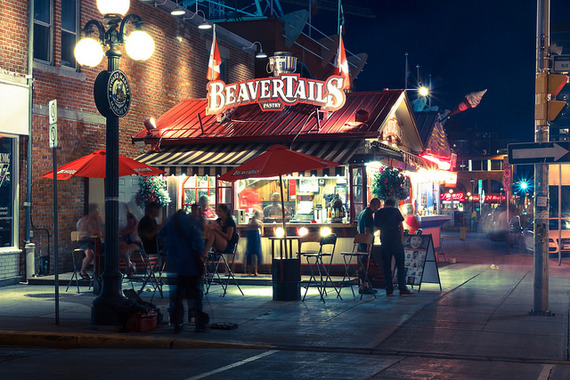 Photo credit: fw42
BeaverTails is a Canadian-based sweet treat chain that serves stretched, fried dough pastries resembling the shape of a beaver's tail. BeaverTails can be topped with anything from carmel to oreos, sugar, and a variety of other candies and sweet options. The BeaverTails chain was founded in 1978 in Killaloe, Ontario, but the stores or "cabins" can now be found across the country.
4. Montreal Smoked Meat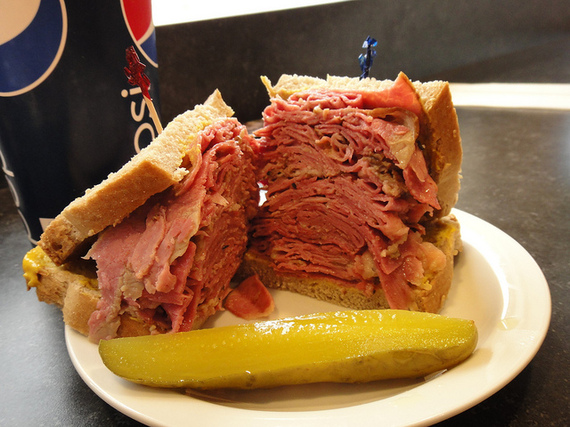 Photo credit: Calgary Reviews
No trip to Canada is complete without tasting Montreal smoked meat. The meat's closest comparable cousin is pastrami, but you'll find that it's even more flavorful than the New York favorite. The meat is all brisket that is marinated, spiced, and smoked perfectly to create a stringy, soft, and less-fatty texture than the American kind. It's best to taste this smoky, flavorful meat at one of Montreal's famous delis, like Schwartz's or Reuben's, but you'll find it in other parts of the country as well.
5. Nanaimo Bars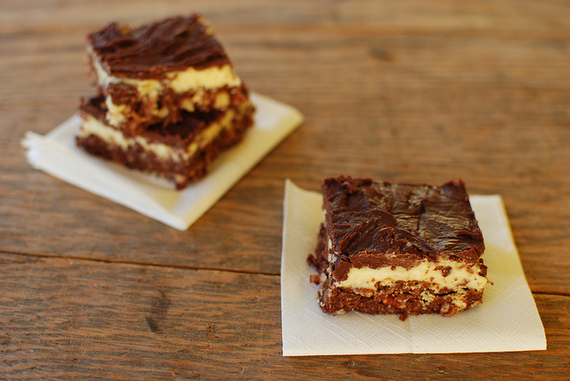 Photo credit: crd!
Every meal should finish with dessert, and that's when it's time to choose a Nanaimo bar. This common Canadian dessert features layers of crushed cookies, vanilla custard, and melted chocolate cut into decadent squares. The recipe is said to date back to 1952, but you'll notice that many restaurants apply their own flair to the traditional favorite.
6. Montreal-Style Bagels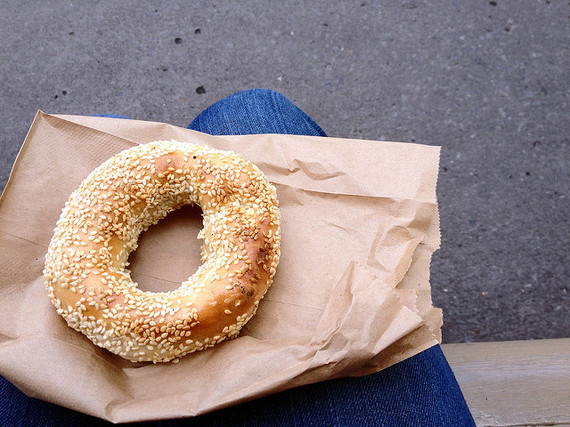 Photo credit: Heidi De Vries
If you're traveling with New Yorkers, Montreal-style bagels may be a difficult sell. However, few who taste these sweeter, denser, and slightly smaller rounds argue that they're not delicious. Montreal-style bagels are carefully hand-prepared, poached, and cooked in wood-burning ovens. The recipe is coveted and the standards are strict, so you know you're getting a top-quality breakfast (or anytime) treat every time.
7. Bannocks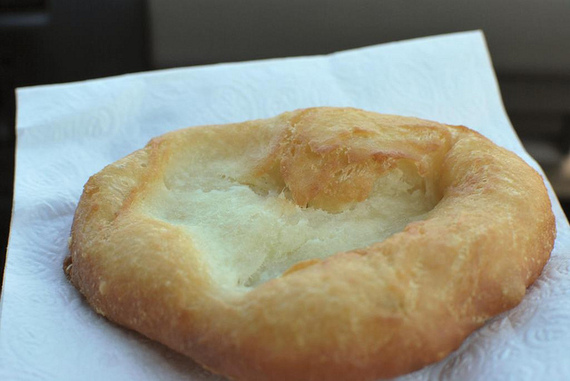 Photo credit: Karen Neoh
A bannock is a variety of round, flat, griddled bread that takes on countless forms. It can be sprinkled with sugar and sweet treats similar to a BeaverTail, sliced and used as sandwich bread, or tossed in a basket and served alongside extravagant entrees. Traditionally, bannock is an extremely simple bread consisting of flour, water, sugar, salt, and baking powder, but be prepared to try it in its many new, more innovative forms.
8. Tourtière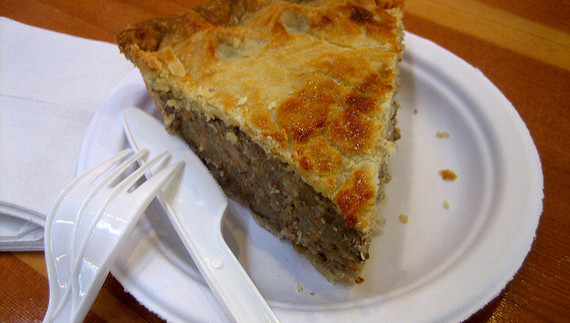 Photo credit: crd!
The French Canadian dish tourtière is said to date as far back as the 1600s. The traditional holiday meat pie flavored with onion, herbs, and spices is most commonly enjoyed on Christmas and other major holidays, but it's not difficult to find at Quebecois supermarkets year-round. Newer takes on the ancient dish include fish or veal (instead of pork) as well as a variety of vegetable fillings.
9. The Bloody Caesar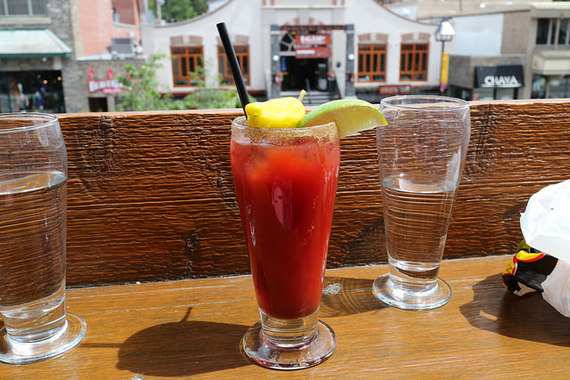 Photo credit: elsie_hui
You can't eat all of these hearty Canadian treats without a refreshing cocktail on the side. Canada is the home of the Bloody Caesar, or simply Caesar, Clamato-based cocktail. It tastes similar to a Bloody Mary, but Mott's Clamato juice is used in place of the European version's tomato juice. Vodka, Worcestershire sauce, and a salted rim are the other key ingredients. The cocktail has been a Canadian brunch necessity since it was created by the Calgary Inn's Walter Chell in 1969.
10. Butter Tarts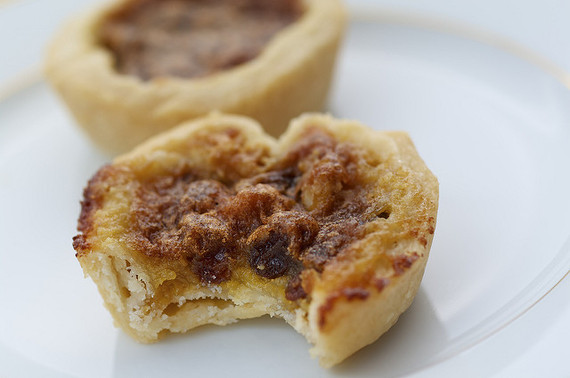 Photo credit: Nick Harris1
The name alone will make your mouth water. Butter tarts are rich, sugary treats that are flaky on the outside and oozing buttery sweetness on the inside. Raisins or nuts are also often added to the recipe, and numerous restaurants and bakeries have created their own twists on the traditional butter, sugar, and egg filling. Try them at just about any bakery in the country or venture to Kenilworth, Ontario, to stop by the Butter Tart Trail's 18 bakeries that specialize in the sweet treat.
Follow HuffPost Canada Blogs on Facebook
ALSO ON HUFFPOST:
Everyday Eats With HuffPost Canada Contributors