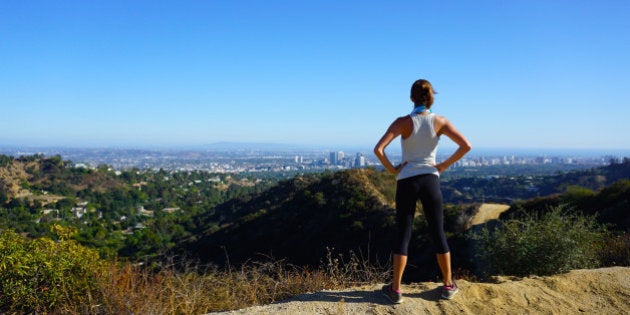 Hiking is known as one of Los Angeles's most popular outdoor activities - and for good reason. With some of North America's most scenic views and an abundance of natural beauty, any one of L.A.'s numerous trails are the perfect place to lace up and set out on an adventure.
We've compiled some of the best hiking routes across the metropolis for beginners, intermediates, and pros to explore the Los Angeles wild. So, grab your gear, some H2O and your best hiking pal and head out on an adventure across the Southern California terrain.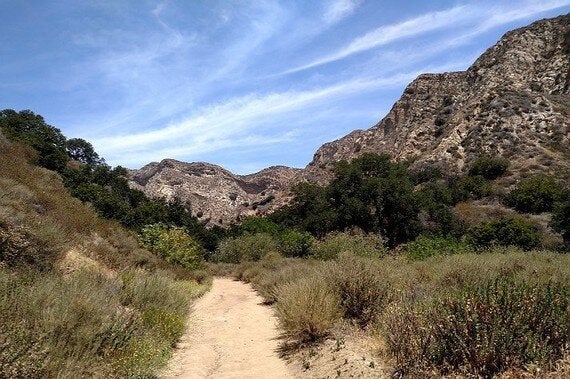 O'Melveny Park | Photo by Joshua Lurie
Ideal for a 'drive and hike', pull into the spacious lot, park and get started on the concrete path just past a picnic area. At the sign for O'Melveny Trail/Equestrian Trail, take a right down a dirt fire road and begin your trail. Climb switchbacks to see rugged rock faces until you reach the breathtaking plateau that overlooks the residential San Fernando Valley, a reservoir and mountains.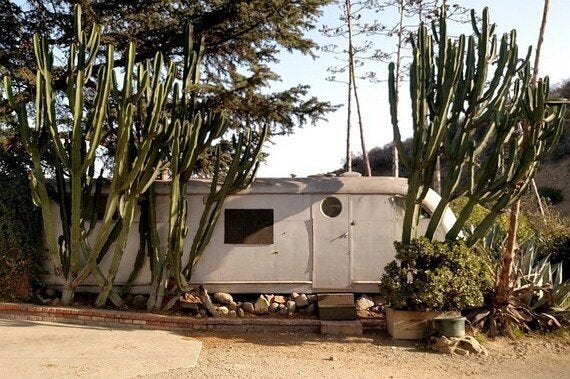 Runyon Canyon | Photo by Joshua Lurie
Start at the north end of Fuller Avenue, through a gate with butterfly design, hang a quick left and then a right, past palms, to start your concrete climb. To your right, people climb stairs on the next ridge, which is a tougher road. Eventually you'll reach houses, a cactus-framed Airstream trailer and the photo-op worthy Hollywood Sign before the trail lets out at a Mulholland Drive parking lot. This is where you can descend to the trail's start.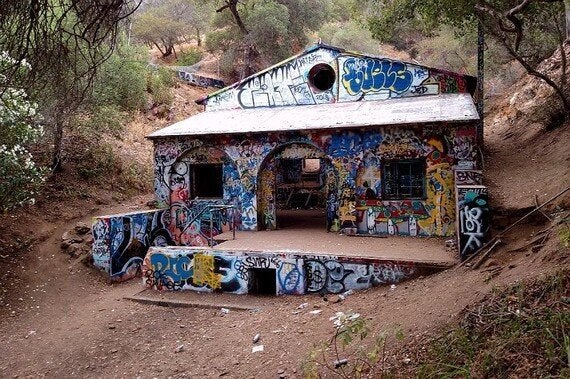 Murphy Ranch Power House | Photo by Joshua Lurie
Rustic Canyon to Murphy Ranch
Distance: 3.3 miles or more
Before the hike even begins you'll have to descend 529 stairs to a dirt path lined with pines, and then pass through the graffiti-covered, fenced-off remains of Murphy Ranch. After exploring, begin your climb up the stairs to the paved road. As you go you'll encounter a fork in the road, take a hard right and pass a water tower to reach a stone-framed gate - pass through the hole in the stone to get back to the main paved road. To keep on the hike, take a left and pile on the miles, reaching more trailheads, or a summer camp called Camp Josepho. Finish your journey, and take a right to reach the beginning of your hike.
The Old Zoo at Griffith Park | Photo by Joshua Lurie
Bee Rock is another perfect 'Park and Hike' spot, starting off with access to the lot in the Griffith Park Merry-Go-Round lot. Begin your climb at the fire road that overlooks Wilson Golf Course then pass through an open fence to the remnants of the original L.A. Zoo (you'll want to have your camera ready). Walk through a gaping hole in a fence to a fork in a dirt road and take a right. Look up and you'll see a fenced-in lookout at the top of Bee Rock, your final destination. Begin to take a left to descend the trail passing a graffiti-lined path, rusted fence lookout and single-track dirt path.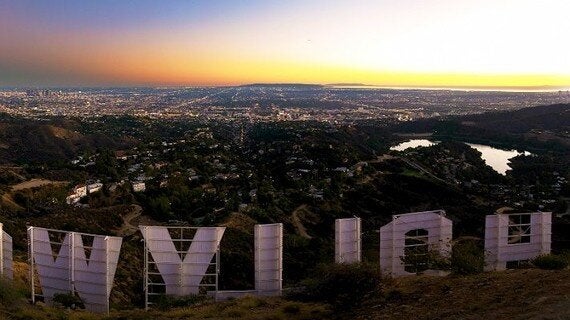 Hollywood Sign viewed from Mount Lee | Photo courtesy of pbuschmann, Flickr
Mount Lee & The Hollywood Sign via Brush Canyon Trail
Although one of the longer more difficult hikes in L.A., it is also one of the most iconic. Pass Camp Hollywood Land as the concrete quickly turns to a dirt fire road that traces the hillside. At the 1.7-mile mark of your hike, take a right at the fork and begin your climb. Near the top, you'll meet white fence, views of the Griffith Park back country and the Forest Lawn Cemetery. Corkscrew around to the south side of the mountain to see Lake Hollywood Reservoir - another photo worthy view - and dead end at radio towers. Look down to see the Hollywood Sign and panoramic views of L.A., then reverse for a mainly downhill hike to the parking lot.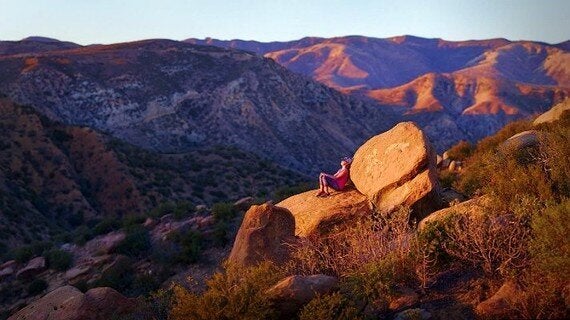 Rocky Peak Park at sunset | Photo courtesy of Kevin Dinkel, Flickr
This boulder-lined path should be taken only by equipped and experienced hikers. Views are minimal on this trail, unless you crave glances of Simi Valley and the occasional bird, but the challenge and final destination is worth it. A dirt road rises precipitously, passing big rocks with tufts of brush to reach the peak, which offers beautiful views of the surrounding Santa Susana Mountains, San Fernando Valley, and distant Santa Monica Mountains. Double back to your car to complete a short but strenuous hike.
Follow HuffPost Canada Blogs on Facebook