Los Angeles is an adventurer's paradise. Home to more than just tanned celebrities, the sprawling metropolis offers everything from modern rock climbing to incredible trails ideal for mountain biking and of course amazing surf spots. And what better time to head to the sunny state than when the snow starts falling in the Great White North?
To get you started, we've put together a two-day itinerary ideal for any thrill seekers craving a daring getaway.
DAY 1
Upon arrival, check in to the Farmer's Daughter , a boutique property offering some good ol' fashioned fun with its onsite pool bar and restaurant. Located right at the intersection of the Beverly Hills, Mid-Town, and West Hollywood, there's plenty of things to see, do and eat all within walking distance.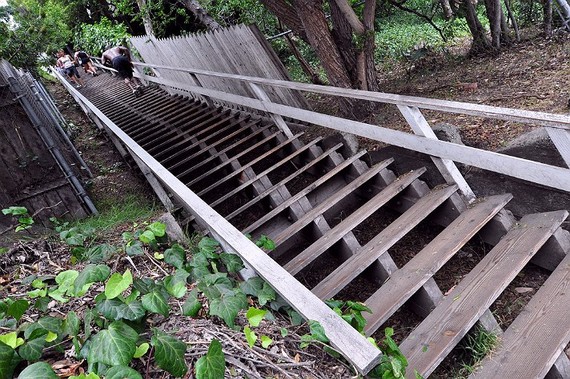 Santa Monica Stairs | Photo courtesy of Ken Shelton, Discover Los Angeles Flickr Pool
Morning: Santa Monica Stairs
Start your first day with a challenge. Grab your friends and see who can run five laps on the infamous Santa Monica Stairs the fastest. The 160-plus steps climb straight up the hill towards Adelaide Drive. In between gasps, remember to peek at the picturesque ocean views.
Breakfast: Sidecar Doughnuts & Coffee
If you ran the steps, you've earned donuts and coffee. Owners of Sidecar Doughnuts & Coffee, Sumter and Chi-Lin Pendergrast, and executive chef Brooke Desprez offer what some are calling the best doughnuts in Los Angeles. For a city where doughnut shops seem to occupy every corner, the folks at Sidecar are breaking the mold and offering something better than your average glazed donut.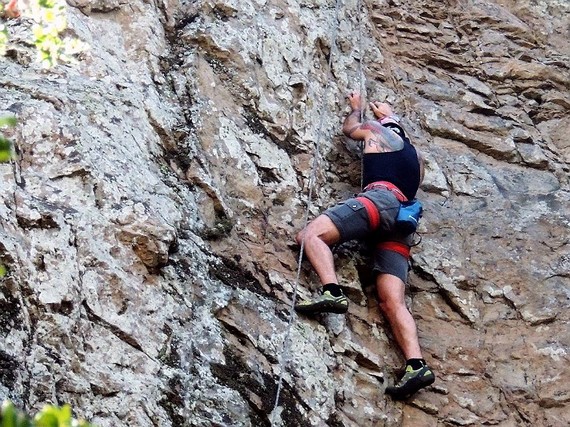 Photo courtesy of Rock N Rope Adventures, Facebook
After Breakfast - Rock 'N Rope Adventures
Meet up with your guides from Rock 'N Rope Adventures for a morning rock climbing in Malibu. Guides teach students the basics of rock climbing safety and technique as well as provide the gear for your lesson. If this isn't your first time roping up, then don't worry - Malibu Creek offers routes from 5.4 to 5.13, which means there is more than enough challenging terrain to go around.
Lunch - Oaxaqueña Taco Truck
In L.A., the taco truck is life. Ask any locals in the know, and they'll tell you the taco truck is worth its weight in diesel-fueled gold. Oaxaqueña also offer burritos, tortas (meat sandwiches), and tostadas. But, our recommendation is to stick to the basics and get four tacos for just US $6 total!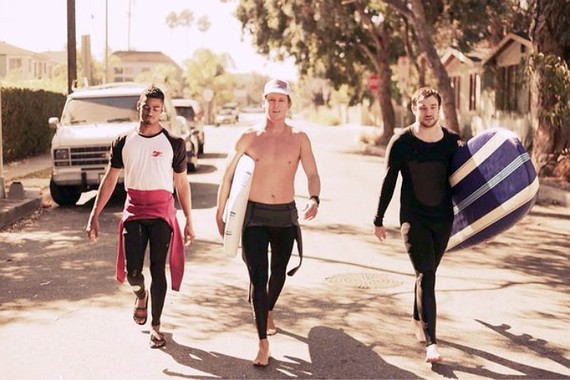 Photo courtesy of Aloha Brothers Surf Lessons
Afternoon - Aloha Brothers Surf Lessons
You didn't come all the way to L.A. to skip the beach, it's what this city is known for--the sun, the sand, the babes. Pro tip, you'll look a lot more like a local with a wetsuit on, even if you spend all your time on the board taking diggers into the sand. If you are a total newbie, Aloha Brothers Surf Lessons offer lessons to all levels and ages. Be sure to make reservations in advance, as lessons can fill up early.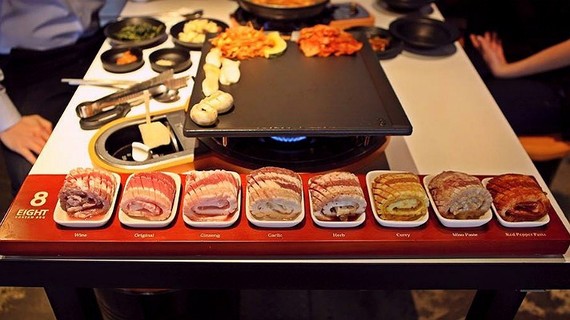 Eight Flavors of Pork Belly | Photo courtesy of Eight Korean BBQ Los Angeles, Facebook
Dinner - Eight Korean BBQ
This isn't your father's BBQ, but it's almost as iconic. Eight Korean BBQ is a L.A. staple, and once you've had it, you'll see why. Food is served family style, with the highlight of the meal being the thinly sliced meat that you grill yourself at the table. So, what makes this meat so amazing? Well it's not just one type of meat, but eight. Eight Korean BBQ gets its name from its signature entree - eight servings of pork belly marinated eight ways.
DAY 2
Breakfast - Du-par's
Opened at The Original Farmers Market in 1938, Du-par's serves its breakfast menu 24-7. The buttermilk hotcakes are legendary - Frisbee-sized and nearly one inch thick. The short stack has three hotcakes, and when the waiter asks if you want butter on top, the answer is, "Yes, please." Served with a ramekin of warm maple syrup, the hotcakes are fluffy and just right on the sweet-o-meter.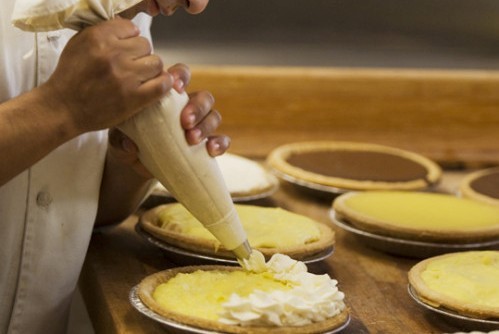 Photo courtesy of Du-Pars
Morning - Aileen Getty Ridge Trail
Properly fueled up, you're ready to hike to the Wisdom Tree, which sits along one of the most fun and interesting trails in Griffith Park, called the Aileen Getty Ridge Trail. Unlike most trails in Griffith Park, this trail more closely resembles a use trail - it's crumbly, rugged, and super fun to hike. About half a mile from the end the trail there's a ridge and the left fork will take you to the Wisdom Tree. TIP: There's an ammo box at its base with letters and wishes from other hikers!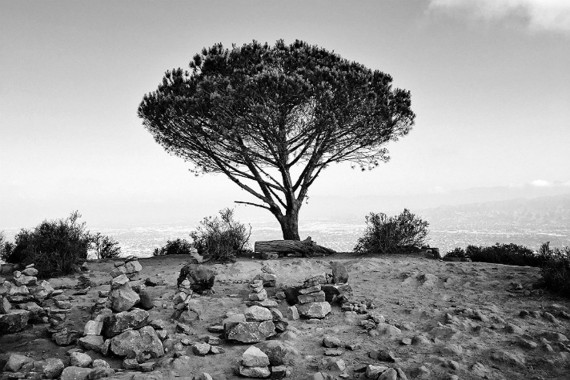 Wisdom Tree | Photo courtesy of cielodlp, Flickr
Lunch - Golden Road Brewing
Golden Road Brewing was one of L.A.'s original micro-breweries. Founded in 2011 by Meg Gill and Tony Yanow, Golden Road offers four of their beers year-round, as well as a choice of their newest brews. The original location, in Atwater Village, also has amazing eats made by Executive Chef Adam Levoe, who sources local ingredients to craft his incredible comfort food.
Afternoon - Griffith Park / L.A. River Bike Ride
Located less than a mile from Golden Road, Bicycle Pit Stop will get you set up for your afternoon bike ride. The shop rents Durban Folding Bikes, which are made for paved roads. Return to Griffith Park and ride the perimeter along bike friendly Zoo Drive/Crystal Springs Drive to the Los Angeles River Bike Path. Bike rental is US $15 an hour for the first day.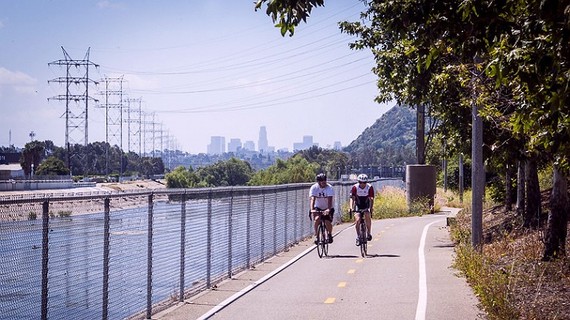 L.A. River Bike Path | Photo courtesy of Joséphine Runneboom, Discover Los Angeles Flikr Pool
Dinner - MessHall
Located in Los Feliz, MessHall Kitchen showcases Executive Chef Shane Pritchett's modern take on regional American comfort food in a sleek setting that was once the site of one of the legendary Brown Derby restaurants. The bar program focuses on classics, including small batch new American spirits and craft beers.
After Hours - Tom Bergin's
Your weekend of adventure ends at the landmark Tom Bergin's Public House, located on Fairfax about a mile south of Farmer's Daughter. The oldest Irish establishment in L.A., the "House of Irish Coffee" continues to pour its signature drink for new generations of fans. The horseshoe-shaped bar is said to be the inspiration for the classic TV comedy series, Cheers.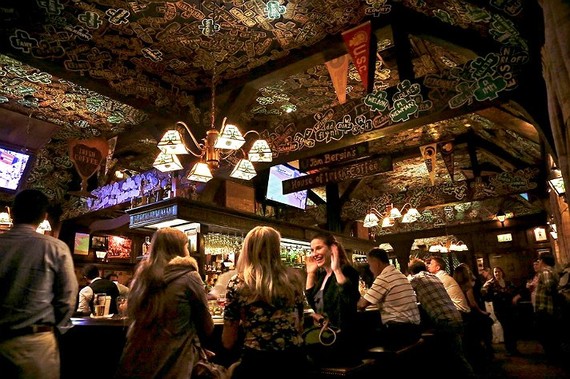 Photo courtesy of Tom Bergin's
Follow HuffPost Canada Blogs on Facebook