What happens when you mix relaxation with entertainment? You get the best of both worlds (obviously!).
Welcome to what the City of Angels has dubbed a Spa Party. So what is it? It's the ultimate escape to a tranquil oasis where you and your best pals get pampered. It's the perfect time to catch up on the latest gossip, enjoy a delicious cocktail and walk out feeling completely beautified.
Seems obvious, right? Well you might be shocked to learn that this wasn't always possible.
A decade ago, spas functioned primarily as a place of peace and solitude. It was a temporary vacation from the hustle and bustle, a quick getaway to relieve stress. Spas induced meditative states of relaxation, a by-product of calming treatments -- Swedish massages, saunas, salt baths, Champagne facials. They were trying to provide complete bliss and looked at isolation and seclusion as answers.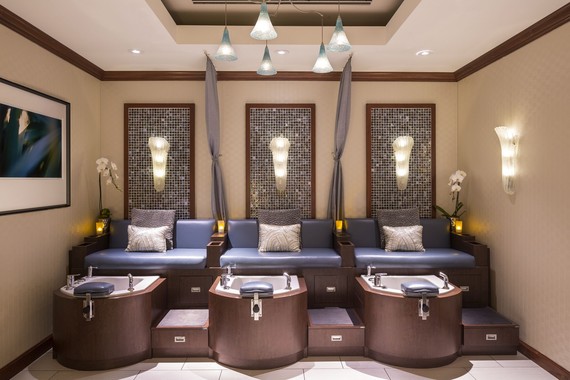 Credit: The Ritz Carlton Marina Del Rey Spa
Thankfully, those days are long gone. Scattered across Los Angeles, you'll find plenty of hotel spas setting up for epic spa parties. The Spa del Rey at the Ritz-Carlton is known to organize events for groups as large as 100 people (talk about a party!). The festivities are often for special occasions ranging anywhere from bachelorettes and birthday parties to corporate meetings and wedding receptions. But for the most part, you'll find groups making their way to these spas as an excuse to skip the club and enjoy the luxuries of being spoiled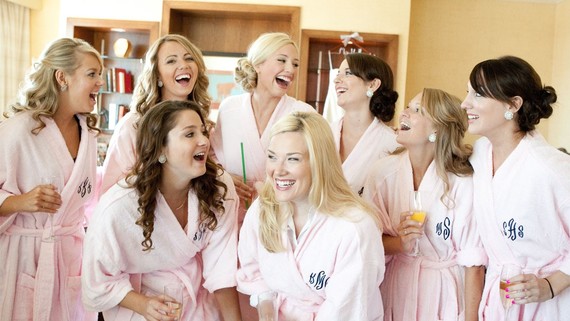 Credit: Omni Hotel Los Angeles Bridal Spa Party
Be Well Incorporated organizes spa parties for Los Angeles hotels such as the Omni Hotel Los Angeles, often providing out-of-the-ordinary twists. In the past, Be Well PartiesTM have offered yoga, meditation, belly dancing, Pilates, tai chi and more at different spa and wellness locations across Los Angeles. The main focus: to use social interaction as a way to relax.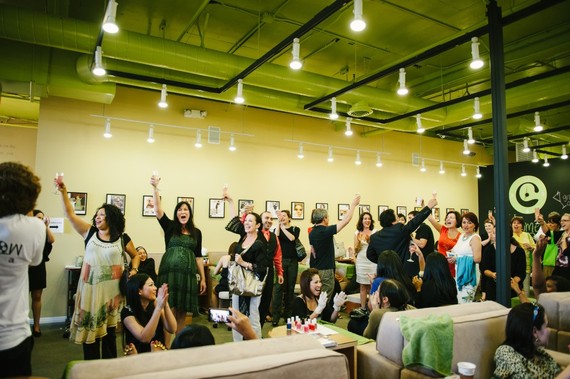 Credit: Bellacures
For those that want to give their nails all the attention while socializing, Bellacures Spa is the place to be. With several locations across the city, the spa hosts incredible mani-pedi parties, including bridal showers, corporate events, club or organization gatherings, cocktail parties, girl's night out, baby showers, birthday parties, kid's parties - you name it.
If personalization is what you're looking for, you'll fall in love with Olive & June. This spa makes it their business to know your nails and keeps all of your preferences on file. And no, we're not just talking about your favourite polish colour. Everything from the shape of your nails to your drink preference is recorded to ensure you walk away feeling like an A-lister. Talk about service.
Mobile spas in L.A. like Serve the Goddessare also fast becoming popular in the spa party scene. They fill up the limitations regular spas may have by bringing the spa services to wherever your party is - big or small.
More and more, visitors are embracing the idea of having a social haven, knowing that being social is often a way of being healthy. In a city like Los Angeles, it's a philosophy that fits like a glove.
The spa party isn't so different from the basic concept of ancient spas. Social baths appeared as early as 500 B.C. Even then, the primary focus of spas was health and wellness. Over the years, the baths became an entertainment complex where citizens could relax, recharge and socialize -- much like today's spa parties.
In many ways, the spa has come full circle, getting back to its social origins. In Los Angeles, it's the new, healthy way to relax, have fun and party. So, if you ever need a place to reach those peaceful states with friends or run out of idea to throw a bridal shower, just book a flight, pack your bags and be on your way to the next spa in L.A.!