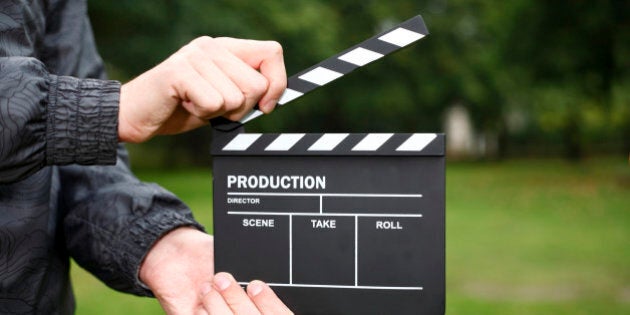 I recently caught an interview with the creators of the American espionage TV series, The Americans, on CBC Radio's Q where it was mentioned that one of said creators used to worked for the CIA.
Storytellers often draw upon what they know. A novelist might attribute his own taste in music to his protagonist, for instance. You could program an entire cable network with nothing but movies and TV shows self-reflectively set within the world of Hollywood.
Yet the Canadian film and TV industry has rarely been explored in Canadian films or TV.
I recently completed a creative project combining my affection for pulp fiction with my interest in Canadian identity for a collection of Canadian superhero stories set in different time periods and milieus. And being a long time observer of Canadian film, I set one story against the Canadian film biz -- "The Beaver, the Bear, and the Eagle." I'm pretty sure it's the first-ever story mixing a masked heroine, Gothic mystery and Canadian film.
(Oh, I'm sure it might piss off a few people in the biz, but I'm equally sure no one in the industry will ever bother to read it.)
But it got me thinking how few examples there are of movies and TV shows set amid the Canadian entertainment business.
Embracing a Canadian setting (as opposed to hiding it) can actually enliven a story, suggesting quirks and spins on otherwise familiar cliches.
Perhaps the most high profile was the CBC sitcom Made in Canada (1998-2003). Set at a TV production company, it starred Rick Mercer (better known for simply being, y'know, Rick Mercer) as a Machiavellian executive. It was meant to be a cynical satire of the biz.
I'll admit the episodes I saw never whacked my funny bone the way many of the British black comedies it sought to emulate often do. Canadian comedies, I would argue, often have trouble handling the concept of the anti-hero (Mr. D is another example of a series that leaves me absolutely stone faced).
In the case of Made in Canada, Mercer's character was too often in control of the situation -- whereas often anti-hero comedies (Fawlty Towers, Black Adder, The New Statesman) make it easier to grudgingly sympathize with a cad by putting him in a position of vulnerability.
But it's as a Canadian entertainment satire that I felt Made in Canada was a missed opportunity. The episodes I saw (admittedly, only a handful) were more satires of generic film/TV themes, rather than deliberately zeroing in on Canadian targets.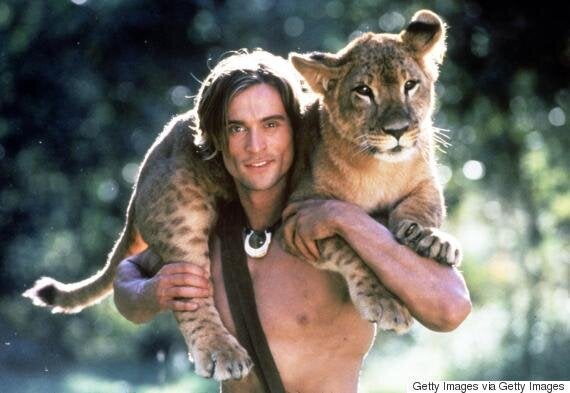 Actor Daniel Goddard, star of the Beastmaster television series, appears in a scene from the show. (Photo: Tribune Entertainment)
An example of what I mean is that a running thread in the series was a sword and sorcery series that was a spoof of Hercules and Xena, which were popular at the time. But Canada didn't make Hercules or Xena. Canada's contribution to that genre was Beastmaster and The Adventures of Sinbad (and were, if I recall, essentially American-conceived anyway). Made in Canada wasn't spoofing a company making cheap knock offs of hit American series, but a company that actually was making a hit series.
Arguably, it was a satire of a Canadian industry the filmmakers wished we had.
Paul Donovan's satire, Paint Cans (1994), was very much rooted in the Canadian cinema world of bureaucracy and funding agencies, with its central character a funding executive. If nothing else, the movie gave us that bitingly frank phrase "competent mediocrity" to define so much of Canadian film -- unfortunately, Paint Cans itself suffered from its own competent mediocrity.
There's no disputing the Canadianness of a movie literally titled Hollywood North (2003), long-time producer Peter O'Brian's directorial debut about a late '70s film shoot. But there was something oddly self-reflective about a movie satirizing the tendency to hire non-Canadian actors for Canadian movies -- that itself starred imported actors Matthew Modine and Alan Bates (maybe that was part of the satire). Unfortunately the best of intentions couldn't make up for a comedy-drama that too often misfired on the comedy and the drama.
(Despite my negative comments, obviously I encourage you to seek these out and decide for yourselves -- maybe even come back here and post a comment on the bottom of this page.)
Those three remain the most obvious examples of Canadian film/TV turning an eye upon itself (at least in English-Canada).
Ironically, given my point about the dearth of Canadian show biz stories, Canada was responsible for a seminal TV satire -- SCTV. But its targets were very rarely Canadian-centric. Although I've always savoured the irony that the series' creatives were pressured to include a more distinctly Canadian element, and in protest of this, actors Dave Thomas and Rick Moranis grudgingly created the McKenzie Brothers -- and those characters went on to be SCTV's most popular and successful creations!
Showbiz also provided grist for the short-lived CBC sitcom, PR (about a talent agency).
Funnily, the music biz seems to get more attention than film or TV. Music has been the focus of TV shows like Instant Star, Drop the Beat, Big Sound and Soul, TV movies like Platinum, features like Suck and The Life and Hard Times of Guy Terrifico, and the recent webseries, The Plateaus.
Arguably Canada's greatest show biz satire was TV's Slings & Arrows (the first season remains its strongest). A brilliantly performed Robert Altman-esque comedy starring the likes of Paul Gross, Mark McKinney and Rachel McAdams it was, however, set within the world of live theatre, rather than film or TV. But, honestly, if you haven't at least sampled it -- stop reading this and track it down, now!
Jumping mediums for a moment, film reviewer Ron Base drew upon his background for a few mystery novels about a crime-solving Toronto film critic -- though I don't recall (in the novel I read) it being especially rooted in the Canadian biz.
A recurring theme in my blog posts is, of course, that embracing a Canadian setting (as opposed to hiding it) can actually enliven a story, suggesting quirks and spins on otherwise familiar cliches. I suspect there's a lot of untapped potential in stories set in Canadian film and TV. As I mentioned, I wrote my own adventure/mystery/satire for a short story collection precisely because, as a long-time observer of Canadian entertainment, I thought the industry provides grist for entertainment.
So -- have I missed any obvious suspects?
Follow HuffPost Canada Blogs on Facebook