It is no secret that I have worked with youth for a while as my social work career and, although there is a stigma attached to someone's age, there are some amazing youth who are doing amazing things. Some of them choose to become better students, give their time in volunteering for their local community centres, stay out of trouble with the law or simply create amazing things to better our lives.
Some youth get support from home and some get it from school or their community. It's determination that motivates them to not give up on their passion.
Here is one exceptional 14-year-old girl who's resume is already packed with achievements in the STEM industry, Maya Burhanpurkar. She is a great inspiration for the generation of girls to come and whom, just like Maya, will dream of becoming innovators. I hope that this story will inspire us to believe that gender and age are small factors to the big achievements that one person can bring to our society.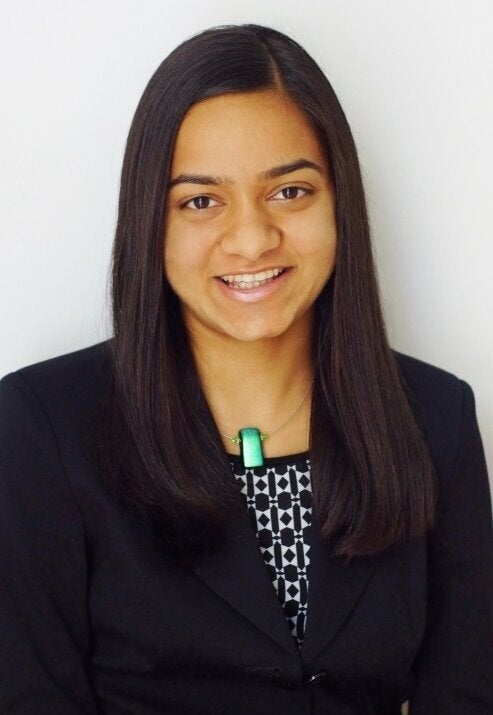 People have told me that I am one of the luckiest people in the world.
Through the support of my public school teachers, my friends and my family, by the age of 14, I had journeyed to the Arctic Circle to produce a documentary on climate change, I had won the nation's top student science prize, I had been a student advisor the Minister of Education as part of MSAC and I had received the Queen Elizabeth II Diamond Jubilee medal, and Canada's prestigious "Top 20 Under 20" award, to name a few.
In addition, I was serving as the Marketing Director of a national non-profit organization called Science Expo and as an editor at the International Student Editorial board of the Canadian Young Scientist Journal, while maintaining the top over-all average at my school.
It was not always easy. As a girl from an ethnic minority, growing up in an all-white, rural Canadian community, I am keenly aware that so many girls, ethnic minorities and rural Canadian face discriminatory obstacles. But it doesn't have to be that way. My experience as a 14-year-old has taught me that women, ethnic minorities and rural Canadians can succeed in a world where these are not always seen as "success factors." Mine is just one small example of many, where young girls have succeeded in the fields of Science, Technology, Engineering and Mathematics (commonly known as STEM).
Let me tell you my story.
Let's start when I was 10. I was volunteering at a hospital in India and, in the middle of my stay, the H1N1 virus broke out. I noticed that the drugs being administered to patients had a lot of side effects. "Why would something that is supposed to help us actually harm us at the same time?" I thought.
When I got back to Canada, I decided to research more about antivirals and antibiotics. I found that conventional drugs both harm and help us at the same time by killing all bacteria, regardless of whether they are harmful for the body. This peaked my interest in the field of botanical medicine and potential alternatives to conventional drugs, so I contacted various universities asking them if I could carry out some research in their labs, at the age of 10. The responses I got were that I had great ideas, but I'm too young to work in a lab.
This discouraged me, but not enough to stop me.
I realized that going the university lab route was not going to work for me so I contacted local high schools (which was rather scary because I was only in elementary school at the time!) and borrowed equipment from them in order to build a microbiology lab in my basement. In that lab, I developed a prototype for the first "intelligent" antibiotic that can differentiate between harmful and helpful bacteria and specifically target the harmful bacteria.
I took this research to the regional science fair and became the youngest person selected to represent my region at the national science fair, where I won an award from the S.M. Blair Foundation. I also received the Ontario Junior Citizen of the Year award for my work.
The next summer, I was thinking of further developing my research in bacteriology, but, in the middle of the summer, my grandfather's Alzheimer's disease took a turn for the worse and he passed away. As a result, I became interested in learning more about Alzheimer's disease.
In my research, I came across two experimental agents that possess the rare ability to breach the Blood Brain Barrier and inhibit Amyloid-Beta plaques in the brain that characterize Alzheimer's disease. I also found out that the biosafety of these two agents was, at the time, unknown. This surprised me because in order for a drug to be useful to seniors, it would need to be safe for the cardiac and gastrointestinal systems.
So, I set out to conduct the first experiments to determine the biosafety of the two agents in my basement laboratory. After further analysis of my data, I realized that I had discovered a new property of these drugs, which I applied to the development of a cardio-protective drug for seniors and athletes, for which, at the age of 12, I won the top Grand Platinum award at the national science fair and the Queen Elizabeth II Diamond Jubilee Medal.
Winning these awards meant so much more to me than getting my name on a trophy. It meant that the research that I had been doing on my own in my basement laboratory could actually make a difference in the world -- real scientists thought it had potential! To a 12-year-old child, this meant the world.
I was planning on continuing my research the next year, but that changed when I decided to take an online calculus course.
While I was taking this course, I learned that the derivative of distance is velocity and the derivative of velocity is acceleration. Conversely, the integral of acceleration is velocity and the integral of velocity is distance. I wondered, "What's the integral of distance?"
After researching everywhere I could, I realized that no one had measured the integral of distance before. I wondered how such a fundamental question in physics had not been asked.
With the guidance and mentorship from several talented researchers, I developed the first apparatus to detect the time-integral of distance in a physical system and, for the first time, confirmed the physical existence of the time-integral of distance.
For my work, at the age of 13, I had the opportunity to represent Canada at the Intel International Science and Engineering Fair, I was selected as one of 90 finalists out of over 50,000 applicants for the Google International Science Fair and I was presented with Canada's Top 20 Under 20 award.
So much more than I could have ever imagined came out of these experiences. For example, I was invited to be a part of a team of international students and researchers traveling to the Arctic Circle to observe firsthand the effects of climate change in the summer of 2013.
I realized that what I was going to see would change my perspectives on climate change and the North (and it sure did). I decided that my experience was something that I should share with the rest of the youth community, who I find have become rather disengaged from the issue of climate change and find it to be more of a "buzz word" than a pressing issue.
So, while I was up north, I filmed a documentary about the human side of climate change that we so rarely hear about -- how climate change is impacting the lives and culture of those who live in the Arctic.
I am working on sharing the stories I was told by Arctic residents with young people across the world by building partnerships with organizations like Ontario Ministry of Education and with the help and mentorship of people like Nobel Laureate, Dr. Brad Bass.
Today, I'm 14-years-old and entering the 10th grade of high school. I'm combining my interests in biotech, health sciences and technology to launch my next venture.
A few years ago, I was talking to my family doctor and I asked him why he doesn't volunteer with an organization like Doctors Without Borders. He said that he wanted to but it was too difficult for him to be able to pack up and travel to another country for a few months when he had a family and job to attend to.
I realized that there are millions of health professionals around the world who would gladly contribute, if they only could. As a solution, I have launched a technology called LIFE, short for Live Interactive Field Evaluation, that is a low-cost, fully mobile, and simple to operate videoconferencing system that is very different than the typical Skype or Google hangout social videoconferencing systems.
It is accessible on smartphones, tablets and laptops and runs over both wireless and 3G cellular networks and provides an incredibly fast, high quality, and secure conference environment, while requiring no learning curve or user-sign-ups that are challenging to people who are not tech-savvy.
The aim is to allow health care professionals in the developed world to volunteer whenever they have time, from whatever location they want, rather than having to physically travel to another country for a fixed period of time. I am currently working with global organizations like the African Medial and Research Foundation, to allow more medical, educational and training aid to be delivered to African countries.
People have told me that I am one of the luckiest people in the world, and I'll agree that I have amazing support from my teachers, my friends and my parents, but I don't think it was all luck that did it for me.
Along my journey, there were so many points at which I wanted to give up because people told me I was too young to start a company or that I didn't know enough to do science research or that I couldn't raise the money to travel to the Arctic and film a documentary to engage youth in the issue of climate change...I had to remember that nothing is impossible and persevere through those challenges.
The reason for sharing my story is to show that anyone who is passionate and dedicated and will stop at nothing to achieve his or her dreams can do so much more than what I have done. All you need is that spark -- that dream to do something big -- and it will happen.
My challenge to young girls is to stand up to whatever is holding you back from accomplishing your dreams. Don't let anyone tell you that you are too young to do amazing things. Sometimes, it's the fresh and creative ideas of kids that change the world.