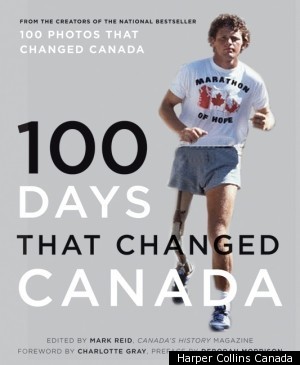 From the creators of 100 Photos That Changed Canada comes their newest work, 100 Days That Changed Canada -- a work that provides concise and compelling histories of turning points in Canadian history.
Charlotte Gray on the Gold Rush. Ken McGoogan on the claiming of the Northwest Passage. Adrienne Clarkson on the death of Norman Bethune. Peter Mansbridge on Jackie Robinson breaking baseball's colour barrier with the Montreal Royals. Lawrence Hill on Halifax's destruction of Africville -- and 95 other days that changed how Canadians live.
Our friends at Harper Collins Canada have shared excerpts with Huffington Post Canada and the Indigo blog, telling the story of four of those 100 days. Today Don Newman explains how Jacques Plante changed the face of hockey.
****
Saving Face
Nov. 1, 1959 -- Montreal's masked man changes hockey.
Don Newman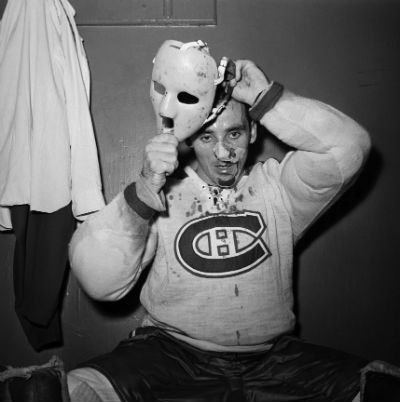 He won six Stanley Cups and seven Vezina trophies as the best goaltender in the National Hockey League. The all-star netminder was also the first to control a game by leaving his crease to play rolling pucks on the end boards. But Jacques Plante's game-changing moment came on Nov. 1, 1959, during a mid-season tilt between his Montreal Canadiens and the rival New York Rangers.
Hit with a booming shot that broke his nose and left a gaping cut on his face, Plante was forced to the dressing room. When he returned, no one in the crowd could see the tape job and stitches the team's trainers had used to pull together the damage -- because Plante was wearing a protective face mask.
In 1930 goalie Clint Benedict had briefly worn a leather protective covering over his nose after being hit by a puck. After his nose healed, the protection disappeared. Plante, meanwhile, had been wearing his mask for about four years in practice, and was determined to change the very way the game was played. Plante played in the era of bare-knuckled hockey. No players wore protective helmets, and skaters cut by pucks or sticks were expected to return to the ice as soon as the bleeding stopped and their wounds were stitched. Teams carried only one goalkeeper. If he was cut during play, the game was halted just long enough to sew him up and get him back on the ice.
Plante's coach, the legendary Toe Blake, didn't like him using a mask at all and forbade the netminder from wearing it in games. In fact, the night before the fateful Nov. 1 game, Plante had been cut and stitched up, and then returned to the game. But on this specific night, the severity of the cut -- plus his success as a star on a team full of stars -- convinced Plante to defy his coach. And he got away with it. The Canadiens won that night, and Blake grudgingly agreed to allow Plante to wear his mask in games until his injury healed. The team then went on an eighteen-game winning streak, so Blake kept his complaints to himself. In March, however, Blake asked his goalie to play a game against Detroit without his mask. Plante reluctantly agreed -- and the Canadiens lost 3-0. The next game, Plante's mask was back for good.
At first Plante was the only goalie willing to wear a mask. But over the next decade, fewer and fewer netminders played barefaced. And it wasn't just goalkeepers' equipment that changed. Eventually the NHL decreed that all players -- at every position -- had to wear helmets. Today, many position players wear protective face visors as well. As for goalkeepers, they all now wear full-coverage masks that bear colourfully painted symbols and team insignias that personalize their protection.
There is nothing more Canadian than hockey. It took a star player with a sense of invention and self-protection, and also the courage to defy his coach and the traditionalists in the game, to change hockey -- and in doing so, change Canada.
Thanks to our friends at Harper Collins Canada for providing this excerpt.
This post originally appeared on the Indigo Blog.