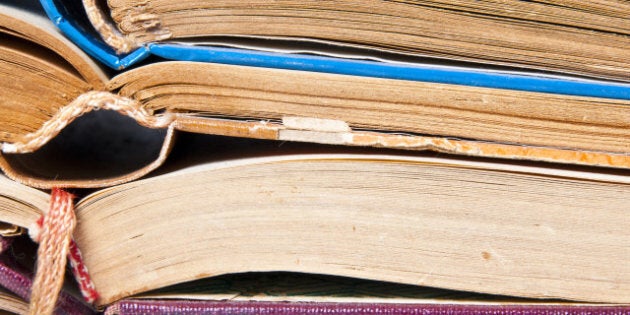 Criticism is very subjective.
My first editor told me, "I don't care for your writing style. Too personal."
A decade later that personal style landed me a publisher's contract for my autobiography, Father's Touch.
I know. Everyone's a critic, but just who can a burgeoning writer trust? My advice when seeking out critical opinion is not to sell yourself short -- aim high, not low.
Years ago, I jotted down a dream contact list of Canadian writing talent. Who'd have thought my first week on the job as Arts Editor for an entertainment magazine, Toronto-born author Charlotte Vale Allen would visit London promoting her latest book?
Holy opportunity. I printed out a section of my early draft and headed down to her book signing.
At the end of our interview, I mustered enough confidence to broach the subject of my writing: "My therapist gave me your memoir twenty years ago. I've been writing on my own experience..."
Vale Allen reached for my well-worn copy of Daddy's Girl and autographed it.
"My memoir was the first of its kind you know!"
"And a superb book it is, Miss Vale Allen!"
Accepting my folder and adopting an intimidating manner, she warned, "I'm brutally honest!" But as she opened to my first page, her voice softened.
"I do like your title. Leave it with me."
A month later, I received her critique in the mail.
"This is not a book...While you are a very good writer, why not use your talents on something more positive, like a novel."
I was crushed. Momentarily.
I wondered if writers, especially within a specific genre, are territorial. After all, Vale Allen's memoir of sexual abuse had been a ground-breaking success. Stubborn as I was (okay, am), and naive to the task that lay ahead, I actually adopted her criticism as a challenge. If Vale Allen thought I should use my talent to craft a novel, why not incorporate that genre's qualities into my own memoir? And if a writer with a dozen novels to her credit would take the time to validate my talent, notwithstanding my first editor, maybe I could write!
I spent the next year experimenting with structure. A network of acquaintances critiqued each attempt.
"Good, but not good enough."
I even took a second year off from working on the memoir, not even glancing at the journals strewn across my apartment.
Then 12 years ago, I happened to be sitting in a crowded restaurant listening to the conversations and the individual accents swirling around when an idea struck me. I raced home, typed away and a couple of caffeine induced, all-nighters later, I drove to my critics.
And so the cheerleading began, but could not quell the pangs of self-doubt. Vale Allen's, "This is not a book," rang in my head.
I pulled out my dream list of Canadian authors, then my phone book and cold-called Novelist Joan Barfoot [a nomineee for the 2005 Scotiabank Giller Prize, and Critical Injuries (2001), which was longlisted for the 2002 Man Booker Prize]:
"But I write fiction..." Barfoot countered.
"And you've judged fiction for the Governor General Awards. But you know 'crap' when you see it."
"You're right. Drop it off."
Then I called former Dean of Journalism (Western University, formerly University of Western Ontario) Peter Desbarats [when I was a kid, I watched Desbarats on one of our two black and white television channels when he was co-anchor and Ottawa Bureau Chief for the Global Television Network]:
"Well, I am retired...but, okay."
Both were generous to a fault with their time and energy. Yeah, with me, a complete stranger!
My own dream team of Canada's finest were now marking my work: "Fabulous structure," wrote Barfoot. "Harrowing," noted Desbarats.
The moral of this "personal" story: Fellow writers shouldn't let critics deter them. Seek them out! Charlotte Vale Allen has a prominent acknowledgement in my book. And my first editor? I think I spotted him working at a 7-11. I so want to give him an autographed copy of my book.