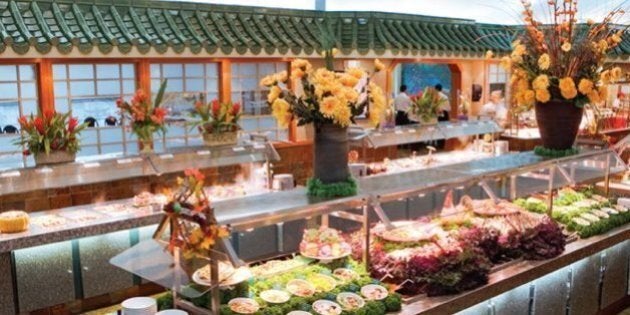 On Canada Day, July 1, the Mandarin's 22 locations across the province of Ontario, including my adoptive home, London, opened the doors and closed the tills to the tune of $500,000 for approximately 30,000 peeps, celebrating 35 years of serving Chinese food.
The first Mandarin opened in Brampton in 1979 by James Chiu, George Chiu, Diana Chiu, and K.C. Chang, who in 1986 changed it to a buffet-style restaurant.
Imagine: 30,000 spring rolls and fortune cookies, 2,000 pounds of rice, 50,000 sweet and sour chicken balls over eight-and-a-half hours.
I didn't have to imagine. I witnessed it firsthand.
I asked two of my friends if they'd like to line up with me for the noon opening. One said, "No, I might die." You mean from the heat? "Yup." The other was in. "Meet you at 10:30 a.m." "That early?" I asked. Boy was I naïve. I got there at 10:20 and the lineup was already 500 strong.
"This is crazy," I told myself. "I can afford to buy a meal. Why am I doing this?" Nevertheless, I kept looking ahead for my friend. At 6'2" this was not difficult but I didn't think she'd be sitting down. By the time I looked around there were hundreds already behind me. I thought, well, this wasn't so bad. I was prepared (I had a chair, umbrella and tape recorder to learn lines for a show I'm in) and besides, I could finish my meal by 12:30 p.m. and that would give me lots of time to get to work for 3 p.m.
I finally spotted my friend ahead. She waved me to join her. I motioned, nope, "can't (rather, won't) cut in line."
I attempted small talk with three behind me. The two men were particularly unfriendly. Maya Angelou's quote, "When someone shows you who they are believe them; the first time," rang in my ears.
And so I put the recorder's plugs back in my ears. An hour later, the battery died so I walked up to my friend to say hello. Luckily she had some batteries. "Thanks, lifesaver friend!"
The next time I looked behind there were more people behind than ahead. I told myself, "I'm a winner!" but 90 minutes in, you still think, "I'm crazy!" for you also juxtapose your position in line with the 90 minutes you've just thrown away. I told myself things will really move quickly once they open the doors at noon. Besides I lined up eight hours in New York with a friend for just a maybe spot at The View (we got in). This buffet was a sure thing!
My positive thoughts were interrupted by two things.
The first, my friend pops up beside me... "I didn't bring my Canadian passport or citizenship so I won't be allowed in." The paper said we needed a Canadian passport or citizen card to prove one is Canadian but we both had forgotten. I looked in my wallet and found my Canadian citizenship card that had been there for 30 years but never had reason to use before. Lucky me; poor friend who had to leave.
The second, the peeps behind me on their cell phone: "So are you coming? You can join us in line!" Were they kidding me? If they were ahead of me that would not be happening. One half hour later their phone rang. "They're coming!" Amazingly, I witnessed three people park their car, look for recognition in line, and join the group behind me. Now by this point, I am not only experiencing a personal exercise in patience, I'm accepting this lineup as an exercise in witnessing human behaviour.
Fortunately, the peeps in front of me were friendly. This helped pass the time. At one point I said, "I think what The Mandarin is doing is a great idea. Too bad the homeless couldn't line up." The reaction I received told me that line cast me as a party pooper. But one said, "Well if they had Canadian citizenship they could." I moved on to safer waters...world soccer and food...both safe choices.
Meanwhile, the Mandarin staff were fantastic. They came out and gave us tea, water bottles, fans, balloons even! I wondered, how many were going to get tipped?
Again, the people behind irked me. They complained, especially the three that joined. "OMG how long do we have to wait? ...I have to go to work at 3:30...can you believe I have to cook for people at 3:30?" But I wasn't surprised at lines like, "I had a complaint at work. Customers said I wasn't friendly." You can imagine just how much I was biting my tongue. Especially when they asked me to take a group photo with their cell phone!
Focus switched for a moment as the doors opened. I never really thought out how this would play out. I knew our Mandarin could hold 400 peeps. 500 isn't that bad! How long could this take? But they had to check citizenship, entry was slow and the biggest surprise was how long it took for the first people who entered to eat and leave. I don't think one patron left within 90 minutes so you guessed it -- my 12:30 dream time came and went. I wanted to grab a megaphone and tell all the people outside lined up, "Press your faces to the window and make the slow pokes feel guilty!"
At times, we were lined up in shaded areas, but five minutes in the scorching sun and my umbrella went up.
I noticed a policeman who was there to maintain order. When stomachs growling being the concern of the day, he was only experiencing a sunburn. "Take care of that burn," I offered. "Too late," he sighed, laughing.
In our section, I was the only one using an umbrella. I heard the peeps behind me, "Let's go to the car and get our umbrella." "No, that's so gay."
Miss Angelou you were so wise.
I didn't get in until 2:25 so I had 15 minutes to eat and run for my work call. I looked out the window for faces pressed against the window looking in but there were none. The food was amazing, staff were fantastic, working off their feet and friendly wishing all Happy Canada Day.
Of course, I left a tip but that hardly does the experience justice.
My day ended with one big thank-you to The Mandarin Restaurant. You showed us who you are. And I believe you -- the first time.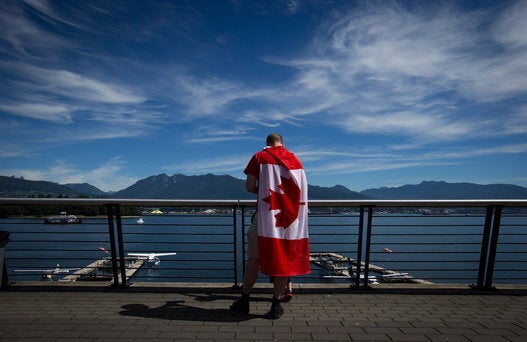 Canada Day Photos From Across The Country