 "Even the darkest night will end and the sun will rise." - Les Misérables
I've been writing reviews for 15 years. Theatre and film, 700+ short films alone. The only difference between me and most people is my reviews have been published for every time I leave a theatre of any kind I hear reviews swirling around me. Sometimes while the show is going on.
Everyone truly is a critic and each voice is important but I have learned there are many differences between experiencing a movie and a theatrical production. Tell a stage actor your point of view, you might hear, "You should have been there closing night. What an audience and we gave our best performance."
The same cannot be said for a movie experience. Tuesday or Saturday the movie on screen is identical. In the case of the musical Les Misérables, you could time a tear shed on screen like clockwork no matter the timing of the showing.
And the audience means little to a movie screening. I sat in the perfect theatre: wide screen, with state-of-the-art sound, a full enthusiastic house on Christmas Day opening. And as if the producer gods were working overtime, in my row to the left, three men sang along as if they were experiencing Liza live, and to my right, a young couple gasped and sighed in perfect harmony. This version of surround sound provided an interesting perspective to say the least.
The motion-picture adaptation of the beloved global stage sensation Les Misérables has been seen by more than 60-million people in 42 countries and in 21 languages around the globe and is still breaking box-office records everywhere in its 27th year. Nevertheless, in case you didn't know, prisoner 24601, known as Jean Valjean, is released from prison and breaks parole to create a new life for himself while evading the grip of the persistent Inspector Javert. Set in post-revolutionary France, the story reaches resolution against the background of the June Rebellion.
Les Misérables is a story based on French writer Victor Hugo's epic 1862 historical novel of the same name. The title is translated variously from French as The Miserable Ones, The Wretched, The Poor Ones, The Victims. In the movie's case Hugh Jackman is the Poster Boy for all of the above for 158 minutes.
You wouldn't be wrong if you thought it played out like an episode of 48 Hours.
BLOG CONTINUES AFTER SLIDESHOW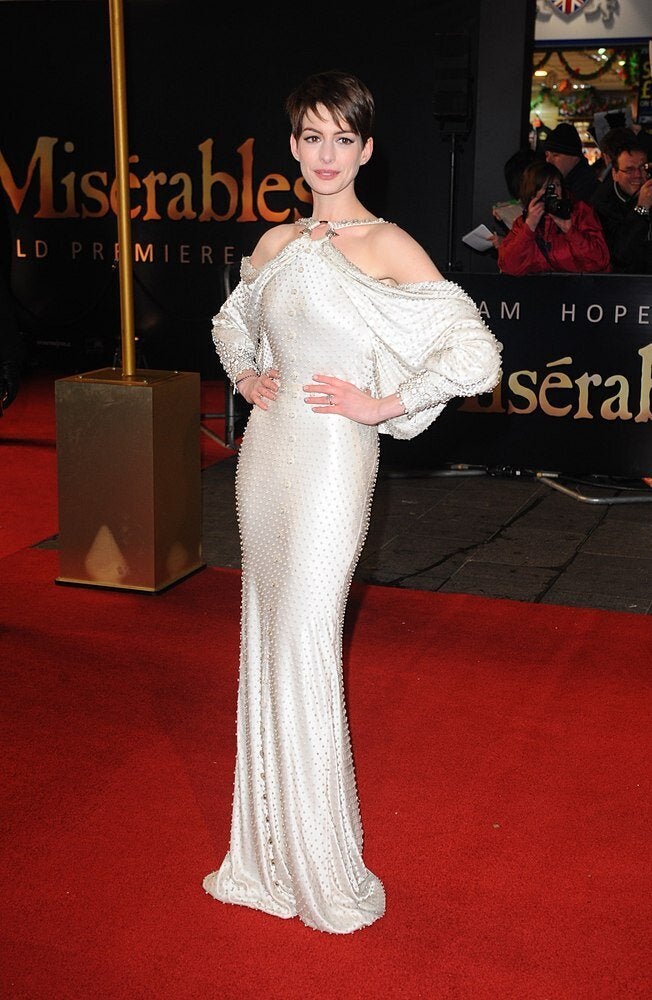 After that long struggling, of course I cared about Valjean's troubles. But because of the hand-held camerawork, I am now more familiar with Jackman's uvula than I need to be. And I'm surprised the audience didn't applaud when Javert self-destructed not because the bad guy loses but that they wouldn't have to see one more minute of a seemingly constipated Crowe wishing he were anywhere else other than here. (And critics thought Pierce Brosnan in Mama Mia was miscast!)
Yet, I so looked forward to this movie. The fact I knew the actors sang live on camera, rather than miming to backing vocals I thought would be a brilliant. And director Tom Hooper had mastered The Kings Speech to perfection, not to mention the masterful Prime Suspect with Helen Mirren.
Yet, mere minutes in, I went oh, oh, something is off. This is overproduced to hell and back and worse yet, I'm not engaged.
Les Mis has a master of the house alright -- it's just that he wasn't behind the camera. It's the comic relief song eventually sung by Sacha Baron Cohen as Thénardier, and Helena Bonham Carter as Madame Thenardier -- a comic interlude the audience craves but seemed more suitable to the Beetlejuice movie.
You know a film's got some problems when I'm thinking, "bring on the hooker scenes, quick." Luckily things get better before then, for from the moment Fantine (Anne Hathaway) appears the film is born again. Although her scenes are brief, they are powerful, gut wrenching and completely engaging to viewers.
Then not until the Revolutionaries, especially Eddie Redmayne, a lovely surprise as the love-struck revolutionary Marius, and Aaron Tveit as Enjolras, does the film take off yet again. And of course, Samantha Barks gives an effortless performance as the lonely and doomed Eponine -- everyone here is doomed, don't you know, it's Les Miserables -- a role she'd performed on the London stage.
Of course, any time Colm Wilkinson, the original stage Valjean in London and New York, who played the bishop showed up, the screen lit up.
And yes, I cried. Fantine's hell, self-scarifice, death. (I also cry at Seventh-Day Adventist commercials). But I cried more at seeing Colm Wilkinson and kicking myself that I didn't see him perform in the role he originated when I had the chance.
During one of the tear-jerking moments near the end, I thought my friend was reaching for a Kleenex. A moment later I heard the slurping sounds of detachment. Yes, he who we predicted would love the movie the most liked it least.
Les Misérables is a mediocre movie of an exceptional musical.
Hooper had been offered the chance to direct Iron Man 3 for Marvel Studios but declined and instead signed on to direct Les Misérables.
Once again I'm reaching for a Kleenex box.