A study by an American psychiatrist into homosexuality suggested that all the boys he classified as "feminine" played with a doll such as Barbie; for nearly a fifth of them, such a doll was their favourite toy. Only two-fifths of the "masculine" boys were reported as playing with a doll even occasionally.
Non-fiction lover that I am, I love myth busters. Maureen Judge's provocative documentary Living Dolls takes the lid of doll lovers' Pandora's box. She does this with an up-close and seemingly playful look at the world of a select few doll collectors.
This film, and their world, has to be seen to be believed.
Full confession: I'm one of those homosexuals who never played with dolls. In fact, I remember walking over them in my lesbian sister's doll-filled room. How's that for myth busting? The caveat being I ended up with a best friend of 25 years who was a doll collector before I met him (and since, but I didn't find that out until later). In all that time I think I can count on one hand how many times I've seen "the girls".
And so the obsession with dolls is foreign to me; obsessions themselves -- a part of my life. Perhaps a window into someone else's obsession is a mirror image of our own. Even so, I found myself shaking my head at the cast of characters in this doc -- and often -- but I could never take my eyes off them. They're original, quirky, anything but doll like. Certainly, at turns odd, diva-ish, bizarre, addictive, selfish to a fault. All display the "slice of humanity" that collector Michael refers to early in the film.
Witty, whimsical elf-like Michael is an artist and animator who transforms dolls into robots for an epic robot-porn film. I found him fascinating, intelligent and truly creative.
David is a married man who believes his "love dolls" give him the best of both sex and art. His interactions with them on film are in the "have to be seen to be believed category". One, Bianca, even receives screen credit!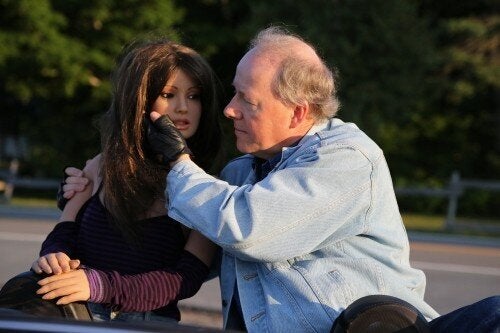 David with Bianca at sunset
Saddest of all (in a melancholy way) is Debbie, a young married mother who spends way more money than the family earns to feed her habit. Debbie is beautiful with a caring husband, wonderful children. The window into her world looks pretty from the outside but appearances are deceiving.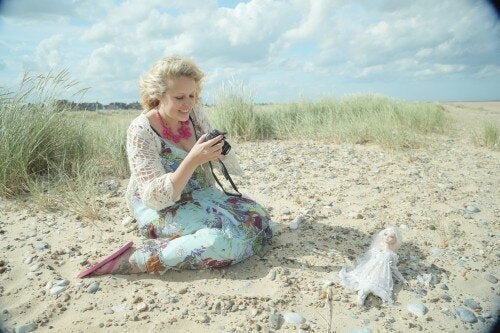 Oh, there are lighter moments to be had.
Did you hear about the Drag Queen Ken-Barbie? It "came out" with three, count 'em, three of Barbie's dresses? Mike, a Barbie-loving, 30-something year-old man who never left home would know all about that. Barbie seems to have turned into something of a gay icon. The coming out process is two-fold: "They disclose their sexuality. They profess their love for Barbie." Not necessarily in that order! I could write an essay on Mike in this film alone. It is his time on screen that had me shaking my head the most! What a character.
As interesting as all the participants are it is director Maureen Judge who is the master behind the rhythm of this film. She is non-judgmental but at the same time presents a no-holds barred, x-ray vision of doll collecting.
To be more precise: it is the synthesis of Living Doll's content: performance, design, Judge's direction, music (Aaron Davis soundtrack is magical), lighting, photography (Daniel Grant is a superb cinematographer), along with George Wright's great editing that makes this film truly unique.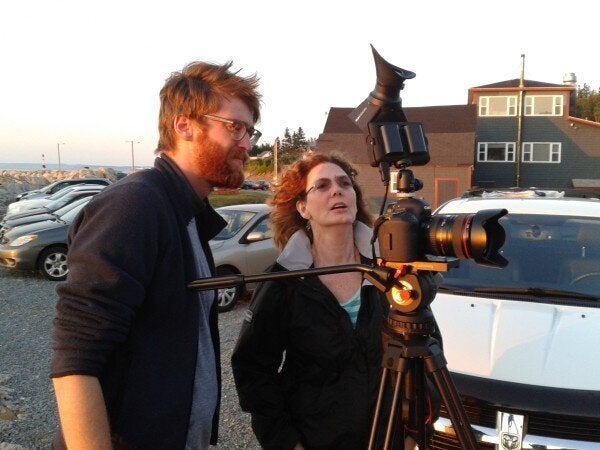 Maureen Judge with Daniel Grant
It is true that the best editing is invisible. But you could also say that editing is like seeing the editor's handwriting up on screen. Director Judge and Editor Wright's handprints are all over this film.
It is the collective talent of all those working on this film that sets this documentary a cut above the rest.
Living Dolls premiered this month on GLOBAL TV. I just played the Austin Film Festival.It next airs on Logo TV Nov. 4 at 10 PM in their documentary slot What? Logo Documentaries.
DISH XTRA: DISHing With Maureen Judge
How many years have you been Makin' Movies?
Maureen Judge: I've been makin' movies for over 20 years. I started in comedy drama, but moved into documentary after I made my first documentary, And We Knew How To Dance: Women and WWI. I loved working in the small intimate setting of documentary-making and hearing stories from so many interesting and extraordinary people.
How did you come to this subject as a doc for your company?
Maureen Judge: As a child, I played with dolls and had a modest collection. Since then, I've made a lot of docs that centred around women and their relationships to society and both off screen and on screen, there always seemed to be a doll collector. In my last documentary, Mom's Home, one of the subjects who happened to collect dolls was losing her memory and we filmed her while she was preparing to move and having to give away her collection. Each doll had a special story attached to it, and as she gave them away, one by one, like her memory, she was losing a part of herself and her own history.
Have any of the participants seen the doc yet? If so, how did they feel about how they came across on film?
Maureen Judge: So far, I've shown the film to all of the participants, except David, who I will show in the next couple of days. All of them have expressed how much they like the film and how they feel it portrays them as whole people, not misfits.
Mike who collects Barbie dolls was a little nervous about his crying while filming and confessed he was worried he might look like a baby. But when he saw it, he was relieved and happy. He felt he was portrayed as an individual coping with a new situation, who missed and loved his partner and family deeply.
Debbie, the Ellowyne collector was moved by the film. When she watched Mike cry on-screen, she started to cry. She empathized with Mike's loneliness and isolation. For Debbie, Living Dolls portrayed her life as it was a year ago, with spending out of control and, as a young mother, still dealing with the loss of adolescence and feelings of loneliness. She's currently working on reigning in her spending, has changed her doll collection to ball-jointed dolls and is making and selling crocheted doll clothing.
Michael , the robot artist really enjoyed the film with its quirky sensibility. He admits his take on dolls is a little different from the others, as he sees Barbie as an armature or framework upon which he can make a new object - a robot. He enjoyed Living Dolls and learning about the other subjects' relationships to their dolls and had to admit he had his own unique relationship with his dolls and robots.
He's so supportive that he's donated a robot to the Living Dolls Contest on Facebook.
Was this a difficult film to make? A joy? A challenge?
Maureen Judge: The film was a joy to make. It was different than many of the films I've directed, as all of the subjects were happy with the relationships they had with their dolls. The dolls gave them an emotionally happy and safe place to go to and play or act out their dreams and desires.
The greatest challenge making Living Dolls was finding the dramatic arch of each story. I had to look deep into the collectors' lives to understand the struggles and for some, demons, each of them were facing.
How do you feel about the results?
Maureen Judge: I'm pleased with Living Dolls, both from the point of view of story and visually. I worked with DOP, Daniel Grant who has an incredible aesthetic. He manages to capture beautiful images, while keeping the story and the individuals top of mind. When I'm shooting, it's always hard to know how it will turn out and how an audience will respond to it.
How would you describe your style of directing/producing?
Maureen Judge: I tend to produce documentaries that move me in some way. Often, they are relationship films around the family and society. They are usually films that I intend to direct, so I am also engaged in the research. My style of directing is observational filmmaking. As you know, Donald, since you were the subject of one of my films, Family Secrets: When Nobody's Looking, based on your memoir Father's Touch. I spend time with my subjects, and through working closely with them, we learn to trust one another. This enables the individuals to be open and receptive while we are filming. I like to work with a maximum of two to three crew members, so filming a very intimate experience for all of us. I also tend to plan shoots, wherever possible around events or action-oriented activities that reflect a relationship or a state of mind, so that the subjects can focus on what they are doing and as a crew, we can focus on capturing the social dynamic.
The documentary filmmakers of a generation ago, who worked in Direct Cinema, such as the Maysles Brothers (Grey Gardens) and Alan King (A Married Couple) are among my favourite documentary filmmakers. I also love comedy and satire, and naturalistic filmmaking.
A couple of films I just saw that really moved me and made me uncomfortable and laugh out loud were Woody Allen's Blue Jasmine and Richard Linklater's Before Midnight.
Is film making your passion?
Maureen Judge: I can't imagine doing anything else! But really there's a whole world out there, which I discover every time I make a film, so maybe in another lifetime, I could find another passion.