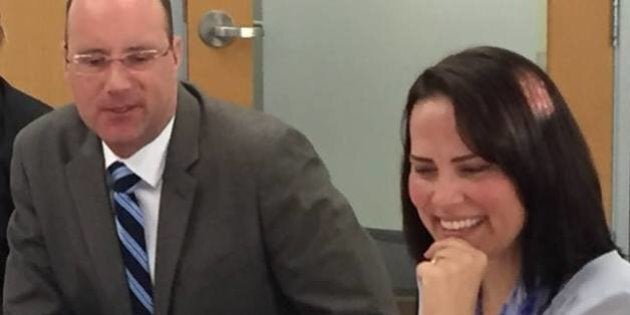 I wanted an important guest for the first episode of the second season of my Rogers TV London, Ontario, talk show DISH with Donald in September.
On April 28, I wrote our current Mayor Matt Brown. On May 16 his communications advisor replied this was doable. We set a date.
I told only a select few this and what my first line to the mayor was going to be: "Your Honour, I mean this is in the nicest possible way, but thank God you're boring. We in London need a break from drama at City Hall."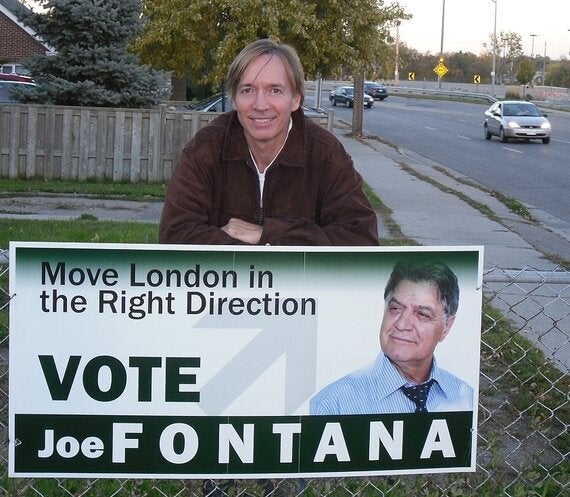 Photo credit: Donald D'Haene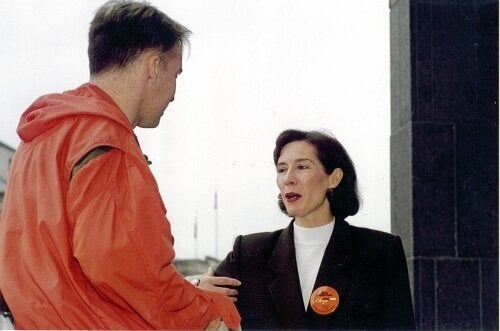 With former mayor Diane Haskett.
My circle all laughed and nodded knowingly, except one, very political locally, who grimaced before I got to that line.
"Oh you don't like our current mayor?" I responded. "OK, let's save some time...I'll mention our last four mayors and let's see which one you do like."
Surprisingly, it was only Fontana who did not receive a scowl. The person went on to list the many "faults" of Mayor Brown.
"I'll never take that approach in my interview," I interjected. "I want to get to know the real person behind the mayor. A half an hour on the defense does not interest me. Probably no different than some city hall meetings."
Now that was the understatement of the year as all hell broke loose here in the Forest City, yet again, on June 14, when our mayor temporarily suspended his duties following his disclosure of an affair with deputy mayor, Maureen Cassidy.
Boring? This is a mayor that I've discovered is anything but. Of course, my interview will obviously be less 'interesting' than it might be, because -- not being a prurient, pandering interviewer -- I would not be asking the question that others, perhaps prurient, pandering reporters in media, have been howling from the rooftops for the past week. Still worthwhile, nonetheless, for my original reasons: I want genuine responses in an interview. Because of the work he's done and hopes to do at City Hall. I am seeking significant information about the man Matt Brown. Inspiration rather than titillation for secret gossip mongers. I believe his answers would be character-revealing in themselves.
I don't want to know the indiscretions of our political leaders. I'm not shocked by them; I assume they happen.
Every time I've heard the mayor talk prior I had no true sense of him as a real person. Now I do -- he's human. I might add, the best speaker I've ever heard in my life was a prodigal son. Perfect people bore me. Now I can't wait to interview Matt Brown, the man, who happens to be our mayor.
The easiest course of action would be for our mayor to bow out especially for his family. His wife had no say in the indiscretion but she certainly will have everything to say about his decisions since.
I keep thinking I would never know this about this man had he not run for mayor. Would it have happened?
I was raised in a Fundamentalist faith to be very judgmental about moral issues. I guess after falling personally and then publicly, sitting in front of their moral firing squad brigade, confessing, repenting and getting back in the saddle of life, I've learned, that routine, or fear of it, shouldn't be the reason we make the choices we do.
The "get out mayor" voice is valid at the very least because every Londoner's voice is important. But not one more than another. I do wonder how many of the vocal were anti-Brown prior to this controversy?
They might get their way.
I don't know what it's like to experience a perfect mayor. No one ever has and no one ever will.
Meanwhile, what are the real issues here? Did the indiscretion impair either of them in their council functions? On the basis of their voting records, it did not; on some issues she voted with him, on others she voted against; both were active, both were independent.
Resign? I would argue not; arguments that the city's reputation has been stained are childish -- no city anywhere has ever based its tourism or economic development programs on the proud claim that none of its elected officials had ever breached their marriage vows.
I'm interested in why such a to-do is being raised over this in the first place? Who benefits? Brown and Cassidy gained nothing but what? Fleeting satisfaction, if that. Is somebody gaining something by making the news public? That was clearly not to the city's benefit, so what was the point? Brown and Cassidy had been discovered and felt forced to 'fess up. Blackmail? Revenge?
The media have been drooling and slavering over this matter for days, like jackals over a carcass, tut-tutting piously as if they were the guardians of righteousness instead of the avid trumpeters of every morsel of sordid salacity they can find.
And what of my circle? They told me, as they also heard the news, my line about the mayor being boring rang in their ears.
Oddly mine had a different ring, as over the years I've heard this refrain from acquaintances over and over, no doubt half joking: "Donald, you should run for office."
Without missing a beat, my standard reply is, "Not now. Not ever."
"Too many skeletons in my closet. And if they aren't there I'm still busy creating them."
Follow HuffPost Canada Blogs on Facebook