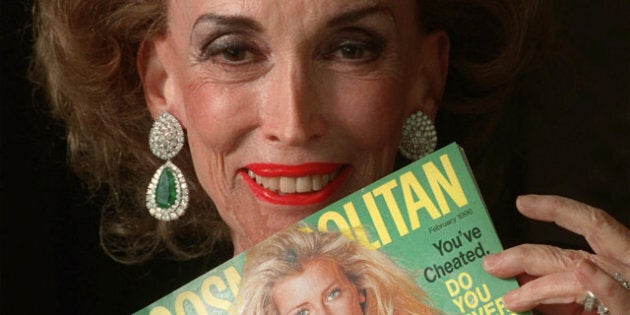 Even though the euphemism "four-letter word" only came into use during the first half of the twentieth century, I think the first and most controversial anachronistic example must be "slut.
As far back as 1450, the word almost exclusively referred to "a sexually promiscuous woman," but another early meaning was "kitchen maid," "dirty or untidy woman."
No wonder Germaine Greer said, "True liberation is women wearing what they like and abandoning the Hoover."
And yet, I found an unusual modern-day definition: a woman with the morals of a man.
Surprised? Slut is not just a term used for women.
In 1386, before it was ever even used to describe women, Geoffrey Chaucer, known as the Father of English literature, used the word sluttish to describe a slovenly man. In fact, by the late 14th century slut was only used in reference to an untidy man. (Guess some men didn't Hoover back then either.)
But I've heard "slut" dished out to men for over 20 years.
Okay, busted, but I'm not alone. I've used it to affectionately describe a friend or three -- always male though. I remember I used to joke, "Two, three, a dozen mistakes and right away you're called a slut."
Interestingly, I've never been called a slut and I think I'd faint if someone ever did -- okay, once but that story requires a blog on its own! I've always been Mary (Richards on The Mary Tyler Moore Show) to my best friend's Rhoda. Or as he says, Ellen to his Rosie.
The first time I remember being introduced to the word was in a dark theatre in 1982, watching the film Tootsie. Bill Murray's character reacts to Dustin Hoffman's cross-dressing Dorothy and his much-too-ardent older admirer with the words, "You slut."
Hence, my introduction to the word was amusing. Unfortunately, for women, it is not. Well not since the 15th century anyways, for how many women want to be called slut if the word is only used to describe a so-called woman of loose character?
Yet, in the diaries of Samuel Pepys from London, England in the 17th century, one finds a shockingly playful use of the word, without implication of loose morals: "Our little girl Susan is a most admirable slut, and pleases us mightily." [Pepys, Diary, Feb. 21, 1664]
Confusing, huh! Well, the more things change, the more they stay the same, for anyone listening to women debate the ongoing Slut Walk controversy could certainly find it a bit confusing as well.
Unless you've been buried under a rock you know that last year a Toronto policeman told a "personal security class" at York University that "women should avoid dressing like sluts in order not to be victimized."
That is not the part that is confusing. What that officer said was ridiculous. Do some rapists actually take the time to scan neighbourhoods looking for so-called "sluts" while others use x-ray vision before they break into homes?
Sexual assaults have nothing to do with appearance and they more often occur in instances where people know each other.
Of course women were upset with the officer's comment. But surprised? What else is new? They've heard it a million times before. I know I have. No wonder women hit the streets to protest.
The confusion lies with the term these women used to describe their demonstration: "slut walk" and goes full throttle when you listen to them defend their manifesto ("We are tired of being oppressed by slut-shaming; of being judged by our sexuality.") to their sister naysayers ("Far from empowering women, attempting to reclaim the word has the opposite effect, simply serving as evidence that women are accepting this label given to them by misogynistic men...Women should not protest for the right to be called slut." - Socialist Worker Online).
I watched the TVO's The Agenda "Slut Walks & Modern Feminism" episode where five women tried to convince each other of the pros or cons of the Slut Walk. It was like watching a ladies mixed doubles match at Wimbledon but without a referee and no clear winner.
As an unapologetic feminist I was fascinated with the debate, but was left sighing, seriously? If a woman wants to walk in something called a Slut Walk, I say go to town. If a woman doesn't, so what? Somehow I find myself smack dab in the middle of this debate as I have friends in both camps. What can I do but commiserate?
Well, I refuse to take sides. Instead I choose to support all women by focusing my energy elsewhere.
One way is supporting The White Ribbon Campaign (WRC) , the largest effort in the world of men working to end violence against women. On September 27, at Dundas Square in Toronto, men are putting on high heels so that they may, "Walk A Mile In Her Shoes," the perfect opportunity to raise money and show our support for ending violence against women.
Oh, what to wear that will match my pumps?
Hmm. In support of my "sisters" out there, anything I want!