When I was in public school in a rural area of Southwestern Ontario in the early '70s, my home grade teacher told our class we had to find a book in our school library and make a report to the class.
"Fiction or non-fiction," she instructed.
Because we only had religious books in our home and I loved to read, studying the wall-to-wall books was like visiting Oz. Much like the Scarecrow, I desired above all else to have a brain. In reality, the Scarecrow was only two days old and merely ignorant, but, like him, soon enough, I would discover I had a brain all along.
It's amazing how just one book can open up one to a world beyond one's own. For many, I'll bet that one book would probably be fiction.
As it happens, I did stop at the fiction section first. I remember as clearly as if it were yesterday stopping at Canadian author Margaret Atwood first. After reading a back cover synopsis, I was not impressed and asked the librarian for a clearer definition of fiction.
"An imaginative creation or a pretense that does not represent actuality but has been invented; The act of inventing such a creation or pretense; A lie."
Odd that I loved The Wizard of Oz as a film but was not interested in reading about fantasy worlds.
Or maybe not. I couldn't tell you how many biblical stories I had read by this point.
And so it was that I moved over to the non-fiction section. I scanned the shelves until I finally found The Trial of Steven Truscott, by Isobel LeBourdais.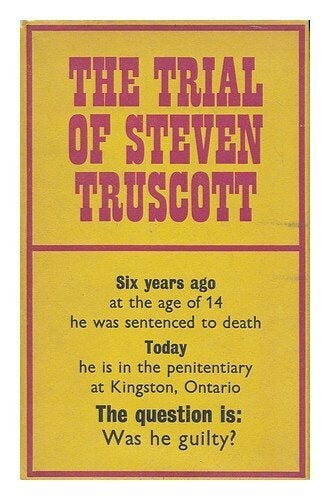 I was fascinated with this young boy's tragic life and prepared my class report.
"The story unfolds in the area of Clinton, Ontario," I began. "At the age of 14, Steven was convicted of murdering a 12-year-old girl. He was sentenced to die by hanging, but national debate on the death penalty resulted in his sentence being commuted to life imprisonment. In 1969, after spending 10 years in jail, Steven was released due in part to critical questions raised about the crime and trial in LeBourdais' book...
"I think Steven is innocent," I declared in front of the class, ending precociously with the question, "What do you think, Mrs. White?"
"I think it's obvious he's guilty."
"I know he's innocent and I'm not changing my mind!" I stated as I defiantly returned to my desk.
The story and this interchange had such an impact on me I included this experience in my memoir, Father's Touch which was published in 2002. Around that time I happened to come across Steven Truscott and his wife Marlene's address.
I recall telling my partner (who lived in Goderich when I met him, some 15 minutes from Clinton. A slight degree of separation?), "I'll bet people have always wanted something from the Truscotts: be it an interview, answer to a question, or to even meet them. I'd rather just give them something. What if we send them flowers?"
And so we did. I believe I then sent a personalized photo Christmas card that year with a little note stating I hope they liked the flowers. Mrs. Truscott wrote back, thanking me for the gesture, but that they had in fact not received them.
That mistake began another degree of separation and communication as I had the flowers resent. Over the years we'd exchange annual Christmas wishes and I'd receive updates on their efforts to take Steven's case before The Ontario Court of Appeal.
As the world knows, on August 28, 2007, Truscott was acquitted of the charges.
I'm sure my emails that year were just a handful out of thousands of Canadians showing the Truscotts their support.
But yet another, and surely I thought a final degree of separation occurred when a play called Innocence Lost, written by Beverley Cooper and based on Truscott's conviction, (which debuted at the Blyth Festival Theatre in Blyth, Ontario in '08) was to have its first debut as an amateur production in my now adopted home, London, Ontario this month.
In one of the most effective memory plays I've ever experienced, Cooper's play superbly recreates the world of Steven Truscott by telling the story through the eyes of narrator Sarah. We witness our guide grow from young farm girl and loyal classmate to a doubting, troubled young woman and finally full circle to a mother of a teenage boy herself who in the end recognizes Truscott's innocence and mourns the loss of her own.
As a theater editor, I had sent a review. About five days after posting the positive review I finally thought of sending the link to the Truscotts who duly responded with appreciation. That same day I received another message about their son, "Too bad you have already seen it. Ryan would like to meet you and any of his dad's supporters."
I thought back to all of my own years in the public eye and, no matter how many times one revisits the past, emotions are not predictable. Sometimes someone who's been a degree or two closer than the public could provide a positive buffer. And so I arranged to sit with Ryan.
I met Ryan and his friend in an office at the London Community Player's Palace Theatre a half hour early. We had fun exchanging stories about mutual interests but I made sure to focus on the lighter side of life as I knew this was the calm before the storm of emotions to come.
Just before the play started I noticed Ryan's anxiety levels increasing by the second. I whispered, "Even when you know a story word for word, it is hell reliving it, isn't it?"
"Our family feels we have done all we can putting out the story. We are more focused on a private life now."
Would that everyone who envies 15 minutes of fame could appreciate that perspective.
For my second viewing of the play, I experienced it through the prism of Steven Truscott's son, his body language and emotions.
It was then the realization hit me: there were no longer six degrees separating me and Steven Truscott.
As if to underscore the point, the next morning I happened to mention the play to a 20-year client of mine and he told me that he and his brothers grew up in Clinton and went to school with Steven. His younger brother had been in Steven's class and even gave testimony on his behalf (verifying the timeline Steven gave to police). He even went further stating the day after the murder he saw Steven playing sports in shorts and there was not one mark on him.
A life was taken, another almost, and souls were destroyed in the aftermath. There are many reasons why Steven Truscott wasn't one of them. The most important being his innocence.