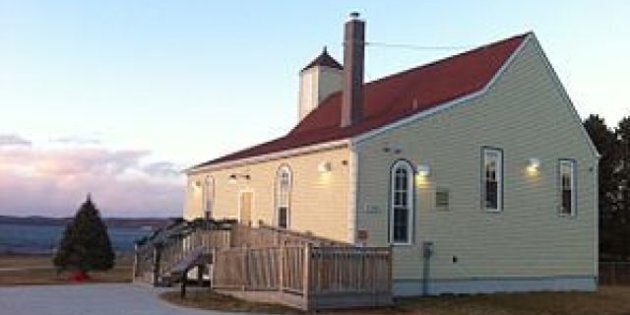 On February 1, I had the honour of announcing a government of Canada grant to the Africville Heritage Trust Society for the creation of a play that tells the story of "Black Refugees of Africville." It was a proud moment for me, especially because my brother, the Reverend Dr. William P. Oliver, knew Africville's story so well.
My brother was a remarkable person -- a gifted preacher, a champion of education, and a powerful advocate for the rights of Blacks. He exhibited leadership skills even as a schoolboy. In his senior year at Wolfville High School in Nova Scotia, for example, he was captain of both the football and hockey teams when both teams won their league titles.
He continued to excel when he studied at Acadia University in the 1930s as a member of the water polo and hockey teams. But unlike high school, university games frequently required overnight trips, and teams with Black athletes weren't allowed to stay in certain hotels. So he concentrated on track and field and won most of the races in the province
Soon after earning his BA and then his Bachelor of Divinity, he took over from my grandfather as pastor of the Street Baptist Church in Halifax, where he served from 1937 to 1962. My brother believed in education. He believed that everyone had the right to earn a fair wage. Above all, he believed in the equality of the races.
For more than 50 years, my brother and his wife, Dr. Pearleen Oliver, fought hard to remove these barriers of discrimination. They co-founded the Nova Scotia Association for the Advancement of Coloured People. One of their first victories, together with the Toronto Negro Veterans Association, was to get nursing schools to accept Black women. They also succeeded in bringing national attention to the "Jim Crow" practices in Nova Scotia, such as segregated schools, neighbourhoods and theatres.
However, if there was one event that angered my brother more than any other, it was the tragic demise of "Africville." Blacks first settled in Africville in 1848 and over the years, they gained tremendous respect among Blacks for their deep sense of community spirit.
However, in the eyes of whites, Africville was a slum. By the 1950s, it came to be seen as a real problem for the city of Halifax. But whose fault was that? The residents of Africville paid city taxes and were law-abiding citizens, but the city didn't reciprocate. There was only one dirt road that meandered through the community. No municipal services were provided -- no water, no sewer, no electricity. Nevertheless, because Africville was located on valuable real estate, the city was determined to tear it down.
The Africville relocation was a study in pathos. No attempt was made to save the community. No reasonable compensation was paid. Some families received less than $500 for their expropriated land -- nothing near the real value. If the dishonest treatment of Africville residents before relocation was bad, the relocation was even worse. As soon as deals for the homes were signed, the houses were bulldozed and much of their contents were moved in garbage trucks. The residents lost their sense of community, their church, and their land -- a cruel tragedy that didn't have to happen.
Africville galvanized the Halifax Black community, creating a unifying force that encouraged Blacks to stand-up for their rights. It inspired my brother to become even more vocal, compelling him to make his dream of a Black Cultural Centre -- a showcase of the achievements of Nova Scotia Blacks throughout the ages -- a reality. He wanted young Blacks to appreciate their history and to be proud of the contributions of Blacks to the building of Canada. After two years of study and research, I drafted the "purpose" clauses of a new Bill for the Protection and Preservation of Black Culture in Nova Scotia. It served to make the Reverend Dr. Oliver's dream -- a new Centre for Black Culture -- a reality.
Recently, several significant events have recognized the place of Nova Scotia Blacks in the world's history. The City of Halifax apologized for the destruction of Africville. Then, it hosted the Seventh International African Diaspora Heritage Trail Conference, welcoming more than 350 people from 29 counties for a celebration of Black culture. They witnessed the official opening of the Africville Seaview Church Museum and toured the newly refurbished Black Cultural Centre, founded by my brother.
A new appreciation of the contributions of Blacks to our country is growing. I know that my brother, the Reverend Dr. Oliver, would be very proud, as he should be. I also know that he would see this as an opportunity to bring new light to the continuing struggle of Black Canadians for equality. The Black Cultural Centre he built is a beacon to all Black Canadians. It reminds us of our duty to yesterday's Black leaders. It compels us to ensure we achieve our potential, our dreams and our equality today.