wwing
When it comes to climate change and energy choices, many people think they know what it is that Albertans think and what Albertans want. I wasn't so sure that we had actually heard from the citizens of Alberta, and a group of others agreed. This past September, we launched a short-term initiative called ViewpointsAB to find out. Between September 11th and December 11th, half a million Albertans responded to an invitation to speak up. Their unfiltered viewpoints were shared in Paris at COP21 and with a wide range of formal decision-makers and influencers.
ViewpointsAB was an effort entirely supported by volunteers with no financial or organizational support from, or affiliation with, government, political parties, special interest groups, private sector companies or traditional media.
Based on responses, we know Albertans care very much about energy and climate issues. Nearly everyone we heard from accepts climate change is occurring and everyone accepts that policy change is inevitable. But we also saw that many views about how that change should or will occur are different from the views put forward by special interests and experts. To bridge the gap and move forward, further conversations that engage Albertans are absolutely vital.
To be fair, we also heard from people who believe more public consultation on complex energy questions will take too much time and money, and won't necessarily lead to better answers. And it's true that decisions on energy policy have been made after capable analysis by government, industry and science. Politicians and experts have invited the opinions of citizens on these changes, largely via surveys and public open houses. But, are there better ways to find out what citizens of Alberta think?
The challenges facing Albertans today -- as individuals and as a wider energy-focused economy -- are deeply personal. To ensure that choices are understood and, practically speaking, implemented by Albertans, it may be wise to figure out better ways to engage citizen viewpoints.
To that end, ViewpointsAB emphasized one-on-one dialogue and small group facilitation; individual sharing of viewpoints without editing or reductionism; participative sharing of knowledge and ideas via social media; province-wide outreach targets; and ongoing sharing of viewpoints with formal and informal decision-makers and media. We are not suggesting this is the only or best model, but Albertans clearly responded to these engagement practices.
We also spent considerable time determining the best questions to ask Albertans. We didn't want to skew the opinions, and decided on open-ended questions that allowed people to speak to issues they cared about and to be honest about their preparedness for change, their understanding of choices and their assumptions. We intended to read the provincial pulse of where people were at rather than pushing them in any particular direction.
Responses were more emotional than we anticipated -- with anger, shame and shaming, and frustration emerging. We had anticipated some citizens would choose to share their viewpoints anonymously, but were surprised by the high number of Albertans who did so, afraid their views would potentially be at cross-purposes to the opinions of their employer or community.
Contrary to this approach, the Canadian Heavy Oil Association invited me to explain to its members why the sharing of individual perspectives is valuable. I told them it's valuable to ensure citizens have the knowledge and confidence to speak about changes they care about, and effective means of participating in choices.
Based on our 'pulse-taking', Albertans accept change should and will occur, and they have an appetite to discuss how change should occur: How will Alberta fairly allocate a cap on oil sands development among investors? How will energy efficiency incentives be made available with clear accountabilities and without creating a subsidy economy? How will coal plant shutdowns be accelerated without creating stranded assets? How will research into green energy be funded and prioritized? How do we minimize duplication of infrastructure as we increase renewable electricity? How do we retain and attract investors? How do we build support for workable pipeline approval processes? How do we ramp up the implementation of better practices in non-renewable energy projects? How do we maintain economic and secure supply of vital energy in our cold unforgiving climate? And, in all of this, how do we remain competitive?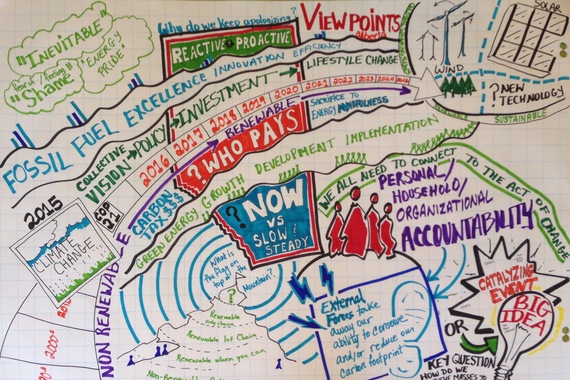 In an attempt to appease critics and inspire accelerated change, Alberta's leaders are framing the choices for our energy future in bold, declaratory language. Yet reductionist sound bites often have the unintended consequence of perpetuating polarities. Yes, citizens agree, our province is moving through a paradigm shift, and disruption may be what's needed. But these changes can only be sustained if Albertans believe in the choices. Only trust-building with citizens can diffuse the risk of public backlash, unhealthy partisanship and lingering suspicions about secret deals by elite players.
If you are interested, a full copy of ViewpointsAB debrief document is available. Your experiences with citizen engagement, and recommendations, are invited.
Donna Kennedy-Glans, QC, founder of ViewpointsAB
Follow HuffPost Canada Blogs on Facebook
ALSO ON HUFFPOST:
Winners And Losers: Alberta Budget 2015