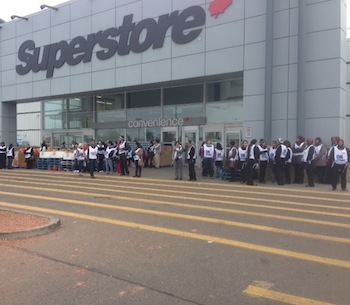 At 12:01 a.m. on Oct. 6, approximately 8,500 Real Canadian Superstore and Liquorstore workers in Alberta went on strike. With a picket line in front of every single Superstore and Liquorstore in the province, and an unprecedented number of workers showing up for picket duty, the workers' fight with parent company Loblaw was hard to ignore.
Make no mistake, we were gearing up for a real fight. The union's Bargaining Committee had been working hard for over a year to find deal on which both sides could agree and not much had been accomplished in that time. The company seemed unwilling to negotiate with us in earnest.
But approximately 28 hours after picket lines went up, a tentative agreement was reached, that was light years better than where we'd been just one day earlier.
Reaching a resolution that quickly after the strike commenced, it might be easy to assume that the dispute was about the same stock issues you're used to hearing about when strikes occur: the workers wanted more and the company was unwilling to provide them with it.
Simple. Straight forward. And somehow, the gap was bridged.
The truth of the matter is that you would be both right and wrong in that assumption. That is because this fight in which Superstore and Liquorstore employees engaged was both simple and quite complicated.
The basic issues we outlined about this dispute were shockingly easy to explain, both among the workers themselves and the public. It had become essentially impossible for the vast majority of Superstore and Liquorstore workers to obtain anything close to full-time hours. Indeed, part-time employees, who make up by far the largest percentage of the workforce, had watched their hours steadily decrease over the last five years.
Stretched, stressed out, and buckling under a scheduling system that was forcing them into the ranks of the working poor, Superstore and Liquorstore employees made the difficult choice to go on strike. Not for outrageous wage increases, but simply for the guarantee of sufficient weekly hours of work to make a decent living.
Very few people who heard workers explain these their issues had much in the way of a counter-argument. It's hard to chastise someone who simply wants to work more for their employer and work hard to help their company succeed while making a reasonable living for themselves. There remains a sense of "fair play" that Albertans seek in this unique economy.
However, understanding why Loblaw chose to take on such an indefensible position is where things get complicated.
Loblaw trotted out many of the standard boilerplate arguments around slashing their employees' hours. References to competitive markets, shrinking purchasing power, the need to control costs, and what have you.
But it was challenging for them to assume the role of "struggling business," when the ink on their $12.4 billion purchase of Shoppers Drug Mart was not yet even dry. The larger fight that was actually going on revolved around what sort of business Loblaw's CEO and figurehead, Galen Weston Jr., wanted to run.
Writing at the Huffington Post Canada, Brock University Labour Studies Professor Dr. Kendra Coulter has pointed out,
Too many retailers perpetuate low-road management strategies which devalue Canada's largest group of workers, a majority of whom are women. This continues despite the growing body of evidence that better working conditions not only positively affect workers, but retailers and shoppers, too. Workers who feel valued and who are earning sustainable incomes are happier and healthier, as well as more loyal, productive, and engaged.
Broadly speaking, there are two options available to Canadian retailors. The first, is epitomized by the actions of Wal-Mart: low prices driven by low wages, erratic hours, non-existent benefits, and high turnover, the worst of all possible labour relations.
The other option is to acknowledge that a company's competitive advantage needn't come at the expense of its employees. A company can both succeed financially and pay its employees well, give them regular and adequate hours, and provide quality benefits.
The question was: in which direction did it appear that Loblaw was opting to head? Our fear was the former and not the latter.
The issue of hours was telling in this regard. By constantly hiring new "colleagues" and then spreading a shrinking pool of hours amongst a growing number of employees, Loblaw was able to "thin out" its labour costs. The game was to make the situation so unpalatable and unpredictable for more senior employees that they would leave, which then allowed Loblaw to hire more junior and less expensive replacements.
Doubling down on that strategy, Loblaw was also seeking a separate wage scale for new hires that would ensure those employees would never reach the "top rate" of pay. The wage reduction proposed for new hires was on the order of 30-40%, depending on department.
In short, Loblaw had been starving its workers of hours in an effort to eliminate the very jobs that allowed employees to make a decent living. Loblaw's efforts may have been a more nuanced race to the bottom than Wal-Mart's tactics, but rest assured it was still a race to the bottom.
Some people may believe these low-road tactics are unavoidable. It's just the direction in which all businesses are inevitably headed. So why bother fighting it?
First, it wasn't always this way at Superstore and Liquorstore. As one of our Bargaining Committee members noted during the strike, Loblaw used to at least make efforts to follow through on its promise to be a "great place to work."
Many Superstore and Liquorstore workers in Alberta would agree that they have made great strides in achieving a vastly improved contract over the many years of negotiations with their employer. And Loblaw experienced significant success under the hospices of that contract - providing a fair wage, decent hours, and all the while navigating a highly competitive retail market.
Superstore and Liquorstore was becoming a leader in Alberta and there was no good reason why that should cease to be the case. Our members were committed to ensuring a continuing downward slide didn't happen.
Also worth considering are the ways in which Loblaw is a standard bearer for both the retail industry and Canadian business more generally.
Many Canadians look at Loblaw as the ultimate homegrown success story. The country's largest grocer, Loblaw also owns and operates twin fashion flagships in its Joe Fresh line and Holt Renfrew. Loblaw can regularly boast that it has wins won awards for being one of Canada's "best employers" and even champions their President's Choice Children's Charities nationally.
Indeed, much of the shock that Canadians felt over the factory collapse in Bangladesh centered on the disbelief that a company like Loblaw could be involved.
Loblaw is a company that Canadians have grown to know and even love. If we were to have let Loblaw get away with this attack on good jobs without a major fight, it would have given license to other companies to follow suit. With every new shift in business models and every new set of negotiations with their workers, new standards are set... in stone, potentially for years to come. This was a line in the sand that Alberta workers drew and it was an important one for all retail workers, not just Loblaw workers.
If Loblaw can do it, why can't we?
We were not prepared to sit by and watch decent jobs taken away from our members and slip further out of reach for many Canadians. It's just not something the Superstore and Liquorstore workers or this union were prepared to accept in this growing Alberta economy and with a company as enormously profitable as Loblaw.
The phrase we heard from the workers throughout this campaign was, "It's About Fairness". The "fairness" that we all were referring to was, of course, Alberta Superstore and Liquorstore workers deserve a fair contract offer. But just as pressing was the availability of fair jobs for Canadians that we believe is increasingly in jeopardy.
When the dust settled, we won our fight.
All of the worst elements of the company's original offer (which was overwhelmingly rejected by their employees) were removed just 28 hours after going on strike and we realized some important gains. The agreement our members accepted on October 8 is not perfect; few agreements are. But it is an agreement for which they can be proud to have fought and won.
However, we can't fool ourselves. While this particular fight has come to a conclusion, the larger battle remains ahead of us.
Retailers and businesses all across Canada - not to mention our provincial and federal governments - seem hell bent on stripping hard working Albertans and Canadians of decent jobs that deliver a healthy and contributing middle class. They keep telling us that the success of our economy depends on these efforts to "streamline" operations and increase our "competitiveness". But we all know that a healthy economy is one that has the largest contributing tax base, healthy workers, and a confident workforce willing and able to plan for their families' futures.
But forcing more and more Albertans and Canadians into low paying, part-time, and insecure jobs only succeeds in hollowing out the very working middle class that built our great province and country. What we need is not more streamlined competitiveness, but rather workers with healthy and sustainable employment who can contribute to their communities.
So we must be prepared to fight at every turn. Because we work hard and all deserve a fair shot at a good life and a decent standard of living.
Average Hourly Wage Comparison Across Canada