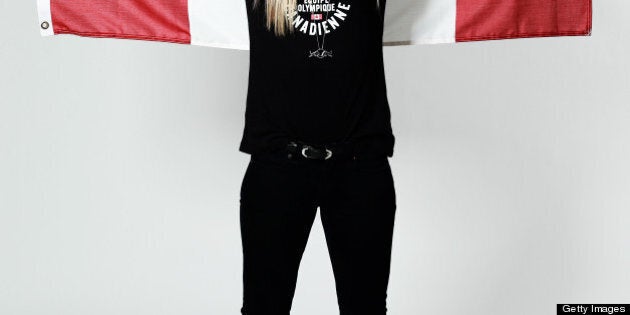 Imagine a country that requires 20 per cent of its population to be hypocrites to sing its national anthem. Imagine a country with a national anthem that insults half of its population. Imagine a country with a national anthem that excludes all people not born in the country from its national anthem.
Such a country would be hard to imagine, eh? Well, add the notion that the country holds itself up as a world-class example of equality and multiculturalism and try to imagine that.
Nevertheless, this country exists. Every wintry week, a large percentage of the population tunes in to what it calls its national winter sport and listens to that national anthem. Every two years its citizens anticipate the playing of that national anthem at least a few times at the Olympics and love to hear it while the American women's hockey team listens in envy.
By now you have probably figured out that the country is not imaginary, even though it is sometimes called the Disneyland of countries. That country is Canada.
They are atheists; "O Canada"'s words are theist in both languages.
Anyone not born in Canada cannot claim to be native and most of us are, after all, only immigrants with seniority, so how is it our native land?
The words to "O Canada" need updating in both languages. This should not be difficult if we accept the notion of separation of church and state.
Many will immediately react that we would be tampering with one of the basic original and somehow untouchable symbols of Canada. Such a claim is just another example of people's really foggy notion of Canadian history. (Hint: It's like Moby Dick. Many people refer to it, but few have ever read it.)
In 1880, Québec's Lieutenant Governor, Théodore Robitaille commissioned Calixa Lavalée to write the music that became "O Canada" for the Saint-Jean Baptiste Day celebrations. The music was written to accompany the original French words written by Adolphe-Basile Routhier.
While the French words were translated into English in 1906, Robert Stanley Weir wrote the English version that caught on in 1908.
Originally, that version had no religious references and the third line said, "thou dost in all of us command." Weir changed that to "in all our sons command" in 1914. Even "O Canada"'s adoption as our anthem was a typical Canadian evolutionary process. It became favoured over its chief rival "The Maple Leaf Forever" because the original opening words to that song were offensive to Québécois Canadians.
"O Canada" became the de facto national anthem when King Edward VIII remained at attention when it was played following God Save the King at the dedication of the Vimy Ridge memorial in July, 1936. This was confirmed by his successor, King George VI who did the same thing at the dedication of the War Memorial in Ottawa in June, 1939. (see de facto)
It seems symbolism confirms symbolism in Canadian culture.
Pierre Elliot Trudeau had the current version passed into law in 1980 including the change to "God keep our land glorious and free."
In 1990, Toronto City Council voted to ask the federal government to change "home and native land" to "home and cherished land" and "all our sons command" to "all of us command," a modern version of Weir's original sentiment.
In short, "O Canada" is neither a part of the Canadian Constitution, nor a holy relic discovered in the Canadian Shield. It is, rather, a living document that has been changed to reflect the realities of Canadian culture. Even its original authors recognized that.
The change would require simply an amendment to the National Anthem Act of 1980. Of course, that would require the motivation of politicians to do so and that, in practical terms means that there needs to be an impetus from the people.
Imagine the effect of more and more people singing new, non-theist, non-sexist, non-discriminatory words at public events, particularly if one of those people happened to be holding the microphone. Imagine what would happen if many Canadian sent this to their MP and even (shudder) a Senator.
Here are new words that are non-theist, non-sexist, and allow all of us immigrants (with seniority or not), a.k.a. Canadians, to sing it loud and clear. Imagine that.
English

O Canada, our home and cherished land,

True patriot love in all of us command.

With glowing hearts, we see thee rise

The True North strong and free.

From far and wide, O Canada,

We stand on guard for thee.

We'll keep our land glorious and free,

O Canada we stand on guard for thee.

O Canada we stand on guard for thee.

Français

O Canada, terre de nos aïeux,

Ton front est cient de fleurons glorieux!

Car ton bras sait porter l'épée,

Et tu supports les choix!

Ton histoire est une épopée

Des plus brillants exploits,

Et ta valeur, plein de raison

Protégerons nos foyers et nos droits

Protégerons nos foyers et nos droits.