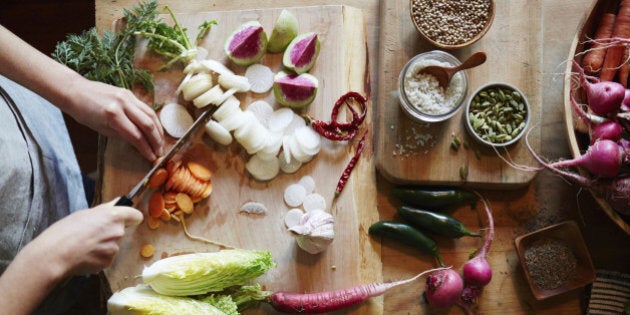 There's nothing quite like a home cooked meal, but be honest, how many of you have the time to spend on preparing healthy meals, with quality ingredients, on a daily basis?
By the time many of us get home from a busy day at work, or start to think about what to put on the dinner table after a hectic day with the kids, all we want to do is reach into the freezer to pull out whatever pre-packaged, processed frozen dinner we have, or hit the speed dial to our favorite pizza joint.
While take-out on occasion can definitely be a sanity-saver for those busy days, eating out all too often, and relying on quick but highly processed foods to nourish our bodies can have unhealthy consequences.
These foods are often high in trans-fats, added sugar and salt, as well contain a whole host of additives and preservatives that can negatively impact our health. Not what you were hoping to serve up for dinner!
When we prepare our meals at home, including our on-the-go lunches and snacks, we use fruits and vegetables (organic if possible), lean proteins, and healthy grains and fats to control what we put into our bodies and influence our health. Food is our medicine after all!
So how can you do it all; eat healthy, and save time? All it takes is a little preparedness and know-how.
5 Food Hacks to Help You Make Eating Healthier and Easier Than Hitting the Drive Through
1. Batch cook = Bulk buy = Savings
I like to batch cook on Sundays and freeze single serving meals for easy prep on those long days when you don't feel like cooking. Hitting up Costco or buying in bulk can help you save money, but only if you don't let food spoil or go to waste.
If batch cooking doesn't work for you, buying in bulk can actually cost you more in the end.
Most produce will go bad before you get a chance to use it, so I recommend only buying what you need on a day-to-day basis if you don't batch cook.
I like doing one big shop a week for my meats, grains and frozen goods, while more regular produce shopping at a local market.
2. Food swap
You can also try a food swap with family members, neighbors and work colleagues. Make a big batch of a meal and divide them into single servings to swap with others so that you are getting a variety of foods and flavors.
3. Smoothies for days
I love smoothies and have one every day. When I make my smoothie, I also make 5-6 frozen baggies of the dried ingredients to freeze (ie. blueberries, avocado, spinach, kale, protein powder, flax seeds, green powders) so that when I'm ready to have my smoothie I just blend in my vegan milks and fish oil together. Read more about my favorite super-charged smoothies.
4. Eat a GREEN FACE diet
Each meal (including breakfast) should have at least 1 serving of greens, another vegetable and a protein to keep you energized, focused and feeling satisfied.
Just remember "GREEN FACE" if you aren't sure if you should eat it (GREEN=veg; FACE=protein, including non-animal sources). For example,
Breakfast - eggs with avocado and a green protein shake
Lunch - fresh mixed spinach salad with chicken/turkey/tofu and seeds
Dinner - mixed steamed veggies (kale, broccoli, onion, garlic), baked salmon and quinoa
5. Always have healthy snacks on hand
I always keep yummy and healthy snacks at home, the office and in my purse for times when I'm feeling hungry (or just snacky). When I don't have these snacks on hand I tend to have cravings for "junk foods" that make me feel sluggish and gassy, and provide no nutrition for my health.
Here are some great healthier options:
Water and teas (herbal and caffeinated) - often low energy is due to dehydration. My favorite is currently a ginger matcha green tea.
Veggie sticks and dip - I live off of carrots, celery, peppers, broccoli, cauliflower, cherry tomatoes and cucumbers with a hummus dip. I LOVE THEM.
Nuts and seeds - especially focus on raw and unsalted almonds, walnuts, brazil nuts, sunflower seeds, and pumpkin seeds. I throw in some cashews and golgi berries to add a bit of sweetness.
Dried seaweed snacks - Yum and great for hypothyroid conditions.
Smoothies - as seen in #3
Rice crackers with nut butter spread - almond, cashew, hazelnut, natural peanut and sunflower butters are delicious. Add them to a rice cracker or veggie sticks and you've got a winner!
Fresh fruits - cut them up into bite size pieces and you'll likely eat more
Yogurts and granola - if you are dairy sensitive, vegan yogurts are fantastic. I love almond and coconut yogurts best. Add a little unpasteurized honey and granola.... mmmm good.
Sometimes it feels like you have to choose between eating healthy and saving time and healthy cooking can feel like a daunting task, especially at the end of a long day. So make things easier on yourself by following my 5 Food Hacks and getting prepared before your mid-morning pangs of hunger kicks in, or the 5:00pm dinner rush.
Serve up a wonderfully healthy meal, all the while saving you time and energy. Your health has never tasted so good!
Follow HuffPost Canada Blogs on Facebook